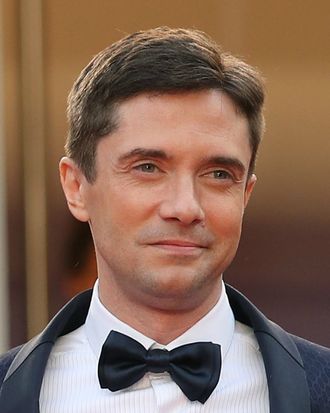 Topher Grace.
Photo: VALERY HACHE/AFP/Getty Images
"I'm a Cannes virgin, so I've never done this before!" Topher Grace said last night at the beachside premiere of BlacKkKlansman, the new Spike Lee movie in which he co-stars. It's one of two American films in competition at the Cannes Film Festival, and as fate would have it, Grace is in both of them: He also appears in the wild noir film Under the Silver Lake, starring Andrew Garfield, which is set to screen at Cannes tonight. "I never even thought that might happen, I was so shocked," Grace told me, then laughed: "I called my agent and said, 'Next time, three movies! Two is a joke, it's gotta be three!'"
For a first trip to Cannes, Grace's week is going awfully well. BlacKkKlansman was rousingly received last night, and stars John David Washington in a fact-based story of a black cop who infiltrated the Ku Klux Klan via phone and then conscripted a colleague (Adam Driver) to be his stand-in. Grace plays David Duke, the grand wizard of the Klan, who develops an unexpected telephone rapport with Washington's officer: As the two trade racist sentiments, Grace's Duke exclaims, "You're darn tootin'!"
"I told my agents I wanted to be in contention for that part and everyone went, 'Huh?'" recalled Grace, best known for starring in That 70s Show. "It's not like something I've done before. When that happens, it's incumbent on the performer to go in and give proof of concept." He snagged the role after reading for Lee, but then the preparation began … and it sucked.
"It was just the worst month of my life, doing research on that guy," said Grace. "I listened to a lot of his radio show, I watched Donahue — because he was on that a lot — and I read My Awakening, his autobiography, which is horrible. It's like Mein Kampf." If all that research was tough on Grace, it was even worse for his wife: "Right before I started, we had a baby. I was walking around the house doing my lines, and she was like, 'Hey, can you tone it down on the hate speech?'"