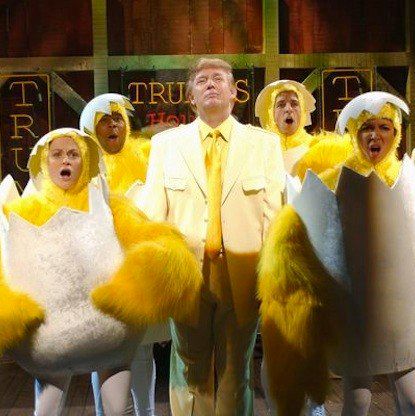 Earlier this year, we announced that Splitsider was acquired by Vulture and that we were working together to launch a new and expanded comedy section on Vulture later this month. Ahead of our big move, we asked the President of Comedy Nerds himself, @TrumpComedyNerd, to release an official statement reflecting on Splitsider's eight years covering comedy on the internet and our next phase over at Vulture. Thankfully, @TrumpComedyNerd found some time in his very busy schedule to offer his take. Here's his full statement:
Dear Readers,




I, President Donald J. Trump, am writing to youu from the Beautiful Ovall Office to "ulogize" the original VERSION of the Failing Splitsider "blog'" before it gets totally ABSORBED by Fake News Vulture.




Between you and me,, I didn't want to do this, but Crazy Meghhh Wrighte practicaly BEGGED me to do it.I felt sorry for her, I honestly did, folks.




For five years – or possibly eight – Totally Corrupt Splittsider has been the number one source for FAKE COMEDY NEWS on the internet. From long wind-ed SNL recaps to their coverage of the "Week" In Pod Casts (a lot of poeple saying I Invented The Podcast, by the way) to their Interviews with Whinin' Wyatt Cenac && Cryin' Chris Gethard.




And who could forget their Follow Friday section, espceially their Totally unfair and biased coverage of my account, @TrumpComedyNerd. A total hit job!




Splidsider was started by FOUndin' Adam Frucci - the WEAKEST "co host" of Low Crowd SizE Gentify BY A MILE!!!! Some very Not Nice people work there, except Humor Editor Brian Boone, who I love. Does he love me? I don't know,folks. He's been very tough on me. Very tough.




Many people are talking about how the Site is not what it used to be. Totally unsustainable business model and I mean totally. Have you seen their click-rates recently? They are IN THE TOILET!




And, yet, Low-Traffic Out-of-Money Splitsider is MIGRATING to TV Episode Rankin' Vulture, a really, really terrible website –Their "most popular stories tab" a NIGHTMARE to "navigate." — and will now be "OWNEd" by The Phony NY Mag (who famously LURED Simon Rich Raisin' Frank Rich away from THE NEW YORKER- a Truly Horrible decision by Unfunny Frank). NOT GOOD!




I, dOnald J. Trump, President of the United States, approve of this aquisition, even though it will NEVER LAST, and is without a doubt going to be a TOTAL DISASTER for everyone involved.,!! Now if you'll excuse me, I am in Line at THE VIRGIL to see QUirky Kristen Shaaal and Sandy Hairin' Kirk Braawn-holer host our great HOT TUB. Snarky Aparna is on the Line-up. She has so much "heat" right now. THE WORLD IS WATCHING!!!!




Tremendously Yours,

President Donald J. Trump
Read more about our upcoming move to Vulture here.