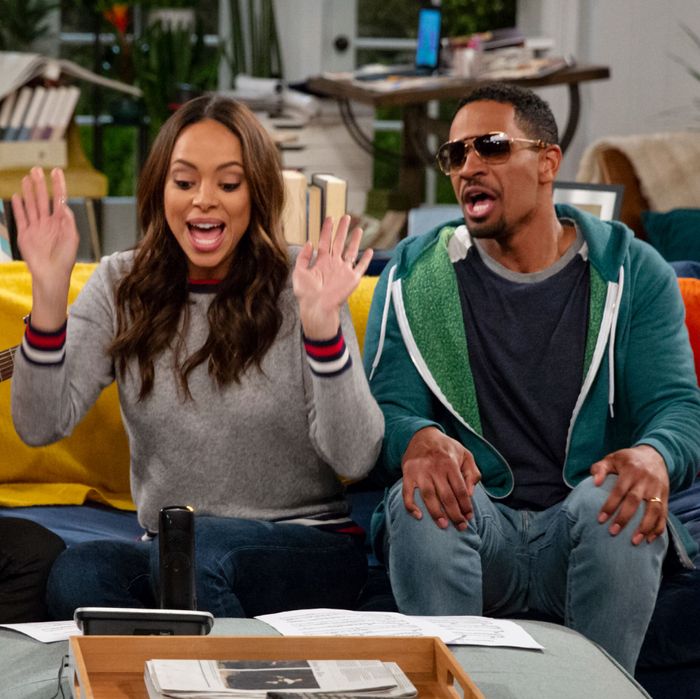 The new CBS comedy
Happy Together
stars Damon Wayans Jr. (right) and Amber Stevens West (center) as a 30-something, happily married couple who reconnect with their younger selves when Cooper (Felix Mallard, left) moves in with them. The show is produced by Austen Earl, Tim McAuliffe, Ben Winston, Harry Styles, Michael Rotenberg, and Jonathan Berry.
Photo: Cliff Lipson/CBS
Jimmy Kimmel cracked a joke at the ABC Upfronts presentation last week: "Maybe I shouldn't say this but I have to admit, I'm kind of excited about Murphy Brown. I think it's refreshing, really, to see anything brown on CBS."
A day later, CBS got the last laugh when it released its new season lineup and the network, long criticized for its lack of diversity, landed in first place in terms of casting the highest number of nonwhite actors. Six of CBS's nine new shows, including Jay Hernandez in the Magnum P.I. reboot, feature people of color in lead roles. "We're feeling good about our diversity," said CBS Entertainment president Kelly Kahl at a press conference before the CBS presentation at Carnegie Hall Wednesday. "We sat in front of a lot of you at TCA and said that we were going to do it. I think quite frankly there were a lot of eye rolls, and I think if you look at the schedule, we did what we said we were going to do."
Of the 35 new shows picked up across the five broadcast networks, half of them feature people of color in lead roles, a sign that TV executives are taking seriously the cries for more representation on camera. However, even with the added diversity in the acting ranks, Latinos and Asians remain underrepresented. Of those 18 shows, 6 feature Latinos and 1 features an Asian actor. The rest of the actors are black.
But where representation arguably matters the most — behind the camera, in the creation and development of stories — the results remain dismal. Only 4 of the 18 shows featuring people of color in starring roles have people of color in key creative and producing positions. Of the rest of the shows on the slate, starring white leads, there isn't a single person of color in those key positions. Take a look at the graphic below for the full breakdown.