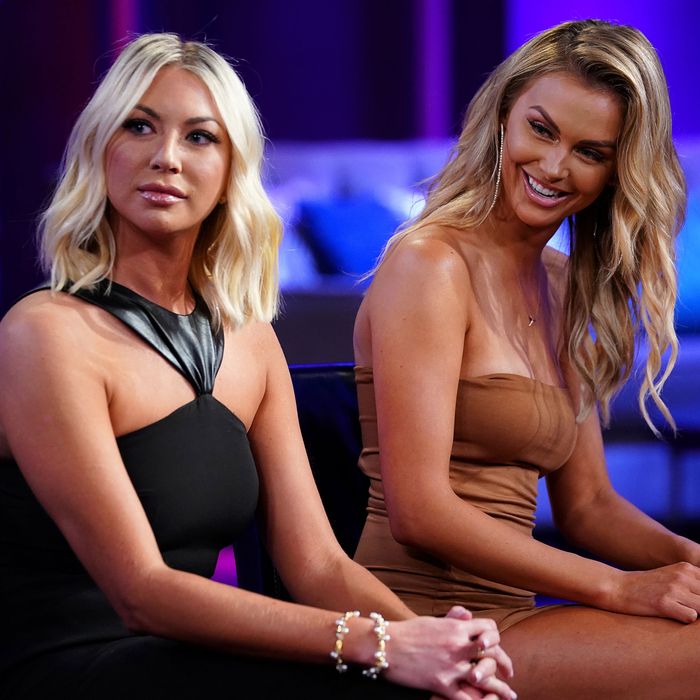 Photo: Bravo/Nicole Weingart/Bravo
I have to give credit to Andy Cohen, the vice-principal of the unruly high school drama club that is the Bravo Cinematic Universe, because he has gotten much better at asking the tough questions at these reunion specials. Just look at this Vanderpump Rules reunion when he asks Scheana if she fast-forwards through the scenes featuring other "characters" on the show. She says she does, because of course she does. There is nothing more on brand for a human being than Scheana No Tea No Shay ignoring everyone else and only watching when she is on TV.
Oh wait, there is one thing that is more on brand. That is saying that she didn't watch the whole season because she found it difficult reliving a relationship her awful relationship with Rob. So she only watches her scenes, but her scenes are also the reason why she didn't watch anyone else's? That makes no sense, but coming up with some bullshit excuse that makes herself look like a pathetic martyr is more on brand for Scheana than Gwyneth Paltrow telling people to buy an $800 pair of toenail clippers that also double as a vagina steamer and blood detoxification system.
Andy also gets credit for asking Jax why he refused to move out of their apartment building after he broke up with Brittany. He even goes so far as to call it "nasty," which, let's be honest, it really was. Jax then admits to the nastiness and apologizes for it, which is sweet, but we all know that he would do it again in an instant.
However, Andy is really remiss in his duties in one instance: pasta. He gets Lala and James to revisit one particular fight that they had at a drunken brunch accompanied by James's gay friend Logan, the illustration next to the Urban Dictionary definition for "thirsty twink." Lala and Logan are talking about James's girlfriend Raquel, a bottle of Britney Spears Circus Fantasy perfume, and how they ate all of her "pasta" at a recent party when she wasn't paying attention. James got incensed and started screaming at Lala about how her man was disgusting and would leave her someday for someone younger and prettier.
Reliving these comments makes Lala walk off of the reunion set, grabbing a tissue on the way out. When Kristen tries to explain that Lala was getting upset rewatching the footage, Lisa tells her to be quiet, which makes Kristen walk out too. Then Katie gets up to chase after both of them, as she is wont to do, because the only thing that attracts Katie more than a lazy, goofy man with floppy hair is someone else's drama. Lisa tells James to apologize so he gets up, but then Ariana goes to round up all the girls, throwing her high heels to one side and galloping off like a satyr in the woods. James then sits down and Lisa goes to round everyone up, dragging Lala back to her seat while she's still crying because Lisa Vanderpump knows how to exploit other people's emotions for good television and we thank Jesus every day that we have her on not one but two reality-television programs.
This leads to one of the best moments of the reunion, when James finally apologizes to Lala for all of the shit that he talked about her relationship. These two have a shockingly complex dynamic for two people who are simpler than the word-find puzzle on a diner placemat. James is clearly in love with Lala and everyone thinks so. He says he loves Raquel "and no one else," but he says it with the canned efficiency of a mother telling a friend that she loves all of her children equally. (Come on, girl. We know you love Madison the most.) Lala claims that James is like family to her, but she can't be around him anymore because he professed his love for her at Rob's cabin in Big Bear. It's all tears and apologies and some day I hope that they make a Hallmark movie out of it and Lacey Chabert plays Lala and Dean Cain plays the White Kanye and it is the highest-rated thing ever on the network.
The only other relationship that could possibly rival James and Lala's is Jax and Brittany's because we finally got some interesting insight into what is going on in Brittany's head. She says that the worst thing about the whole breakup wasn't what he did to her, but the embarrassment that the whole world was going to know about it. At one point, she says something to the effect of, "I already have to deal with getting cheated on in front of the whole world and all of these fans telling me how stupid I am. Then I get dumped in the end."
I love this moment because we finally see not just how the show affects these people when they watch the tape back in all of its edited and produced glory, but how the awareness of the audience cajoles their emotions in the moments when it's happening. Brittany, obviously, would have been hurt when Jax dumped her, but the fact that she would have to endure the judgment of the world is what stung the most. I really feel for Brittany and I think she does a good job of convincing us that Jax is treating her well now that she helped him through his father's death. We're going to have to see it to believe it, though. Ask us again at the end of next season how Jax is treating her and we might have a very different answer.
But none of this is why I'm mad at Andy. I'm mad at Andy because he asks James and Lala to their faces if their fight was really about the pasta, but doesn't ask them what the meaning of "pasta" really is. There is a fan theory that "pasta" is the cast's codeword for "cocaine." So when James is mad about Lala and Logan stealing Raquel's pasta, he's really mad about them snorting all of her cocaine, which would make much more sense than getting pissed about them eating her carb-filled Italian delicacy.
How could he miss this question? He asked it of Kristen during an after-show of Watch What Happens Live — she claimed that it actually was a plate of pasta and not about the Bolivian Booger Sugar — so how could he skip this question at the actual reunion? He even goes so far as to bring out shots of penne à la vodka for the episode's final shot, but we can't get to the real meaning of "pasta." Honestly, from James and Lala's fight to Jax's freakout at SUR, it seems like this season was, without a doubt, all about the pasta.