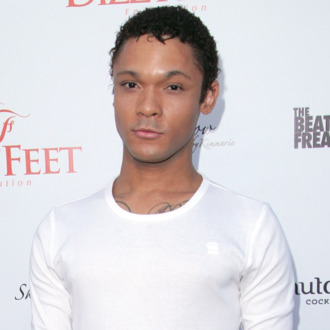 In a disturbing new lawsuit, two former entertainment-industry executives are being accused of sexual misconduct by a Hollywood legacy child. Rovier Carrington, the great grandson of Three Stooges actor Moe Howard, is alleging that he was raped by the now-deceased former head of Paramount, Brad Grey, and that he was sexually exploited by Brian Graden, a former executive at MTV, who promised career opportunities at the network in exchange for sex. In both cases, Carrington says his contact with the men resulted in him being blacklisted not only from Viacom, but from further opportunities in the entertainment industry overall. He reportedly refused to sign an NDA presented by Grey, but did sign one in exchange for work with Graden, and according to Variety, Carrington also claims that Graden stole ideas from him and based MTV properties off of them.
Both Paramount and MTV are owned by Viacom, and Carrington is seeking $100 million in damages from the company. According to The Hollywood Reporter, Carrington's suit states that, "Viacom's blacklisting of [Carrington] only ceased once [he] agreed to have sex with Graden, and obey him, for months, under his manipulation and control, until finally Graden directly called Sumner Redstone, and [Carrington] was purportedly removed from Viacom's blacklist," reads the complaint. "However, once a controversy arose between Graden and [Carrington], [he] was placed back on Viacom's blacklist, and his ability to work within the entertainment industry was once again placed in peril. As demonstrated by the foregoing, Viacom fosters a corporate culture of systemic deviancy, that its executives, producers, and even chairman were aware of, and in some cases, actively participated in."
Update: Graden's attorney, Larry Stein, provided a statement to THR responding to Carrington's lawsuit.
This sensationalized and meritless lawsuit is particularly egregious as it attacks two respected executives, one of whom is an industry icon whose death prevents him from defending himself, and the other, who has had a long, sterling and unblemished career free of any implication of inappropriate behavior personally or professionally. The complaint, which reads more like fiction than fact, seems to be based more upon Mr. Carrington's entitled belief that he is 'Hollywood royalty' with a 'pedigree of a star' because he claims his great grandfather was one of the Three Stooges, than on facts. It is unfortunately too common for wannabes to hold on to their entitlement, but uncommon for such claims to make headlines by use of hyperbole and baseless allegations of rape and conspiratorial extortionist conduct. The complaint ends just as it started, wildly untethered to reality, seeking damages in the hundreds of millions of dollars. We are confident that Mr. Graden will be fully vindicated and Mr. Carrington will be exposed for what and who he truly is.