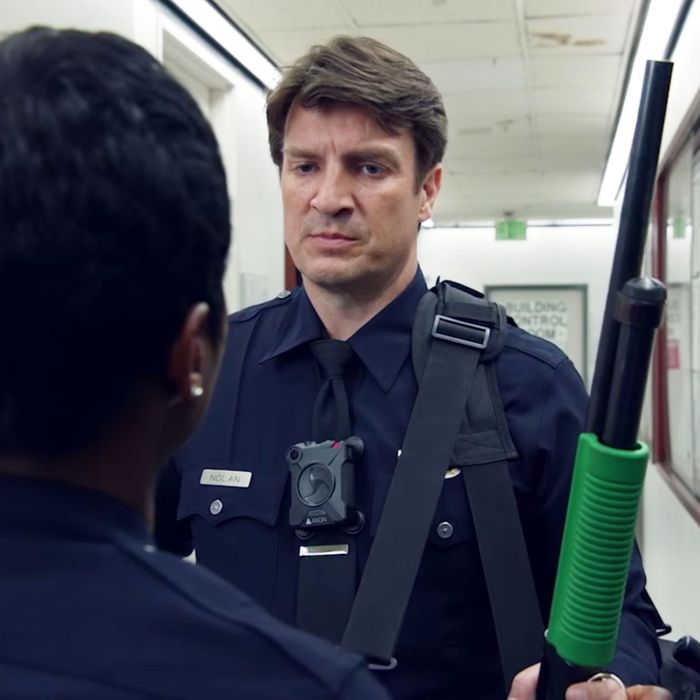 Nathan Fillion in
The Rookie
.
Photo: ABC
ABC's fall schedule will rely pretty heavily on its big hits Roseanne and The Good Doctor, but next season, the network will also try out a bunch of new shows. At its upfront presentation today, ABC debuted trailers for its seven new shows, with five new dramas and two new comedies (ABC also picked up a Goldbergs spinoff, Schooled, which will premiere later in the season, but hasn't released a trailer for it yet). Watch the new trailers below, and decide how each show looks for yourself.
The Rookie
Nathan Fillion, late of Castle, returns to TV in a show that isn't Castle, but is about a rookie cop learning the ways of the police force. In this case, Fillion's character John Nolan is less of a smart-aleck writer and more of an idealistic dude in the throes of a midlife crisis who decides to try to become an LAPD officer. Castle devotees be forewarned, this looks like more of a drama-drama than a comedy-drama.
A Million Little Things
Welcome to what seems to be This Is Us: Boston, in which a group of Boston friends lead Boston lives and live through tragedies, specifically the sudden suicide of one of their friends. A Million Little Things stars David Giuntoli, Ron Livingston, Romany Malco, Allison Miller, Christina Moses, Christina Ochoa, James Roday, Stephanie Szostak, and Lizzy Greene. Bring Boston tissues (a.k.a. Dunkin' Donuts napkins).
Grand Hotel
This Eva Longoria–produced series follows the goings-on behind the scenes at the Marbella a fancy hotel on Miami Beach. There's sex, there's family drama, there's alcohol, there's hot guys in vests. It's all you want in a soap opera.
Whiskey Cavalier
After playing a super-skilled government agent with a bad love life on Scandal, Scott Foley returns to TV to keep doing that on Whiskey Cavalier. The Walking Dead's Lauren Cohan plays a CIA operative named Francesca who seduces him and then has to work with him. Sparks and bullets fly.
The Fix
Marcia Clark herself created this series about an L.A. district attorney who fails to win a trial against an A-list actor accused of murder, and then later returns to face him when he falls under suspicion for a new crime. It sounds awfully similar to another famous trial Clark was involved in.
Single Parents
No longer an Upper East Sider, Leighton Meester is now a single mother in this new comedy about single parents, created and executive-produced by New Girl's Liz Meriwether. Taran Killam plays another single dad she bonds with, leading toward your inevitable sitcom will-they-or-won't-they, now with juice boxes.
The Kids Are Alright
ABC's family of family sitcoms is getting a new addition with this show about an Irish-American family set in 1970s Los Angeles. The trailer has plenty of jokes about an American president under government investigation (Nixon) and the latest musical sensation taking the country by storm (The Man of La Mancha). Topical!