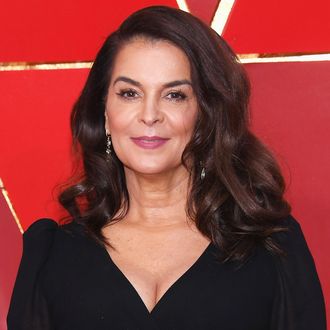 Annabella Sciorra.
Photo: Kevork Djansezian/Getty Images
Last fall, actress Annabella Sciorra became one of the first women to publicly go on the record about Harvey Weinstein allegedly raping her, which occurred in her New York apartment in the '90s. Now, in the aftermath of Weinstein being arrested on two rape charges — which led to a $1 million bail and a monitoring device, as opposed to a jail cell — Sciorra is expressing how angry she is at this outcome. "The law finally caught up with Harvey Weinstein on Friday and charged him with multiple counts of rape and sexual assault. But nothing about that felt celebratory to me," she tweeted on Sunday. "The smirk on his face as he was led out of the police station in cuffs made me physically sick. The public statement from his lawyer was intended only to denigrate all the brave women who came forward and spoke out against him."
"And I got no relief from seeing this monster walk into court, then sneak out the back door after posting a million dollar bond. All that says is, money buys VIP treatment in the justice system no matter how serious or violent the crimes," she continued, comparing it to the horrific case of Kalief Browder. "If there was truly 'equal justice under the law', Harvey Weinstein would be behind bars in Rikers today, waiting for his own day in court, not free to roam New York, his other hunting ground, wearing an ankle bracelet."
Mira Sorvino, who has accused Weinstein of sexual harassment, responded to Sciorra's tweets, writing that "I feel the same way, there was no jubilation although I was heartened that he was starting the process of standing trial."
Other Weinstein accusers, such as Ashley Judd and Paz de la Huerta, have also shared their poignant perspectives about his arrest.