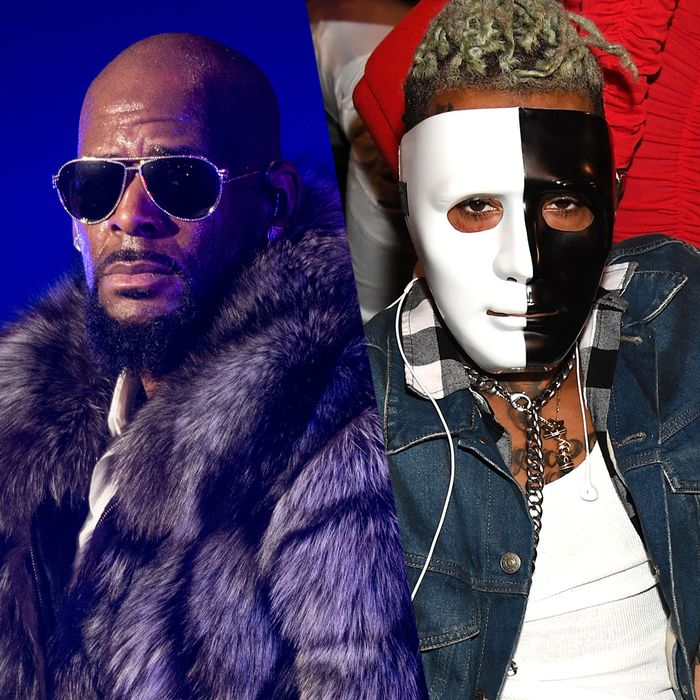 On Thursday, Spotify officially entered the #MeToo arena with the announcement that it would be removing R. Kelly and XXXTentacion's music from its playlists, in accordance with a new policy on hate content and hateful conduct, effective immediately. The move comes after both artists have been accused of physical and sexual violence — in R. Kelly's case, for decades. It's arguably the most consequential measure the music industry has taken thus far to condemn alleged predators, but the reaction to it has been divided. Some have praised the effort, while others have accused Spotify of censorship and going down a slippery slope. But what is the ban really all about and how will it affect you? (Note: While Spotify has confirmed to Vulture that it removed R. Kelly from its playlists, it has not responded to requests for further clarification about how that affects the platform's algorithm overall.)
What did Spotify do?
It banned R. Kelly and XXXTentacion from being promoted on any of its playlists, including algorithm-based, mood-based, and genre-based. The ban is the result of a new Hate Content and Hateful Conduct policy, which states:
"We don't censor content because of an artist's or creator's behavior, but we want our editorial decisions - what we choose to program - to reflect our values. When an artist or creator does something that is especially harmful or hateful (for example, violence against children and sexual violence), it may affect the ways we work with or support that artist or creator."
Spotify came up with its definition for "hate content" by partnering with the Southern Poverty Law Center, the Anti-Defamation League, Color of Change, Showing Up for Racial Justice (SURJ), GLAAD, Muslim Advocates, and the International Network Against Cyber Hate. They collectively define "hate content" under the new policy as "content that expressly and principally promotes, advocates, or incites hatred or violence against a group or individual based on characteristics, including, race, religion, gender identity, sex, ethnicity, nationality, sexual orientation, veteran status, or disability." In order to screen for violations of the policy, Spotify has three ways of reporting: an internal content monitoring system (which uses a tool called Spotify AudioWatch to help flag hate content), expert consultations with the groups listed above, and user comments and reports.
What prompted them to do it?
Likely, pressure from protest groups like Mute R. Kelly, which has been calling on labels and streaming services to drop Kelly for over a year after reports surfaced that he is allegedly running a "sex cult." More recently, the women of color in Time's Up issued an open letter calling on corporations, including Spotify, to stop working with him. Spotify is the first of the companies named to respond to the letter with a form of action. Spotify did not specify any other reason for the ban other than that Kelly was found in violation of the new policy, saying in their statement that "we've decided that in some circumstances, we may choose to not work with that artist or their content in the same way — to not program it, to not playlist it, to not do artist marketing campaigns with that artist."
Which artists have been affected so far?
The ban right now affects only R. Kelly and XXXTentacion; however, Billboard reports that it could soon apply to other artists. In fact, some in media have pointed out that controversial rapper 6ix9ine has also disappeared from Spotify's popular RapCaviar and Most Necessary playlists, though it is unconfirmed whether he has been banned. Spotify declined to comment to Vulture on whether or not a convicted abuser like Chris Brown would also be blacklisted, telling the New York Times that it will enforce the ban on a "case-by-case basis" and that there is currently no formal list of artists being debated. Instead, decisions to ban artists will reportedly be made through an internal committee led by Jonathan Prince, Spotify's vice-president of content and marketplace policy. According to Billboard, artists and labels were not notified of the policy change beforehand, but that is has long been an unspoken rule for certain genres, including Latin trap music.
Does this mean I can't access their music on Spotify?
No. While their music is banned from playlists, you can still find both artists' respective catalogues on their Spotify pages.
So how will it affect the way I listen to their music?
On a technical level, it isn't clear just how much R. Kelly and XXXTentacion will disappear from the platform. Will XXX still show up as a recommended artist? Will you still get R. Kelly on artist, album, and song radio stations? What about their "This Is:" artist pages? And how does their absence mess with Spotify's algorithm, which determines so much of your Discover and Daily Mix lists? These are questions that still don't have answers and, according to Billboard, won't for some time: "What this means for the programming of new artists on the platform and who has the final say on playlists seems up in the air." One thing we do know: If you want to listen to R. Kelly and XXXTentacion, from now on, you're going to have to actively search for their music, rather than stumble across it.
How will they deal with problematic producers and songwriters, like Dr. Luke?
That remains to be seen, but Spotify will have to act fast. Amid allegations that Beyoncé's "Drunk in Love" producer Detail raped two women, and attempted to assault signers Bebe Rexha and Jessie Reyez, fans have questioned whether or not Spotify will apply the same policy to the music he worked on. Billboard also notes that some industry insiders are asking if Spotify plans to hold labels run by accused abusers (think Charlie Walk formerly at Republic, and L.A. Reid formerly at Epic) accountable in the same way that it is R. Kelly.
Could this actually hurt R. Kelly and XXXTentacion's revenue?
It's hard to say. How much money artists ever see in royalties from their streams on Spotify has been a point of contention since its inception, so much so that it's what originally drove Taylor Swift off the platform. For a legacy artist like R. Kelly, whose songs were never regularly featured on the main page playlists to begin with and who makes the majority of his revenue from touring, his financial losses could be low. His reputation, however, will suffer the bigger blow. For newer artists like XXXTentacion, though, whose fan base relies on streaming for consumption and discovery, it could be crippling. Vulture's reporting last year found that an artist in a similar league, Lil Uzi Vert, saw just $900,000 from Spotify streams of his hit "XO Tour Llif3," while his label pocketed $4.5 million. The song was featured heavily on Spotify's coveted rap playlist, RapCaviar, which then went on to promote a handful songs from Uzi's album, as it had done for XXX, up until yesterday.
With that in mind, XXX could stand to lose some money, and his label even more money, but mostly he'll be losing tons of free marketing. (Prior to the ban, Spotify even worked with XXX on editorial coverage.) His latest album became the first of the SoundCloud rap generation to go No. 1, largely due to streaming, and plenty of those streams came from casual, often disengaged plays on playlists (if you put on a playlist as background noise at an event, for example, those streams still count even if you're not actively listening). With changes coming to the Billboard charts to place more weighted value on paid streams versus freebies, his absence on all the major playlists across the board could hurt his chart standings going forward.
Will Spotify lose money?
For as long as Spotify has existed, it's been known for dismal payouts to artists. But that doesn't mean it gets to keep all those streaming royalties either — on the contrary, most of it goes to the major labels because Spotify must pay to license their songs. It's difficult to put a number on how much Spotify could lose from no longer having a streaming juggernaut like "Ignition (Remix)" or all those XXXTentacion songs on its playlists. But consider this: Billboard reports that "between 20 percent and 30 percent of Spotify's streams now come from its playlists, while as much as 50 percent of new music streams stem from playlists." (Spotify is also the biggest streaming service, with 70 million paid subscribers.)
Is this permanent or can artists appeal?
That remains to be seen, though judging from the statements released on behalf of R. Kelly and XXXTentacion (see below), the decision does not appear to be reversible. If XXX wins his trial, will Spotify reinstate his music on playlists? It's a guessing game.
What are the criteria going forward: allegations or convictions?
That is currently unclear. Right now, the two artists affected by the ban have not been convicted of a crime. R. Kelly was acquitted of child pornography charges in 2008 and is not facing any present charges despite multiple allegations of ongoing sexual abuse. XXXTentacion is accused of physically assaulting his then-pregnant girlfriend and is awaiting trial on those charges.
What do artists think?
Both R. Kelly and XXXTentacion have denounced the ban, each pointing out via statements from their representatives the multitude of other accused artists whose work has yet to be blacklisted, asking if they'll all receive the same treatment. Similarly, 50 Cent added his two cents saying that it's wrong to condemn artists who haven't been convicted of a crime.
According to Billboard, the move to stop promoting certain artists on a case-by-case basis has concerned even some top executives at Spotify, who were reportedly "blindsided" by the announcement and consider the policy a "slippery slope" due to its subjective nature.
Is there a precedent for this?
Sort of. Last year, PWR BTTM's music was removed from Spotify, including their week-old new album, following allegations of sexual misconduct against one of the band's members. However, that removal was made at the request of the band's former record label and was not implemented on Spotify's end first. Usually, when music is removed from a streaming service, it's an artist or label's decision (think Taylor Swift, Jay-Z, Prince, and many more who've shunned Spotify at one time or another). The closest example of this new policy being enforced occurred last year, when Spotify banned music affiliated with white supremacists from its service altogether, not just on playlists. However, Billboard reports that Spotify has quietly been enforcing a version of the new hate consent and hateful conduct policy for "the last several years" without publicizing it, and also reports that Apple Music stopped promoting R. Kelly on its own playlists "several months ago" with no announcement.
How much of a statement is Spotify making by removing artists from playlists?
We'll give them this: It's a start. In banning R. Kelly and XXXTentaction from its playlists, Spotify is making its most vocal judgment call yet that it will not actively participate in the financial support of accused abusers. That said, Spotify will still permit R. Kelly and XXXTentacion to make money off the platform by not fully removing their music from the streaming service and, thus, will still make some money themselves off the remaining streams. The only difference is, they're not going to advertise that the music is there.