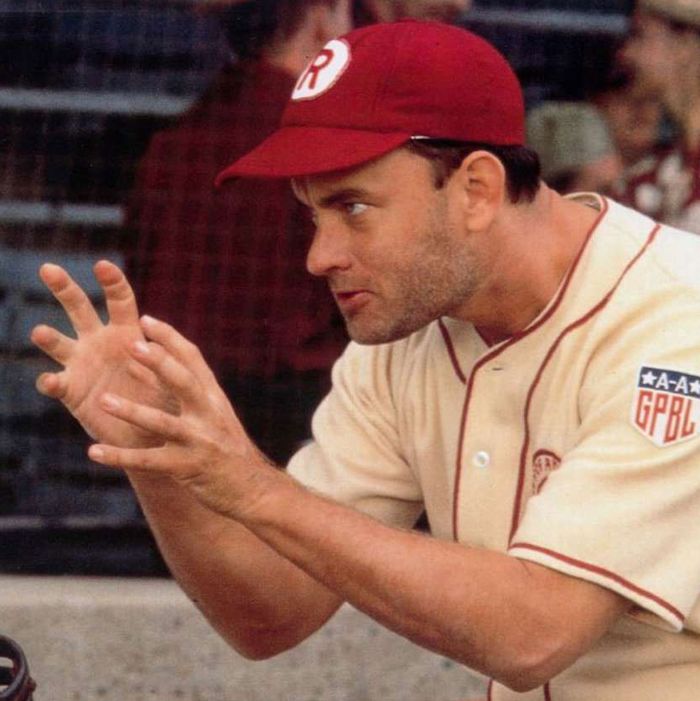 Each month, several films leave Hulu's library. We provide a list of departing titles and recommend a few standouts so you can watch them before they're gone forever (or are just available on a different site). For more coverage of the best titles available on Hulu, including our top picks from last month and updates on what's new on Hulu this month, check out Vulture's What to Stream Now hub.
Leaving June 30
Because it's baseball season: A League of Their Own
You don't really need a reason to watch A League of Their Own, but hey, it's June, it's sunny, and you've gotta remind everyone that there's no crying in baseball. It's a shame that this movie is leaving Hulu this month because otherwise I'd recommend that you watch it regularly. It's the story of a disgraced player tasked with coaching in the All-American Girls Professional Baseball League — a league that existed briefly in the '40s when all the boys went off to war — and their journey to the World Series, but you probably already knew that. Madonna is in this movie! With Tom Hanks! And Geena Davis! Leaving June 30.
Leaving June 30
Because they caught the Golden State Killer: Zodiac
Isn't that wild? They caught the guy before David Fincher made a movie about him! Anyway, if you would like to see another real-life case of unsolved murder, Zodiac is great. You'll feel a sense of dread that leaves you looking over your shoulder at night, and wonder why Nightcrawler surprised us all so much after remembering how good Jake Gyllenhaal's obsessive amateur detective role is in this film. Zodiac is probably Fincher's best work, a terrific feel-bad movie that envelops you in gloom and dread. Perfect for summertime! Leaving June 30.
Leaving June 30
If you want a warm documentary unlike anything you've seen: Stories We Tell
Don't miss out on Stories We Tell, Sarah Polley's wonderful 2012 documentary about her family and … well, a few other things. It's weird to suggest that a documentary has spoilers, but if you didn't hear about this movie when it made waves six years ago, you only need to know that it's unlike any documentary you've seen. Family secrets are unearthed for the first time, including one that directly relates to Polley herself. It's fascinating but not voyeuristic, a warm and charming film about a family sorting out their own history in real time. Leaving June 30.
Leaving June 30
• 30 Beats 
• 5 Days of War 
• A League of Their Own 
• A Simple Plan 
• Accepted 
• Agent 
• Alter 
• As I AM: The Life and Times of DJ AM 
• Bad News Bears (2005)
• Basic Instinct 
• Billy the Kid (2013)
• Cool Runnings 
• Death Becomes Her 
• Desperately Seeking Susan 
• Eye for an Eye 
• Fever 
• Home of the Brave 
• Horsemen 
• I'm Gonna Git You Sucka 
• Internal Affairs 
• Jane Eyre (1996)
• K2 
• Knock Knock 
• Ladybugs 
• Legionario 
• Life Stinks 
• Marathon Man
• Married to the Mob 
• Mystery Team 
• Private Violence 
• Project Nim 
• Quigley Down Under 
• Roxanne 
• Shanghai Surprise 
• Small Soldiers 
• Snake Eyes 
• Spanglish 
• Stand Up Guys 
• Standing in the Shadows of Motown 
• Stories We Tell 
• Superstar 
• Tenderness 
• Texas Killing Fields 
• Thunder Soul 
• Trading Mom 
• Up In Smoke 
• Uptown Girls 
• Wishmaster 
• Wishmaster 2: Evil Never Dies 
• Wishmaster 3: Beyond the Gates of Hell 
• Wishmaster 4: the Prophecy Fulfilled 
• Zodiac 
• Zombie Decadence 2 
For more coverage of the best movies and TV shows available on Netflix, HBO, Amazon Prime, Showtime and Hulu, check out Vulture's What to Stream Now hub, which is updated throughout the month.