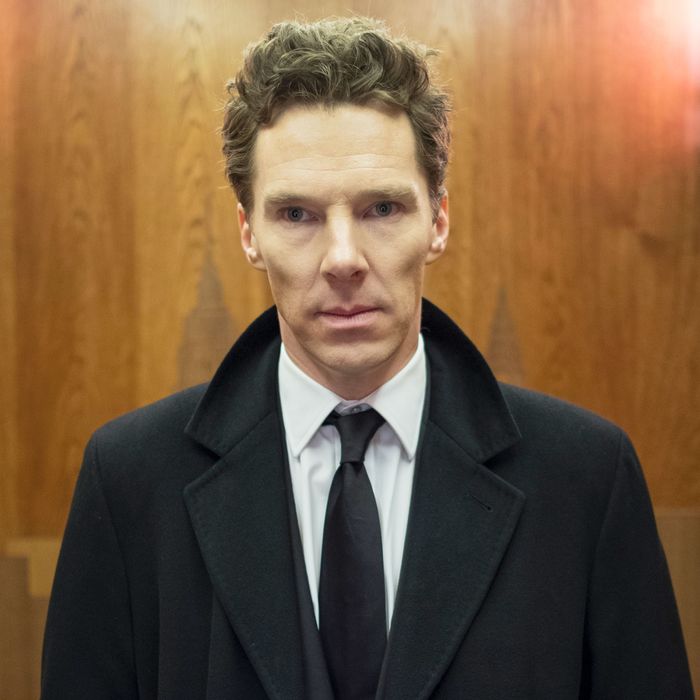 Benedict Cumberbatch in
Patrick Melrose
.
Photo: Ollie Upton/Ollie Upton/SHOWTIME
At the beginning of (and during) every month, Showtime adds new movies and TV shows to its library. Below, you'll find our recommendations for May 2018. For more comprehensive coverage of the best titles available on Showtime and elsewhere, check out Vulture's What to Stream Now hub, which is updated throughout the month.
Available September 4
Because it's Benedict Cumberbatch: Patrick Melrose
Showtime's newest mini-series is based on the Patrick Melrose series of novels by British author Edward St. Aubyn. A semi-autobiographical body of work loosely based on St. Aubyn's life growing up in dysfunctional wealth, Patrick Melrose will adapt one novel per episode, starring Benedict Cumberbatch as the titular Melrose. From the looks of it, Cumberbatch is having a hell of a time playing an inebriated burnout as he crashes face-first through life, with a supporting cast that includes Allison Williams, Hugo Weaving, and Blythe Danner to boot. Available May 12.
Available September 1
Because it's a great monster movie: Cloverfield
One of the weirder things to happen in Hollywood over the last few years is the sudden transformation of Cloverfield from a one-off monster movie with a clever marketing campaign to a stealth franchise of sci-fi thrillers. All that franchise-y sheen unfortunately detracts from what the original 2008 movie was: a clever, straightforward monster film from a director, Matt Reeves, who would prove to be uncommonly good at crafting thoughtful blockbusters when he took over the Planet of the Apes reboot. Revisit it now that it's on Showtime; you'll have a great time. Available May 25.
Available September 20
Because it's as sweet as it is funny: 50/50
A dramedy that nails the balance between both the comedy and drama sides of the equation, 50/50 is a warm, humane delight — which might be a weird thing to say about a movie that deals with cancer, but that's kind of the point. Loosely based on the experiences of writer Will Reiser, a friend of Seth Rogen and Evan Goldberg's, 50/50 follows Adam (Joseph Gordon-Levitt), a radio journalist in his late 20s who discovers he has cancer and must start undergoing chemotherapy. Helping him through his transition to treatment life is his best friend Kyle (Rogen), and the bulk of the film centers on their relationship as they joke and weather the storm together. Available May 1.
Available May 1
• 50/50
• Assault on Precinct 13
• Bigfoot and the Burtons
• Children of Men
• Cloverfield
• College (2008)
• Festival in Cannes
• The Flying Scotsman
• The Haunting
• I, Daniel Blake
• Joan Rivers: A Piece of Work
• The Killer Inside Me
• King Arthur
• Looking for Eric
• Man on a Ledge
• S.W.A.T.: Firefight
• Silent Hill
• Skinwalkers
• Stealth
• Terms of Endearment
• This Isn't Funny
• The White King
Available May 4
• Margin Call
• The Gunman
Available May 5
• The Promise
Available May 6
• I'm Dying Up Here: Season two premiere
Available May 7
• Shanghai Noon
Available May 8
• The Host
Available May 11
• Kevin Smith: Silent But Deadly
Available May 12
• Patrick Melrose: Series premiere
• Ghost in the Shell (2017)
Available May 25
• Rebel in the Rye
Available May 27
• The Fourth Estate
Available May 30
• Bowling for Columbine