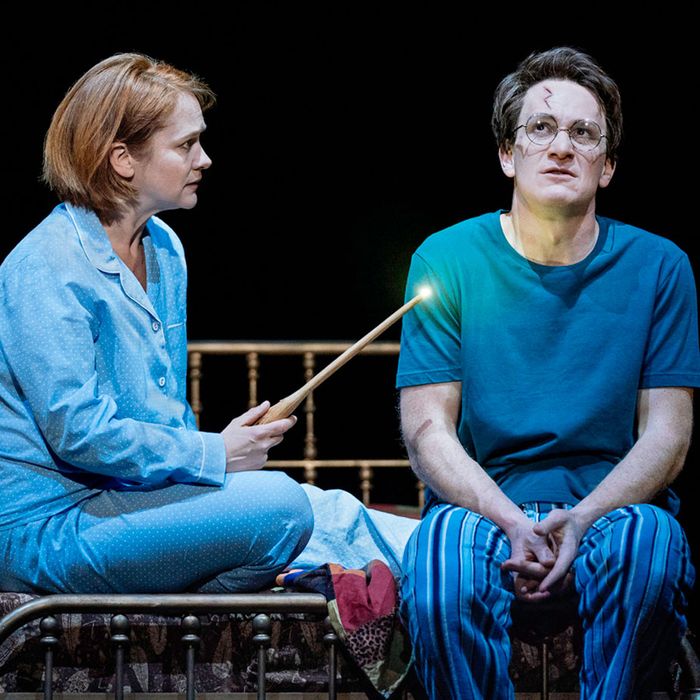 Harry Potter and the Cursed Child.
Photo: Manuel Harlan
If you're planning on seeing both parts of Harry Potter and the Cursed Child in one day, you've likely thought: What on earth am I going to do with myself between 4:40 p.m.-ish, when part one ends, and 7:30 p.m., when part two starts? Well, don't worry because we've thought of it too, and it turns out that the theater district, though not the most obvious neighborhood for good food and clean bathrooms, actually has some decent options. There's also Red Lobster, if that's your thing (no judgement here), but if you're looking for something a little less crustacean heavy, take a look at some of our picks for eating, drinking, and peeing within walking distance of the Lyric Theatre below.
Casual Options:
City Kitchen, 700 Eighth Ave.
Menu Offerings: This busy food court includes vendors selling tacos, lobster rolls, sushi, ramen, Mediterranean wraps, and donuts.
Hours: 6:30 a.m.–9 p.m. (Sunday–Wednesday), 6:30 a.m.–11:30 p.m. (Thursday–Saturday)
Distance from the theater: 0.2 miles (3 minute walk)
Bathroom: Yes
The Little Beet, 135 W. 50th St.
Menu Offerings: Grain and veggie bowls, with protein options including tofu, chicken, braised pork and salmon.
Hours: 12 p.m. to 8 p.m. on weekends
Distance from the theater: 0.5 miles (9–10 minute walk)
Bathroom: Yes
Gotham West Market, 600 11th Ave.
Menu Offerings: This upscale food hall has a variety of options including ramen, tacos, pizza, and an outpost of Seamores, featuring a fully licensed bar with oysters and craft beer.
Hours: 7:30 a.m.–10 p.m. (Sunday–Thursday), 7:30 a.m.–11 p.m. (Friday and Saturday)
Distance from the theater: 0.7 miles (15 minute walk)
Bathroom: Yes
Xi'an Famous Foods, 24 W. 45th St.
Menu Offerings: Xi'an-style Chinese food including hand-pulled noodles, soups, and dumplings.
Distance from the theater: 0.4 miles (under 10 minute walk)
Hours: 11 a.m.–8:30 p.m.
Bathroom: No
Sit-Down Spots:
Sushi of Gari, 347 W. 46th St.
Menu Offerings: Sushi!
Hours: 5 p.m.–10:45 p.m.
Distance from the theater: 0.4 miles (under 10 minute walk)
Becco, 355 W. 46th St.
Menu Offerings: Pasta and other Italian fare.
Hours: 4 p.m.–11 p.m. (Wednesday), 4 p.m.–12 a.m. (Saturday), 12 p.m.–10 p.m. (Sunday)
Distance from the theater: 0.4 miles (under 10 minute walk)
The Marshal, 628 Tenth Ave.
Menu Offerings: Locally sourced food, cooked in a wood-fired oven. Lots of New York state cheeses, meats, and fresh vegetables.
Hours: 4 p.m.–11 p.m. (Monday–Thursday), 5 p.m.–12 a.m. (Saturday), 5 p.m.–11 p.m. (Sunday)
Distance from the theater: 0.5 miles (10 minute walk)
Toloache, 251 W. 50th St.
Menu Offerings: A large selection of modern Mexican dishes, including ceviche, tacos, enchiladas, and if you're a cheese fan, queso fundido. There's also a vegetarian menu available upon request — the mushroom and cactus tacos are a solid option.
Hours: 3 p.m.–11 p. m (Tuesday–Thursday), 3 p.m.–12 a.m. (Friday and Saturday), 3 p.m.–10 p.m. (Sunday and Monday)
Distance from the theater: 0.5 miles (10 minute walk)
Danji, 346 W. 52nd St.
Menu Offerings: Korean "tapas," including spicy chicken wings, beef bulgogi sliders, and a selection of stews. There are a fair number vegetarian options, too.
Hours: 5 p.m.-12 a.m. (Monday–Thursday), 5 p.m.–1 a.m. on (Friday and Saturday), 4 p.m.–11 p.m. (Sunday)
Distance from the theater: 0.6 miles (10 to 15 minute walk)
Ippudo Westside, 321 W. 51st St.
Menu Offerings: Ramen and a selection of small plates, including pork buns and black-pepper chicken wings.
Hours: 5 p.m.–11:30 p.m. on weekdays (open til 12:30 a.m. on Fridays), 11 a.m.–11:30 p.m. (Saturday), 11 a.m.–10:30 p.m. (Sunday)
Distance from the theater: 0.6 miles (10 to 15 minute walk)
Totto Ramen, 366 W. 52nd St.
Menu Offerings: Ramen!
Hours: 5:30 p.m.–12 a.m. (Monday to Saturday), 4 p.m.–11 p.m. (Sunday)
Distance from the theater: 0.7 miles (10 to 15 minute walk)
Quality Italian, 57 W. 57th St.
Menu Offerings: A much fancier (and more expensive) Italian option, serving a meat-heavy selection of pastas, mains, and several kinds of steak.
Hours: 5:30–10:30 p.m. (Monday–Wednesday), 5 p.m.–11:30 p.m. (Thursday–Saturday), 5 p.m.–10 p.m. (Sunday)
Distance from the theater: 0.9 miles (20 minute walk, which is a bit of a schlep)
Coffee Shops:
Bluestone Lane, 11 Times Square
Vibe: If you've been in New York for long enough, you should know the deal with these Australian-style coffee shops: hip, with great espresso and avocado toast, but not a whole lot of room.
Distance from the theater: 0.2 miles (3 minute walk)
Hours: 7 a.m.–7 p.m. on weekends (open until 8 p.m. during the week)
Bathroom: Yes
Bibble and Sip, 253 W. 51st St.
Vibe: Cute, family-run coffee shop with house-made pastries. They also have panna cotta that comes in a very cute little jar with an alpaca on the front.
Distance from the theater: 0.5 miles (10 minute walk)
Hours: 10 a.m.–8 p.m.
Bathroom: Yes
Cafe Grumpy, 200 W. 39th St.
Vibe: The midtown branch of one of Greenpoint's favorite coffee shops (as featured on Girls). The space is pretty small, compared to other locations, and doesn't offer Wi-Fi.
Distance from the theater: 0.3 miles (5 minute walk)
Hours: 8 a.m.–7 p.m. on weekdays (open until 8 p.m. during the week)
Bathroom: Yes
Jimmy's Corner, 140 W. 44th St.
Vibe: An old-school dive bar with historic boxing memorabilia on the walls and a great jukebox.
Hours: Open from afternoon until 4 a.m. all days of the week.
Distance from the theater: 0.2 miles (under 5 minute walk)
The Rum House, 228 W. 47th St.
Vibe: Cocktail bar at the bottom of the Edison Hotel. Lots of dark wood, velvet, and deep-red leather.
Hours: 12 p.m.–4 a.m.
Distance from the theater: 0.3 miles (5 minute walk)
Lantern's Keep, 49 W. 44th St.
Vibe: Cocktail bar in the Iroquois Hotel. Most cocktails are $19 and up.
Hours: 5 p.m.–12 a.m. (Tuesday–Friday), 7 p.m–1 a.m. (Saturday)
Distance from the theater: 0.3 miles (5 minute walk)
Russian Vodka Room, 265 W. 52nd St.
Vibe: Probably the most quirky of the group. As the name suggests, this is a Russian bar, with plenty of vodka options. There are no windows, a heavily utilized baby grand piano, and if you ask the bartender nicely, you might be able to wear some novelty hats.
Hours: 4 p.m.–2 a.m. (weekdays), 4 p.m.–4 a.m.(weekends)
Distance from theater: 0.6 miles (a bit over 10 minute walk)
Pocket Bar, 455 W. 48th St.
Vibe: A tiny wine bar in Hell's Kitchen with a selection of wines on tap.
Hours: 4 p.m–12 a.m. (Sunday–Thursday), 4 p.m.–1 a.m. (Friday and Saturday)
Distance from the theater: 0.7 miles (10 to 15 minute walk)
Marriott Marquis, 1335 Broadway
Bathroom location: 8th floor, near the lobby.
Distance from the theater: 0.2 miles (less than 5 minute walk)
Wholefoods Bryant Park, 1095 Sixth Ave.
Hours: 7 a.m.–11 p.m.
Bathroom location: Top floor, next to the salad bar.
Distance from theater: 0.3 miles (5 minute walk)
Kinokuniya Books, 1073 Sixth Ave.
Hours: 10 a.m.–8 p.m. (Monday–Saturday), 10 a.m.–7:30 p.m. (Sunday)
Bathroom location: 1st floor
Distance from the theater: 0.4 miles (7 minute walk)
citizenM hotel, 218 W. 50th St.
Bathroom location: Downstairs from the lobby.
Distance from theater: 0.5 miles (10 minute walk)