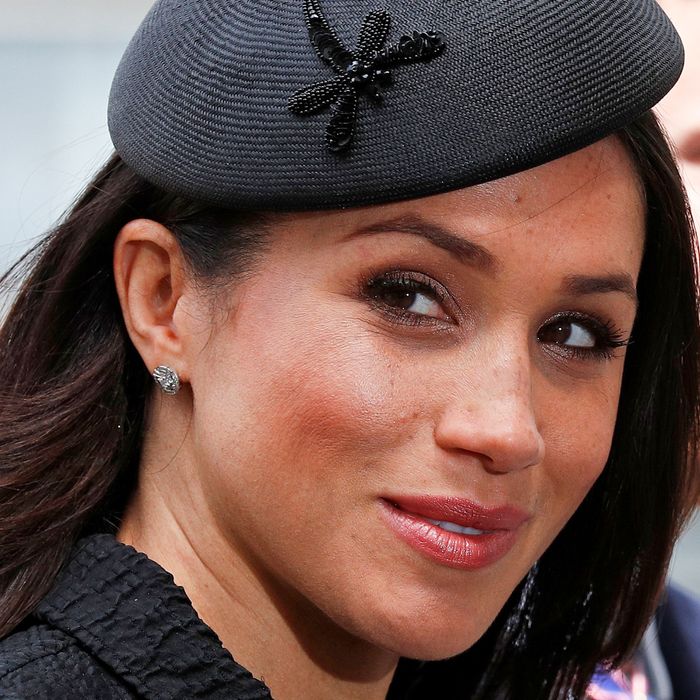 Photo: Adrian DEnnis/AFP/Getty Images
They say that in a crisis, you learn what you're truly made of. If that's true, then over the course of our recent crisis of democracy, I've learned that I am made of Korean skin-care products and Meghan Markle's Wikipedia page. The endless paroxysms of the Trump presidency have turned me — and untold thousands of others — into the sort of person who buys creams made of snail excretions, then smears them all over her face and binge-watches The Crown while Googling, "How did Princess Margaret drink so much and stay hot?" (It should go without saying that I am also drinking.)
Recently, however, my rock-solid coping mechanism for the collapse of our republic turned on me. While perusing Meghan's Wikipedia page for the 24th time, I noticed a detail that my brain must have purposefully protected me from during my first 23 visits: Meghan Markle's actual name is Rachel Meghan Markle. Please focus. What I am telling you here is that Meghan Markle's name is not actually Meghan. It is Rachel!!!!!!
As a person named Rachel who goes by the name Rachel, I experienced a rapid-fire series of emotions. Pride: We have the same name! Confusion: Why doesn't she use our name? Anger: Does she think the name Rachel isn't good enough for her? Horror: In a Sliding Doors universe where Rachel respected both the law and her parents' choices, I could have bought so much commemorative royal merchandise with my name on it. Despondency: We have all been operating under a false reality perpetrated by a woman who is about to become an all-powerful queen, if 16 other people die.
Once I knew about Rachel Markle, I could not return to my previous life of not knowing about Rachel Markle. No longer could I joyfully read thousands of articles about how Meghan Markle was breaking royal tradition by wearing floppy hats instead of non-floppy hats, or about how Meghan Markle's dad was reading quietly about London from a little book while the paparazzi watched, or about how Meghan Markle's body language proved that she didn't know how to camp in the Botswana desert. Because "Meghan" Markle does not actually exist.
I had a new purpose now. I needed to know: Why did Rachel drop the Rachel? Was she embarrassed by the fact that Rachel sort of rhymes with Markle, and that sounds dumb? Did she prefer the alliterative LIE of Meghan Markle? Did she, like me, struggle with the fact that it was the '80s, and she had 9,000 other Rachels in her class? (You'll notice that my name is still Rachel, though.) Or did she just do it to fuck with me personally?
If you Google around about this shameful phenomenon, you'll find something even more haunting: To date, nobody has ever figured out why. Rachel Markle herself has rarely, if ever, addressed her profligate Rachel erasure, only mentioning it briefly in a smattering of interviews. Take, for example, this one, where she just says, "My first name is actually Rachel," then moves on as if she has not just dropped a bomb the size of her (inappropriate) floppy hat.
Even the British press — normally deeply insane and proudly amoral in its pursuit of pointless details about the royal family — has failed to do its due diligence regarding the only issue that actually matters. Here's a sampling of the way Rachel Markle's name has been addressed across the pond — casually, coolly, profoundly rude to Rachels everywhere:
The Sun: "It's not unusual for celebrities to change their names for the stage."
The Express: "Is [sic] is believed Meghan chose to go by her middle name professionally, rather than use her first name. She is not the first celebrity to do this: a long list of famous people, including Demi Moore, Elton John and Katy Perry use 'stage' names in public."
The Liverpool Echo: "Markle uses her middle name as a stage moniker and her actual first name is Rachel. So will she be Rachel, Duchess of Sussex? Perhaps she'll legally change her name to Meghan when she marries."
Meanwhile, the U.S. press has gone so far as to suggest that Rachel changed her name to Meghan because Rachel is "much less exciting." I'm sorry, what?
The only person who seems to care about Rachel Markle's name is the queen herself, thank God. The queen used Rachel's real name in her official consent letter for the upcoming marriage, which is apparently legally required, but also delightfully shady. Because the queen also appears to understand the depths of Rachel Markle's Machiavellian nature: In an incredible special section entitled "Does the Queen Prefer Kate to Meghan?," The Express writes, "In the 2011 letter, the Queen referred to the then engaged couple as: 'Our Most Dearly Beloved Grandson Prince William Arthur Philip Louis of Wales, K.G. and Our Trusty and Well-beloved Catherine Elizabeth Middleton.' However, Meghan was referred to simply by her full name, Rachel Meghan Markle, with no additional praise such as 'trusty' or 'well-beloved.'"
The queen knows Rachel Markle is not trusty. Not trusty at all.
If everyone else was going to ignore the issue, I decided that it was incumbent on me to find out why and when Rachel had dropped her first name. The very concept of identity itself — already a slippery, melting slope we are doomed to skid down, screaming, until our deaths — depended on it. Knowing the queen was on my side, practically begging me to expose this broad, I was determined to reach out to every single person I could think of who might be able and willing to talk.
My first stop: Lisa Ryan, the Cut's royal expert. I asked Lisa, who has been covering the royal wedding with a fervor that feels almost British (the highest of compliments), if she knew why Rachel's name was not still Rachel. "I'm not entirely sure why Meghan ditched the 'Rachel' part of her name," Lisa told me. But she did offer proof that much of the British press was wrong — Meghan wasn't a stage name, but a name that had followed her from childhood. "I do know that she's gone by Meghan at least since she was young. One of her childhood friends keeps blabbing about her to the press (namely, to the Daily Mail), and in videos that she's been sharing to the tabloids, we can see the future royal being referred to as Meghan. My first reaction would be to say that maybe Rachel was just so common in the '80s, Meghan wanted to go by something else … but honestly, 50 percent of women born in the '80s were also called Megan, so who really knows."
(If you're curious: 0.76 percent of baby girls born in 1981 were named "Rachel," compared to 0.16 percent named "Meghan." But "Megan" made up about 0.56 percent, meaning that there were, indeed, slightly more Rachels than Megans/Meghans.)
But back to the friend. That friend, Ninaki Priddy, was Rachel's maid of honor at her first wedding and has indeed been blabbing about Rachel to the press for months, accusing her of being a Princess Diana–obsessed social climber who clawed her way to the top using the classic "middling-network-drama-to-royalty" route. I emailed Ninaki in hopes that I would join these esteemed ranks. She did not get back to me.
I asked Lisa to direct me to any Royal PR people who might be able to help me, and she told me that she's not really in touch with the palace. I learned why almost immediately: The Palace's PR site is the digital embodiment of the philosophical concept of the Void. Despite instructing "international photographers, reporters and television crews who wish to cover Royal engagements in the UK, or who are researching documentaries or books on Royal subject matter [to] contact Royal Communications," there are zero email addresses provided for Royal Communications. The closest thing to an address is a page that instructs people on how to write a (physical) letter to the queen herself: "If you wish to write a formal letter, you can open with 'Madam' and close the letter with the form 'I have the honour to be, Madam, Your Majesty's humble and obedient servant.'"
Here is the letter I wrote to the queen about Rachel Markle: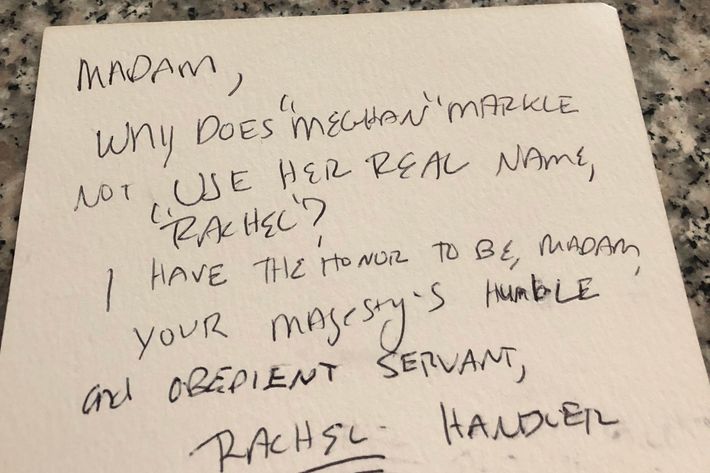 She has yet to respond.
Soon, I found the actual Royal Communications director, Sally Osman, on Twitter. Sally has tweeted twice in her entire life. I guessed a few of her email address possibilities, and I await her reply with bated breath. Lisa also gave me the email address of vice-consul and head of communications at the British Consulate General Patricia Edwards, who politely declined to comment on Rachel Markle's name but gave me the number for Palace Communications. Helpfully, Patricia reminded me to wait until the next morning to call the palace, as I had lost any remaining instincts about the concept of time.
While I waited for the sun to set in America and on my intellectual life, I reached out to Menhaj Huda, the director of Harry & Meghan: a Royal Romance, the Lifetime movie about Harry and Meghan's courtship that hasn't come out yet, but already has the royals shook. I told Menhaj that I was "very excited" about the movie (true), and asked if he knew anything about Rachel's flagrant chicanery. "I'm sure you will love the movie," Menhaj told me. "As for your question, I only found out during production that her full name was Rachel (which is also her character name on Suits so I thought people were talking about that initially to add to the confusion), but it is not something we deal with in the story we are telling. My guess is that it's her brand as an actor. Meghan Markle is a very catchy name, more than Rachel Markle [Ed. Note: wow] — so she stuck with it and it worked!"
I was able to independently confirm that Rachel's name on Suits is a mere coincidence — the character was not named after her, though if you subscribe to the theory that time is flat, it's possible they were named simultaneously. What is not a coincidence, however, is that Suits is a show about fake lawyers scamming their way through life.
My next attempt at the truth: An email to Madame Tussauds London. The wax museum had just put out a story claiming they'd allow anyone by the names of Meghan and Harry to enter the for free on the day of the royal wedding, so that they could glimpse large quantities of wax shaped into approximations of Harry and Meghan. I asked them two questions: (1) What do you know about Meghan's mysteriously missing first name? And (2) knowing that her real first name is Rachel, will you also allow Rachels to get into the museum for free on the day of the wedding?
I also tweeted at Kensington Palace, and at Rachel's royal biographer Andrew Morton.
Neither has replied to me.
Frustrated, I decided to go straight to the source, where every remorseless tabloid journalist had gone before: Rachel's parents. Doria Ragland and Thomas W. Markle, who divorced when Rachel was a child, and have been notoriously press-shy since Rachel's engagement, with Thomas toddling around a "quiet Baja California town," giving a polite "no comment" to the British paps stalking him, and Doria ignoring everybody except Oprah. Drunk on hubris born from the full-on assault on my given name, I asked our own valiant research editor Ted Hart to find Doria's and Thomas's emails. He found several possible iterations, and I sent every single one a very calm and rational plea for the truth, a plea that I imagine appealed to both their parental instincts and duty as American citizens.
I received exactly one reply, from somebody who claimed they were not Thomas: "Sent to wrong email. I don't know this person. This is harassment."
Facing the possibility that I might fail at the most important task of my natural life, I tried yet another avenue: Rachel's college sorority. Photos from Kappa Kappa Gamma's Northwestern chapter reveal that Rachel was going by Meghan back in her teens, but I wondered if anyone who knew her way back when might be able to tell me why. I emailed a bunch of her sorority sisters who'd spoken to the press before. A woman incredibly named Coulter Bump got back to me. "I wish I could help you, but I didn't know (or can't remember, which is all the same to you!) that Meghan went by her middle name," wrote Coulter. "I've only known her as Meghan." Liz Kores Graham — a woman who I ended up knowing from an old job and answered my email as if it were perfectly natural to reach out after seven years of silence to ask about Prince Harry's future wife — agreed. "In my memory, Meg was always Meghan Markle, never Rachel," she said. "I don't know what she went by in high school, but at Northwestern she was always Meghan."
I also sent a note to Rachel's estranged half-sister Samantha Grant, who's writing a book called The Diary of Princess Pushy's Sister and whose cottage industry appears to be selling her family out. In a particularly dark moment, I then emailed Samantha's ex-husband. Both have, quite fairly, ignored me entirely.
Hours passed without replies from a single member of the Markle family, or the royal family, or the Madame Tussauds family. Desperate, I took one final shot: Trevor Engelson, Rachel's ex-husband, the man who is literally making a show about being dumped for a British prince, even though that is not at all what happened to him. I figured if anyone would be petty enough to sink to my level, it would be Trevor. In my email to him, I included a winky face, so he knew that we were both deranged.
The next morning, I called the royal press office, and found myself on the phone with a chipper British lad named James. I posed my eternal question, perhaps the only question I'll ever know how to ask again: Did he or the palace have any insight or comment as to why Rachel Markle was playing fast and loose with the notion of selfhood? James sighed the sigh of a man condemned. "I don't," he said. "As guidance, that's the name she's always used."
At this point in the story, it would probably make sense — both narratively and cognitively — for me to write a concluding paragraph about how the only Rachel in this story who's actually lost hold of her identity is me, about how I've gone so far down this rabbit hole that I've come out the other side, in England, where the exasperated James is waiting for me, wielding a cricket bat. I could write about how I plan to end my quixotic quest because I'll probably never find the answer — or about how the real answer is that I need to put down my laptop down and stand in the rain for a while. The self isn't fixed, so why should the name be? I would think, in the rain. Both are constructs born from men, men afraid to explore the infinite abyss. Perhaps Rachel Markle is a pioneer among sheep — a woman unafraid to say, "Call me Meghan."
But that's not how this story is going to end. In fact, it's possible that this story will never end. I will either find out why Rachel Markle goes by Meghan, or I will die trying.
On that note, here is a list of people who still need to reply to me:
-The Queen
-Kensington Palace's Twitter
-Royal Communications director Sally Osman
-Rachel Markle's biographer Andrew
-Rachel Markle's ex-best-friend Ninaki
-Rachel Markle's estranged stepsister Samantha
-Rachel Markle's estranged stepsister's ex-husband Scott
-Madame Tussauds
-Several Kappa Kappa Gammans
-Rachel Markle's parents
-Rachel Markle's ex-husband Trevor
If you or any of your loved ones have any information regarding Rachel Markle, please get at me on Twitter: @Rachel_Handler, or email me at rachel.handler@nymag.com. You can open with "Madam."