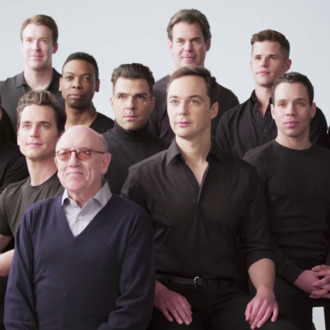 The cast of
The Boys in the Band
.
Photo: YouTube/The Boys in the Band on Broadway
Skimming over the list of Tony nominations, one set of turtlenecked faces currently seen on Broadway (and in plenty of banner ads) might seem curiously absent. Though Ryan Murphy's 50th-anniversary revival of The Boys in the Band, with Jim Parsons, Zachary Quinto, Matt Bomer, and Andrew Rannells, went into previews on April 30 and will open this week, on May 31, in the heat of the Tony Awards race, the revival isn't eligible. To qualify, it would have had to open before April 26.
Why bother opening a buzzworthy play full of A-listers and then just miss the awards deadline? "This is when the cast is available," a representative told Vulture. "So this is when we're doing it." Film and TV stars' windows of opportunity are typically driven by their shooting schedules. (The timing of a Broadway show is also sometimes limited by the availability of an appropriate theater.) According to an EW feature, Murphy and director Joe Mantello persuaded this cast — all the members of which are openly gay — to do the play last July, and rehearsals were scheduled around the summer break in Jim Parsons's schedule on The Big Bang Theory, as Mantello was confident that this would be the actor's "Mary Tyler Moore in Ordinary People" moment. In this case, Amy Schumer's Meteor Shower left the Booth Theatre on January 21, so that wasn't a problem, but Parsons was shooting Big Bang in Los Angeles up through April 25, and the play was scheduled to start previews five days later. So everyone went to L.A. in March, and the early rehearsals were held there.
A show doesn't have to open in March or April, near the high-visibility end of the season, to compete for Tony Awards — Hamilton opened in August and won nearly everything it could win — but summer openings do generally signal less prestigious fare. This year, for instance, there's Pretty Woman and the curious Go-Go's musical. The Boys in the Band surely isn't that; instead its schedule is simply the inevitable headache that comes with casting a lot of people from Hollywood. That also means it will have a strictly limited run, closing on August 11, and most of next year's Tony voters will probably miss it. The timing does come with some stress relief, as the play's rep points out: The cast doesn't simultaneously have to open the show and jump through the extra hurdles of Tony season, like meet and greets for visiting out-of-town voters or rehearsals for the awards show itself. That in turn means they can focus on the important things, like acting and foot recovery.