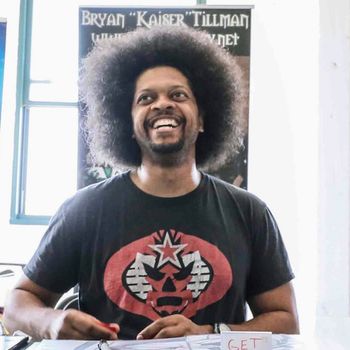 A vendor at Wicomicon, the pop-up convention spearheaded last minute by artist and writer URAEUS after FanCon collapsed.
Photo: MonsterphotoISO/Saquan Stimpson
Two years ago, the artist and writer URAEUS gained national media attention when he showed up at San Diego Comic-Con with a batch of T-shirts bearing the phrase "Black Heroes Matter." Less than a year had passed since #OscarsSoWhite shone a spotlight on the lack of diversity in Hollywood, and his T-shirts resonated with a crowd yearning to see leading black characters on TV and in the movies. URAEUS hoped that Universal FanCon — the pop culture convention that fell apart late last month and has since been mired in controversy — would build on this movement. FanCon was supposed to be the first major convention dedicated to inclusion and diversity, and URAEUS planned to host a panel during it. He says he saw his mission and FanCon's as "one and the same: proper representation of misrepresented groups."
Then, on April 20, just a week before the event was scheduled to kick off in a massive space at the Baltimore Convention Center, URAEUS and hundreds of others learned that the convention would no longer be happening. A Baltimore resident, URAEUS called his business partners for the Black Heroes Matter FanCon booth to talk it over. One of them, Andre Robinson, had decades of experience planning major cultural events, and he wondered if anything might be done to pick up the pieces. Within a week, he, URAEUS, and five other writers, podcasters, entrepreneurs, and a bouncer had pulled together a "pop-up" convention just in time to accommodate guests who had traveled to Baltimore to attend FanCon. Scaled for a more modest crowd than the original convention, Wicomicon welcomed around 1,000 artists and fans and a handful of celebrities — Luke Cage showrunner Cheo Hodari Coker, and the stars from The Magicians, among others — proving that a festival for pop-culture nerds from marginalized backgrounds could succeed even in the most chaotic of circumstances.
On Tuesday, I spoke with URAEUS and Andre Robinson about the FanCon fallout and their Wicomicon feat, as well as URAEUS's latest buzzy T-shirt. In a Vulture piece on FanCon's collapse, I'd quoted one of the FanCon organizers, who claimed that his convention failed in part because its intended audience turned out to be a "nonexistent community." That quote became a flashpoint of indignation for fans of color and others. URAEUS, who knows T-shirt material when he sees it, repurposed those words as a wearable rallying cry.
Why did you want to be involved in FanCon, initially?
UREAUS: Black Heroes Matter and FanCon, we had the same desire, which is to be represented properly in mainstream media. We're seen as nonexistent groups, where we are sidekicks, or comic relief, or just people in the background. We like to see ourselves represented the way we really are, which is as brilliant contributors to society. But we're not portrayed that way in popular media.
Tell me about how Wicomicon first came together.
URAEUS: It was dire straits. People were coming in from all over the country for FanCon, expecting to sell their wares, and there was nowhere for them to sell. Hotel rooms were canceled. So I put a call out on Twitter, and I got such a huge response, we felt the idea had legs.
Andre Robinson: I went to one of my business partners, a very, very conscious landlord, which is a rare person in the universe, and said, "Hey, we want to celebrate this moment," and he was like, "Hmmm … okay." There was no reason in the world to say yes to us in such a short amount of time. I had to borrow the space. He was the perfect person who just happened to have an extra 100,000 square feet in a giant building right near the stadium. We had no idea if anyone would show up, of course. We didn't have advance tickets, we didn't charge the exhibitors, because we didn't know if they'd ever get a refund from FanCon, but we just said, let's see if everyone will come together.
URAEUS: Though it seems like something that happened almost overnight, the networks we each called on took decades to build. We were prepared for this type of thing, even though we didn't know it.
Had either of you ever put on an event like this before?
AR: I'd produced events all over the country, and often in convention centers. It's a big undertaking, and the rent is only one part of the bill. The other bills can be extraordinary. But if I didn't have this partnership with the guy who had the building, I would have passed on the project. I'd have said, hey, let's just call MasterCard and get our money back for the FanCon exhibitor fees.
URAEUS: The speed that everything was unfolding, we really didn't have time to fully grasp what was happening. It was a situation where we just jumped in. People were on airplanes coming from places like Japan, Hawaii, Britain, with hotel rooms that had been canceled and merchandise sitting in storerooms.
How did you have the money to pull this off?
AR: We didn't. I borrowed the space, meaning, I'm still kind of on the hook for what was done, especially now that everyone's excited about the possibility of going forward next year. There's a lot of accounting that has to happen. We're looking at how to balance our losses, versus what was gained by connecting with a community that I quite frankly love.
The organizers of FanCon emphasized how challenging putting on an event like this is. What was it like for you?
URAEUS: We were able to pull people in with specific skill sets who gravitated to a lane where they could be effective. Karama Horne, also known as theblerdgurl, was brought in to deal with the programming schedule. Patrick Strange was brought in to manage entertainment. Keith Chow, from Nerds of Color, was brought in to deal with the vendors. I was doing graphics, packaging, the logo. It was stressful, it was hair-pulling-out and long nights. But everyone played their part magnificently. It was like an orchestra.
AR: When you're coming up from communities that are marginalized, you often don't have everything that you need. I cannot comment on what went wrong with FanCon — there are so many things that can go wrong — but we lucked out and had a group of people who mostly didn't know each other come together and pull this thing off. On Saturday morning, while I was hauling 300 chairs and tables over to the building, I had no way of knowing whether anyone was going to come. I got back to the site and there's a line out the door and I was like, "Oh! I guess people are going to come!" We had divine providence and luck and the universe on our side.
I want to hear about your new T-shirt, URAEUS. What inspired you to make it?
URAEUS: There was so much negativity going around about that comment — the "nonexistent community." The reason there was a Universal FanCon to begin with is because there are so many groups, be it black, brown, Asian, Native, disabled, LGBTQ, who feel as though we're not seen. And the fallout from FanCon's failure was catastrophic, not just financially, but emotionally. Because for the first time, we were going to have this celebration, and then it fell through. So it was like, Here we go again. That one statement cut deep, when that was the reason we were gathering in the first place. But I saw the word unity in there — I'm always looking for words within words. When we found the building [which is called the Wicomico building] and I saw the name on the glass door, I immediately saw the word Comic-Con in there. And of course the word Wicomico is the Algonquin word for "a place where homes are built."
The biggest lesson that I saw was that our community is not just thriving and ever-present, but we're unbreakable. The narrative that was being told of us being nonexistent flew directly in the face of what most people experienced at Wicomicon. It captured in one statement everything we'd poured our hearts into that last week. That's what the T-shirt represents to me.
What is your view on the collapse of FanCon and the founders' account of what happened?
AR:  I've had many failures of events I've worked on, many more failures than successes. It's a hard business, and you need to get all the details absolutely correct. Only an amateur would say, "Oh, that was easy and you messed it up." Anyone who does this would tell you: "Oh no, this is the most difficult thing you'll ever do."
I can afford to be objective about it because it's not my dollars that got crushed in that game.  I don't know that [the organizers] are evil. I don't know them at all. I'm just saying, I know this community. I've loved this community my whole life. And I appreciate anyone trying to do anything. If they didn't do it well, hopefully they can recover to learn those lessons. It took a long time for me to stand back up again after I got my ass kicked back in the day. But if you're compelled to do it, and heroes often are, it's not like you have a choice.
URAEUS: The saddest thing to me isn't the implosion — the implosion was bad enough — but the fact that it's pulling in Black Girl Nerds [whose founder was one of FanCon's organizers], which was a really positive and powerful collective of dynamic, intelligent, creative women of color doing all this good work and all this good writing. It's tarnished that entire brand. Now people are looking at the entire organization with suspicion. I don't know all of these people who were involved. I know [Black Girl Nerds founder] Jamie Broadnax through being involved in San Diego Comic-Con, and I knew her to be a very positive and dynamic presence. It's sad because this is a time when we really need those voices, galvanized and speaking for us. That's the biggest loss to me. I don't know if it will be salvaged. I hope it can be, but the name has been sullied and it's just tragic.
I believe they bumbled and mismanaged in the worst way. For my own sense of sanity, I won't believe that they had negative intentions or some nefarious designs trying to swindle [attendees]. I hope they can land on their feet, but I don't know. If there's a list of things they probably shouldn't say, it seems like they've said a few of those things, and reignited the fire over and over again.
People are angry at them, but it's really hurt. Because this is a community that has been let down so many times, and this is just another in a sea of letdowns.
So what's next for Wicomicon? Any plans for another event next year?
AR: We still have some accounting to do. Next year, I can't ask for the space for free, and that means that money has to be raised. But we have enough time to do that well. We're going to be meeting again on Thursday to talk about roles, responsibilities, exposure, threats, and opportunities. I feel very good about the potential for Wicomicon to fill a need. There's a need, and an audience that still feels marginalized. Right now, we're basking in the glow, but next year, there's a lot of consideration as to how to do this consistently well. This is not a game for amateurs.