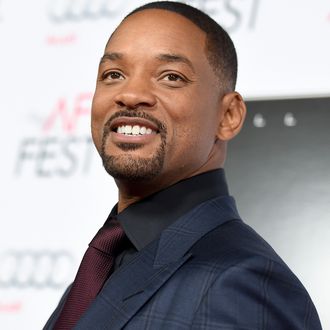 Will Smith.
Photo: Kevin Winter/Getty Images for AFI
You guys, guess what? It's Will Smith. He's going to jump out of a helicopter. He's going to jump out of a helicopter over the Grand Canyon. Why? Well, why does anyone do anything? For the Vine YouTube. But don't worry, he's going to raise money for charity and also wear a bungee cord. So your Men in Black 4 dreams aren't crushed yet.
The stunt, which has been dubbed the "Jump Off," was announced at YouTube's Brandcast event on Thursday. The streaming platform also announced it's renewing shows with Kevin Hart and Demi Lovato, and that you'll be able to watch Coachella live from your sofa again next year. They also unveiled their plans to bring LeBron James's docuseries Best Shot to the NBA's YouTube Channel. They also worked to reassure advertisers that they're trying their absolute best not to run their ads on videos made by Nazis. Whoops. But hey, you guys, Will Smith is going to jump out of a helicopter.