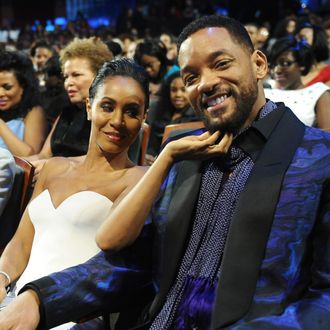 Jada Pinkett Smith and Will Smith.
Photo: D Dipasupil/Getty Images for BET
Will Smith will be in for a rude awakening when he watches his family's new show Red Table Talk. The intimate series, premiering May 7 on Facebook Watch, features Jada Pinkett Smith, her 17-year-old daughter Willow, and her mother Adrienne Banfield-Norris chatting about sex, body image, motherhood, and life, from the comfort of the Smith residence. While shooting the series, Pinkett Smith got the education of a lifetime discovering how her daughter Willow first learned about sex: by accidentally walking in on Jada and Will doing it. And Will doesn't even know yet.
"I haven't gotten any TMI moments, but I've gotten shocking moments," Pinkett Smith told Vulture about filming the show. "Willow was giving me a couple of those." This one particular bomb Willow dropped was a true game-changer. "I realized she walked in on Will and I. We were doing the sex show, I was like, 'What was your introduction to sex?'" Pinkett Smith said while laughing. "She was like, 'Well, you know, me walking in on you and Dad.' I had no idea!" she screamed.
Safe to say the shock still hasn't completely worn off. "How did that happen?! I was like, 'Lord have mercy, what did you see? Thank God I have some therapy fund put aside for you.' It wasn't funny in the moment." Luckily, there was still some mystery intact. "I had never heard that, and she said that what she got from that was that she walked into a private space. She was like, 'That's private time.' She said she didn't really see anything. But she knew she had just walked in on a very private moment."
Smith has yet to tell her husband and she's devising the perfect plan to finally reveal what happened. "I haven't told him yet! That's what's funny, 'cause I want Will to see this! He's gonna be like, 'What?!' He's gonna call me and be like, What the hell is going on over there?!" Consider this payback, Will Smith. "I didn't tell him on purpose because I think it'll be so funny. He does that to me all the time. I'll sip on my little tea and [watch]."