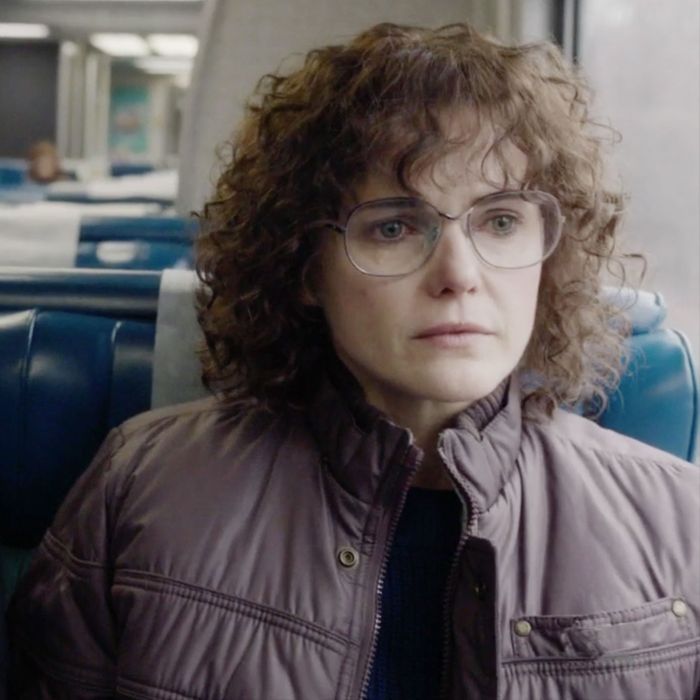 Matthew Rhys and Keri Russell.
Photo: FX Networks.
Over the years, The Americans has excelled at excavating some of the more obscure pop songs from the 1980s to underscore intense and emotional moments. But for one of the most dramatic sequences in its final episode, the series decided to go with a song as massive as they could find.
As Philip and Elizabeth Jennings begin their escape from the U.S., avoid law enforcement detection, and ultimately realize their daughter, Paige, has defected from the train they're taking, the song that plays is U2's "With or Without You." In every way possible, this is a big song choice. Musically and emotionally, it's expansive, the kind of ballad designed to reverberate in a stadium setting. It is played in the series in its entirety once, and then revisited again in that shocker of a moment when Paige is spotted on the platform.
Outside the context of The Americans, "With or Without You" was one of the biggest hits of the year in which The Americans ends its story, 1987, and the first track released from one of the biggest albums of 1987, The Joshua Tree. And it's the song that helped U2 credibly claim the title of world's biggest rock band. Once "With or Without You" gets going — when Edge's signature guitar chords explode from the speakers and Bono lets loose his cathartic wail — there is absolutely nothing subtle about it. Which makes it a pretty interesting choice for a series that, in so many other ways, has been an exercise in understatement.
While "With or Without You" is often thought of as a love song delivered from the point of view of someone conflicted about a romantic relationship — those whose first TV association with the song involves Rachel and Ross from Friends definitely may think of it in that context — its lyrics apply just as directly to what unfolds on and off that train, to the point of almost — but not quite — being too on the nose. As Matt Zoller Seitz writes in his review of the finale: "Philip and Elizabeth can't live with or without the USSR, the United States, the KGB, the travel agency, or their family. Philip, Elizabeth, and Paige fear giving themselves away — the parents by somehow slipping up and getting caught, Paige by letting her parents know that she's really not up for a change this big and would rather stay behind and take her chances. Paige gives herself away in the sense of treating her life as a precious possession and bestowing it on herself."
It's notable, too, that "With or Without You" also pauses on images of Stan gazing at Renee, the maybe-spy, while she sleeps, and of Renee comforting Stan during the raid of the Jennings' house. This enables the song to comment on the the double-edged sword that their relationship has turned into, thanks to Philip's mic-drop suggestion to Stan that Renee may be a Russian.
Given the connection between the lyrics and the story, and the way the song's explosion of anguish mirrors the suddenness of Philip and Elizabeth losing Paige, "With or Without You" is a perfect song selection. But there are U2-related reasons that make it even more fitting.
Bono, who grew up with a Catholic father and Protestant mother in religiously divided Ireland, has said that "With or Without You" reflects his internal struggle about pursuing his musical career while honoring his marriage to wife Ali Hewson. In a Rolling Stone article from October 1987, just a couple of months before the gig would be up on the Jennings, he speaks a bit about that conflict and the sense, even at a young age, that he was being pulled in two different directions. "I always wondered," he says, "'What am I? Am I Protestant or Catholic? Am I working-class or middle-class?' I always felt like I was sitting on the fence." The Americans is a show about two people contending with a clash of identities and a clash between two cultures — Russia and America — that become the defining homelands in their lives. I doubt that anyone on The Americans was thinking about any of this when they chose the track, but it gives the song a deeper resonance.
So does the fact that "With or Without You" appears on The Joshua Tree, an album that wrestles with American identity. "There's two Americas: There's the mythic America and the real America," Bono told NPR in an interview last year as U2 was preparing for its Joshua Tree anniversary tour. " We were obsessed by America at the time. America's a sort of promised land for Irish people — and then, a sort of potentially broken promised land."
America as promised land and potentially broken promised land: My God, that's certainly The Americans, isn't it?
There's also a generationally appropriate element to the use of "With or Without You." Bono's aforementioned cathartic wail certainly reflects the panic and desperation Elizabeth and Philip feel when they realize they've lost their Paige. But it also provides the soundtrack to Paige's escape. Even though she may still be uncertain about what she's going to do next in that moment, as she walks on that platform, suddenly an orphan by choice, Paige is also undeniably free. She's just liberated herself from her parents and all their constantly conflicted expectations of who she should become. (Paige is obviously not Irish, and she was always the Christian one in the family. But like Bono, she was raised by parents who believed in different religions.)
When Paige makes the life-altering decision to rebel against her parents and forge her own path — if I may borrow a lyric from another Joshua Tree song, to "tear down the walls that hold her inside" — of course the band that we hear as she decides to stay on American soil is U2, the quintessential Generation-X rock band, but also a band that, like Paige, displayed its spirituality and interest in political activism on its sleeve in the 1980s.