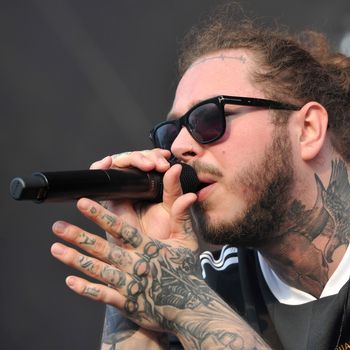 Post Malone.
Photo: Ilya S. Savenok/Getty Images
Festival season kicked off with Beychella and is now officially under way. Over the weekend, Governors Ball returned to Randall's Island in New York City for its eighth year, continuing as one of the longest-running festivals still holding down the tri-state area. (Though it's been contested in recent years by Panorama Festival on the same site.) This year's festival saw headlining sets from Jack White, Travis Scott, and Eminem; the live debut of a new super-duo from Diplo and Mark Ronson; teen favorites getting adult billing; and, per tradition, loads of rain. Vulture observed the action on the ground all weekend so you didn't have to.
Your favorite rappers aren't doing as many drugs as they say they are.
Though the current trend in hip-hop might be very drug positive — even Kanye says he's been experimenting with psychedelics — get some rappers in front of a festival crowd, and the truth comes out. Both Post Malone and 2 Chainz had to interrupt their sets to flag down paramedics and get fans in the front medical attention — in 2 Chainz's case, it happened twice. In the process, both rappers admitted they barely touch whatever their fans are on. Malone lit up a blunt onstage with the disclaimer that he doesn't even really smoke anymore, while 2 Chainz played Dad and gave a speech about how he's never touched anything harder than weed for the very reason of what he just witnessed.
That Pusha-T/Drake feud is dying down, at least on Push's end.
Pusha-T performed for the first time since dropping Daytona — and apparently more of note to the majority of his Gov Ball crowd — since unleashing That Drake Diss. But furthering the beef wasn't on Push's agenda, as hours earlier, Kanye West declared a truce on Twitter saying that lines were crossed. (That truce was apparently aided on the opposing side by Drake's adviser Rap-a-Lot founder J Prince.) Push did play "Infrared" (the song that reignited the feud), but opted against performing "The Story of Adidon." Instead, the crowd kept the war alive for him, chanting "Fuck Drake" unprovoked three separate times during Push's set.
Mark Ronson and Diplo's new duo needs a NYC club residency stat.
Producers Mark Ronson and Diplo don't really make the same music, but as newly formed DJ duo Silk City they jibe just fine. They made their live debut at Gov Ball, playing a house- and disco-centric set that remixed everything from Janet Jackson to Tori Amos to Kanye West. Except their energy wasn't quite right for an outdoor festival (they needed to be in a tent to really bottle it); give them a recurring slot at Elsewhere instead.
Shawn Mendes has the range.
And will use it to pack a 30-minute "special guest" set with every hit in his back pocket that you've subconsciously always known all the lyrics to, plus a cover of "Use Somebody," plus his better-than-John-Mayer impression of John Mayer, "Ruin." Like we said, the kid's a star!
Eminem and Nicki Minaj should at least just give it a shot.
Listen, half of relationships start on Instagram these days anyway, so why not Eminem and Nicki Minaj? She started steering this ship with a joke comment on her IG, then Eminem played along in Boston a week ago. Once again, during his headlining set at Gov Ball, he got on his knees and begged for a chance. But then also said she doesn't know that they already "go together." Mixed signals this early? Ugh.
Always put Lil Uzi Vert on the main stage.
At every festival, there's always one artist whose crowd size the organizers underestimate. This year, that was Lil Uzi Vert, whose show was relegated to the new American Eagle tent, which is about ten sizes too small for the capacity that his fame (and riotous nature of his show) now demands. He ran "XO Tour Llif3" back twice to utter pandemonium spilling out from every side of the tent. Not to go all Mom here, but: This is a safety hazard!
Mosh pits are still very much a thing.
And they're not being commanded by a single rock artist anymore. That rowdy punk spirit has officially been co-opted, rebranded, and reinvigorated by hip-hop. Just a quick list of artists who opened up pits during their sets: 2 Chainz, N.E.R.D., Travis Scott, Post Malone, and Pusha-T.
Travis Scott's daughter's name is actually an omen.
It poured buckets midway through Travis's headlining Saturday set. As in, torrential conditions. And now you know the true meaning behind Stormi.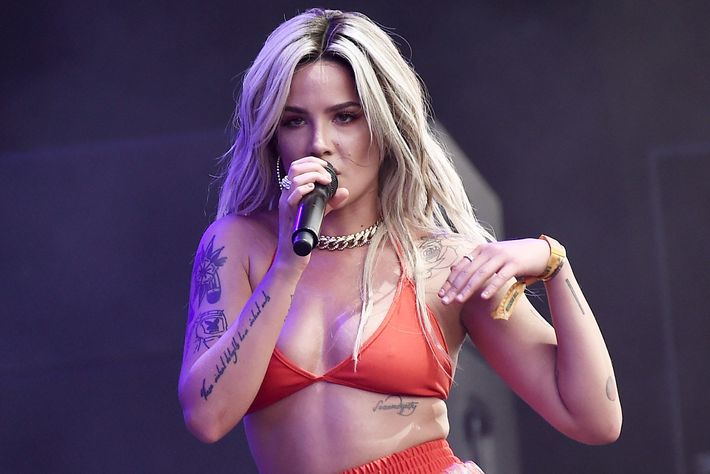 Halsey had the best story time.
Not many locals get to play hometown festivals anymore because music just isn't as regionally specific as it once was. But Halsey hails from New Jersey, just a couple bridges over from her main stage set on Saturday. She shared with the crowd that on that exact day four years ago, she had signed a record deal for a small amount of money, gone up to top of the Empire State Building to celebrate, then rushed back down to head to Gov Ball and be in the crowd. "I was standing somewhere in the back, just like you," she said. "If there's something you want to do, just fucking do it, make it yours." Halsey was the highest-billed solo woman performer at the whole festival, so maybe take her advice.
Khalid shouted out the Class of 2018 in the crowd.
As in, high school. And then proceeded to remind us that he's actually part of the Class of 2016, which makes him, yes, That Young and still getting a spot on the main stage. It's not that the festival crowd is getting younger — you're just getting old.