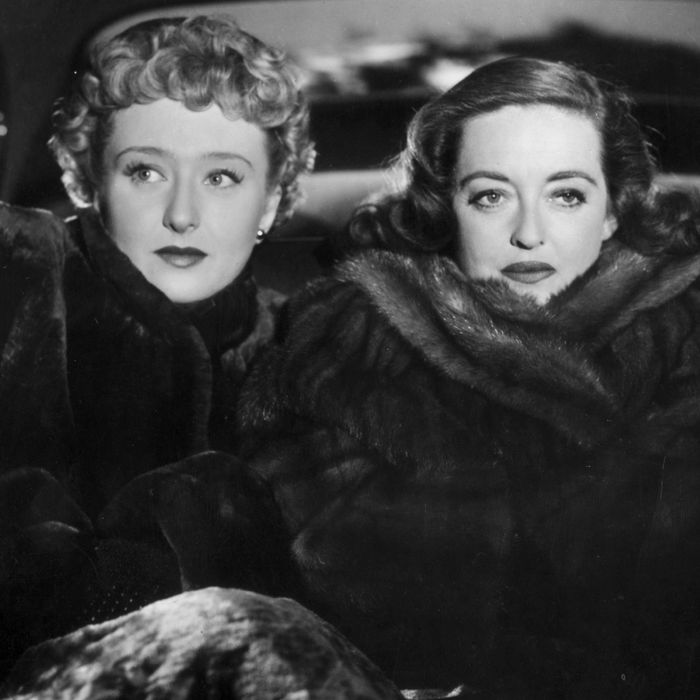 All About Eve
.
Photo: Hulton Archive/Getty Images
In the Coen brothers' Hollywood satire Hail, Caesar!, Frances McDormand commands a short but memorable scene. Her character, film editor C.C. Calhoun, sits alone in a cramped, dark room filled with cigarette smoke, each exhale illuminated by the light projected by the flatbed editor. With a cigarette between her lips and a grease pencil tucked behind her ear, she splices and dices dailies with unmatched intensity. It's an easy scene to miss, but it's rare enough of an image that it's difficult to forget. And despite today's industry statistics, it's exactly what an editing room looked like during the Golden Age of Hollywood.
While many categories were predominantly occupied by men, a quick glance at the Academy of Motion Picture Arts and Sciences list of editor nominees shows that women competed for the golden statue more than 20 times during the Golden Age. British-born film editor Anne V. Coates, who passed away in May at 92 years old, was nominated five times, winning her first year for David Lean's Lawrence of Arabia in 1963. Coates was part of a lineage of female editors like Barbara McLean and Viola Lawrence, women who quite literally shaped the industry. In an interview with Walter Murch, Coates humorously reflected on how women were able to occupy the pivotal filmmaking role: "I was taught, or I must have heard it somewhere, that as it became a more important job, men started to get in on it. While it was just a background job, they let the women do it. But when people realized how interesting and creative editing could be, then the men elbowed the women out of the way and kind of took over."
Despite the number of female editors during the Golden Age, these women have been largely forgotten as the industry has progressed — partly because the editing room is often a secluded one, and partly because women's histories repeatedly become secondary to their male counterparts'. To celebrate Coates and the female editors who came before her, here are 25 Golden Age classics that spotlight their contributions to film and its history.
Red-Headed Woman, 1932, Edited by Blanche Sewell
Everyone from Barbara Stanwyck to Greta Garbo to Clara Bow was considered to lead this racy pre-code comedy. But it was Jean Harlow who won out in the end. Harlow, who covered her signature platinum-blonde hair with a red wig, stars as Lil "Red" Andrews, a secretary with eyes only for her boss, William. Despite being married and the son of a prominent figure, William falls prey to Red's ways and soon the two are entwined in a destructive web. The fiery romance likely wouldn't have gained such universal praise had it not been for editor Blanche Sewell, whose quick cuts ultimately delivered emotional snap.
Dancing Lady, 1933, Edited by Margaret Booth
Margaret Booth edited this sharp, rags-to-riches pre-code musical, which reestablished Joan Crawford's place in Hollywood and marked the motion-picture debut of acclaimed dancer Fred Astaire. Crawford stars as Janie Barlow, who dreams of Broadway while working at a nightclub. Her dream comes true when millionaire Tod Newton, played by Crawford's eventual husband Franchot Tone, walks in the door. When the nightclub gets raided, the two become acquainted, and soon Tod is giving her money and secretly funding a production that will give Janie her big break. Tensions rise when Tod notices Janie's flirtatious behavior toward her director, Patch Gallagher (Clark Gable). Sewell's timely edits spotlighted both Astaire's precise footwork and Crawford's charm.
Mutiny on the Bounty, 1935, Edited by Margaret Booth
Margaret Booth edited this other Franchot Tone and Clark Gable feature, as well. But the difference between Dancing Lady and Mutiny on the Bounty is that Booth earned an Academy Award nomination for the latter. Mutiny on the Bounty takes place on the HMS Bounty, a ship headed to Tahiti run by a tyrannical captain, William Bligh (Charles Laughton). It's a chaotic journey made worse by Fletcher Christian (Gable), who's just as hot-headed as Bligh is. Hungry, tired, and worn down by the sea, the crew joins Christian in a mutiny against Bligh. But their victory is met with consequences.
Only Angels Have Wings, 1939, Edited by Viola Lawrence
As one of Columbia Studio's lead editors, Viola Lawrence worked on a number of high-profile films, including Howard Hawks's feature starring everyone from Cary Grant to Jean Arthur to a young Rita Hayworth. And true to Hawks's interests, Only Angels Have Wings is an aviation movie fixed with pilots, drama, planes, and romance. When entertainer Bonnie Lee (Arthur) makes a stopover in Barranca, she meets Geoff Carter (Grant), a tough pilot running the local airline. Thanks to the Peruvian Andes setting, the weather is anything but pleasant. It's Geoff's job to make sure that every one of his planes lands safely for six months in order to get the mail subsidy. Bonnie and Geoff strike up a romance that is soon tested when Geoff comes face-to-face with an ex-lover, Judy MacPherson (Hayworth), and a dangerous flight mission of his own.
The Wizard of Oz, 1939, Edited by Blanche Sewell
In the hierarchy of Golden Age classics, The Wizard of Oz ranks next to films like Gone With the Wind and Casablanca. And it was editor Blanche Sewell who shaped this striking MGM fantasy with sharp cuts that heightened everything from the film's action to its charm to its transition from black-and-white to color. Based on L. Frank Baum's children's book, The Wizard of Oz tells the story of one girl's journey to find her way back home. After a Kansas storm sweeps her away, Dorothy (Judy Garland) awakens in Oz. With the help of unlikely friends, she sets off to find the wizard who can send her back home. Like all good fantasy stories, The Wizard of Oz is filled with narrative obstacles and character redemptions. This wholesome fairy tale about a girl who dreams in Technicolor continues to sweep viewers off their feet today.
Stagecoach, 1939, Edited by Dorothy Spencer and Otho Lovering
Stagecoach was one of three films that editor Dorothy Spencer and director John Ford collaborated on. The film has all the makings of a classic Western: cowboys, a 19th-century Old West setting, a splash of romance — and of course, whitewashing and racism. John Wayne stars as the Ringo Kid, a prison escapee out for revenge who joins a stagecoach of people traveling from Arizona to New Mexico. The ride is less than smooth, and things get dicey when they come face-to-face with Hollywood's racist imagining of Native Americans. Spencer's carefully crafted edits that quickened the tempo and increased the film's suspense, earned her, along with her editing partner Otho Lovering, an Academy Award nomination that year.
Foreign Correspondent, 1940, Edited by Dorothy Spencer
Foreign Correspondent marked the first of two collaborations between editor Dorothy Spencer and director Alfred Hitchcock, the second being 1944's Lifeboat. This World War II thriller stars Joel McCrea, Laraine Day, George Saunders, and Herbert Marshall, among others. The film opens with Johnny Jones (McCrea), a crime reporter for the New York Morning Globe, being sent over to war-expectant Europe as a foreign correspondent. Soon after he arrives though, Jones finds himself in an unlikely and dangerous situation: stuck in the middle of a spy ring.
Boom Town, 1940, Edited by Blanche Sewell
Box-office babes Clark Gable, Spencer Tracy, Claudette Colbert, and Hedy Lamarr head this comedy, which MGM joked was four movies in one because of its all-star cast. In short, Big John (Gable) and Square John (Tracy) are two Texas oilmen in search of a well. Their business venture hits a snag when Square John's girlfriend, Betsy Bartlett (Colbert), comes to town and falls in love with Big John. Unfortunately for Betsy, Big John can't shake his two-timing ways. The two Johns eventually strike oil, but part ways shortly afterwards, because despite his best efforts, Square John can't handle seeing his business partner and former flame together. With the help of editor Blanche Sewell, whose cuts capture Gable's wit and Tracy's good-guy charm, Boom Town follows the lives of both men as they navigate the trials and errors of marriage, money, success, and failure.
The Song of Bernadette, 1943, Edited by Barbara McLean
Barbara McLean, who was about halfway through her career in 1943, showed no signs of slowing down when the Franz Werfel adaption, The Song of Bernadette, was released. Jennifer Jones leads the film as Bernadette Soubirous, a young French woman living in squalor with her family. When she and her friends go swimming in the River Gave, Bernadette becomes entranced by a mysterious cave and soon falls behind. Stepping into it, she comes face-to-face with the Virgin Mary. But she soon discovers that she's the only one who can see the Virgin Mary — and it's up to Bernadette to convince the town of her saintly visions. McLean's edits accentuate the ethereal aura of Jones and her character, ultimately creating a moving film about spirituality.
Heaven Can Wait, 1943, Edited by Dorothy Spencer
For Heaven Can Wait, editor Dorothy Spencer cut a handful of genres like comedy, romance, drama, and fantasy together to create a film that then-president of 20th Century Fox Spyros Skouras claimed was "one of the most important films to be released by the organization." The film stars Don Ameche and the brilliant Gene Tierney. Following his death, Henry Van Cleve (Ameche) is welcomed, or rather unwelcomed, to Hell by Satan himself — though down below he's known as His Excellency (Laird Cregar). Henry knows deep down that he's meant to be there, but His Excellency isn't so sure. In order to reserve what he believes is his rightful spot in Hell, Henry recounts his spoiled and adulterous life.
To Each His Own, 1946, Edited by Alma Macrorie
Editor Alma Macrorie not only cut this Golden Age classic that dealt with weighty taboo topics like sex out of wedlock, she also acted in it alongside Olivia de Havilland. In To Each His Own, de Havilland plays Jody Norris, a middle-aged woman who falls in love with a pilot who dies soon after she becomes pregnant with their baby. When the illegitimate baby is born, Jody comes up with a plan to adopt her own the child. It almost works too, until a woman by the name of Belle Ingham (Macrorie) gives the baby to a neighbor who lost her own child recently. When Jody meets Lord Desham (Roland Culver) some years later on New Year's Eve during one of London's World War II blackouts, her luck finally changes.
I See a Dark Stranger, 1946, Thelma Connell
Also known as The Adventuress, I See a Dark Stranger opened to mediocre reviews in the United States but was ultimately the film that solidified British-born actress Deborah Kerr's transatlantic success. And that partly had to do with Connell, who had a knack for building suspense in the thrillers she was assigned to, cutting at just the right moment to draw people closer to the screen and its lead character. I See a Dark Stranger is a film about the extreme measures one young Irish woman takes to get back at England. Set during World War II, the film centers on Bridie Quilty, played by Deborah Kerr, who grew up in a nationalist household and just turned 21. Intent on getting revenge, Bridie heads to London and becomes a Nazi spy.
The Bishop's Wife, 1947, Edited by Monica Collingwood
This Henry Koster film, starring Cary Grant, Loretta Young, and David Niven, is a heartwarming tale about doing the right thing, and it earned editor Monica Collingwood her one and only Academy Award nomination. In short, Henry Brougham (Niven) is an exhausted bishop trying to build a new church. His efforts take him away from both his morals and his wife Julia (Young), who is struggling to adjust to their new church, neighborhood, and overall life. Discouraged, Henry calls on God, and in an unlikely turn of events, God grants him an angel named Dudley (Grant) sent to help Henry reconnect with his family and himself. Collingwood playfully matched the serious undertones of the film with enough humor to create a captivating fantasy about love and faith.
The Ghost and Mrs. Muir, 1947, Edited by Dorothy Spencer
Editor Dorothy Spencer's exactness, paired with Fred Sersen's simple special-effects artistry, turned this paranormal drama into a charming romance. The Ghost and Mrs. Muir stars Gene Tierney as Lucy Muir, a widow who refuses to follow early-20th-century gendered traditions. Against her in-laws' wishes, Lucy moves with her daughter to the English seaside. The two reside in a beautiful cottage haunted by its previous owner, sea captain Daniel Gregg (Rex Harrison). The ghostly flaw doesn't deter Lucy though, which impresses Daniel, and soon the two fall in love.
The Lady From Shanghai, 1947, Edited by Viola Lawrence
Orson Welles directed and led this noir, which biographer Barbara Leaming interpreted as the real-life deterioration of Welles and Rita Hayworth's marriage. Hayworth stars as femme fatale Elsa Bannister, who wraps Irish sailor Michael O'Hara (Welles) up in her shameful past. Struck by lust and love, Michael finds himself working for Elsa's husband and tangled up in a sketchy murder plot. The Lady From Shanghai is by no means the film that Welles had intended it to be. But whether he liked it or not, the film became one of his most well-regarded works, and it's all because of editor Viola Lawrence who, after being handed the film's footage in a jumbled pile, tossed about 20 percent of it. Lawrence's work on the film, specifically the "Hall of Mirrors" sequence, ended up inspiring filmmakers like Sergio Leone, Jim Jarmusch, and Chad Stahelski.
Twelve O'Clock High, 1949, Edited by Barbara McLean
Barbara McLean edited actual combat footage into this World War II film, starring Gregory Peck, Gary Merrill, and Hugh Marlowe, just to name a few. Set in England in 1942, Twelve O'Clock High centers on an Air Force unit whose duty is to fight the Nazis by conducting daylight bombing missions. The weight of the story though, is the conflicting emotions of each of the pilots, a battle further fueled by General Frank Savage, played by Peck, and his tough and detached approach to leadership. McLean didn't earn an Academy Award nomination for her work, and neither did director Henry King, but the oversight didn't make the film any less significant. Twelve O'Clock High was required viewing for United States Air Force leadership courses for years following the film's release, and its veracity continues to be applauded even today.
The Blue Lagoon, 1949, Edited by Thelma Connell
Frank Launder, the director of I See a Dark Stranger, listed above, is also responsible for this risqué adaption of Henry De Vere Stacpoole's novel by the same name. It was one of over 40 films that editor Thelma Connell worked on, and one of eight that she collaborated on with Launder himself. Essentially, two young kids get shipwrecked on an island in the South Pacific. As the two grow up on its secluded shores, they develop more than just a familial bond.
All About Eve, 1950, Edited by Barbara McLean
All About Eve marked McLean's seventh and final Academy Award nomination during a career that lasted more than 30 years. It was a record that wasn't surpassed until 2012 by Michael Kahn. The film, a classic backstage story about the perceived perils of aging in the entertainment industry, is based on the short story "The Wisdom of Eve" by Mary Orr. Bette Davis stars as Margo Channing, a Broadway legend who has it all. But her world soon flips upside down when aspiring actress Eve Harrington, played by Anne Baxter, shows up in Margo's dressing room asking for advice.
In a Lonely Place, 1950, Edited by Viola Lawrence
Nicholas Ray directed this noir, starring his soon-to-be ex-wife Gloria Grahame. Grahame plays Laurel Gray, the next-door neighbor and love interest of screenwriter Dix Steele, played by Humphrey Bogart. The problem with Dix is that he's a violent drunk who's been experiencing a lengthy bout of writer's block. Those problems fade when he meets Laurel — but when he becomes suspect No. 1 in the murder of a young woman who was last seen with him, it shatters the innocence of his and Laurel's rendezvous. In a Lonely Place didn't open to critical praise, but it has since gone on to be categorized as one of the top Golden Age film noirs — in part because of its captivating story, script, and direction, and in part because of Viola Lawrence. Lawrence's editing tempo created the suspense needed to carry Dix and Laurel's relationship through love, suspicion, and ultimately, defeat.
The Snows of Kilimanjaro, 1952, Edited by Barbara McLean
The Snows of Kilimanjaro was one of many collaborations between editor Barbara McLean and director Henry King. Based on the Ernest Hemingway short story of the same name, The Snows of Kilimanjaro stars Hollywood legends Gregory Peck, Ava Gardner, and Susan Hayward. The film centers on acclaimed writer Henry Street (Peck), who, while traveling on a safari, gets cut by a thorn. When the wound becomes severely infected, causing him to become delirious, he reflects back on his career and former loves. Instead of heightening the dreamlike state of Henry Street's delirium with dissolve edits, McLean opted for a standard cut that cleanly divided the past from present. The latter edit gave the film an adaptational look that separated it into chapters rather than hallucinogenic dreams.
Niagara, 1953, Edited by Barbara McLean
With Niagara, Barbara McLean had the unlikely task of editing Marilyn Monroe in a Technicolor noir. To make matters more tricky, 20th Century Fox was intent on profiting off of Monroe's physique — so much so that the studio reshaped the script in order to give Monroe more screen time. Along with Monroe, Niagara stars Joseph Cotton, Jean Peters, and Max Showalter. In summary, Ray Cutler (Cotton) takes his wife Polly (Monroe) on a belated honeymoon in Niagara Falls. They hit a snag when they find out their cabin hasn't been vacated by married couple George and Rose Loomis (Showalter and Peters). When Rose explains that they need to find a different cabin because her husband is ill, Ray and Polly move to the neighboring cabin. But their romantic getaway turns deadly when Polly catches Rose with another man. Niagara is filled with provocative shots of Monroe, such as her lying naked in bed with only a white sheet wrapped around her, but the film's most iconic scene is the 30-second long shot, edited by McLean, of Monroe walking away from the camera, hips swinging.
The Trouble With Harry, 1955, Edited by Alma Macrorie
Director Alfred Hitchcock is responsible for this Technicolor mystery starring Shirley MacLaine, Edmund Gwenn, and John Forsythe. It was the first and only collaboration between he and editor Alma Macrorie. All hell breaks loose in a small village in Vermont when a dead man's body is found in the forest by Captain Albert Wiles (Gwenn). Believing he shot the man while hunting, Wiles attempts to bury the body. But in the process, discovers that there may be another suspect, the deceased's ex-wife, Jennifer Rogers (MacLaine). Chaos ensues, pulling the whole town into the investigation. Macrorie brought the film's script to life by matching each quip with a perfectly timed cut, ultimately capturing the dark humor that was essential to carrying the film in this rare Hitchcock comedy.
The Ten Commandments, 1956, Edited by Anne Bauchens
It's hard to remember Cecil B. DeMille's legacy without also remembering editor Anne Bauchens. The two had a lengthy working relationship, and The Ten Commandments, a four-hour epic about Moses (Charlton Heston) discovering his heritage and dedicating his life to righting the world's wrongs, happened to be their final collaboration. In the film, Bauchens cut a number of unforgettable, monumental scenes. One example in particular was the parting of the Red Sea, which she managed to do by splicing footage of the Red Sea and "water pouring down two sides of a U-shaped tank and then running the film backwards."
Pal Joey, 1957, Edited by Viola Lawrence
Viola Lawrence earned her second Academy Award for her work on Pal Joey, the film that happened to be Hayworth's last film at Columbia Studios and final musical altogether. In Pal Joey, Frank Sinatra plays a San Francisco singer named Joey who hopes to start a nightclub of his own someday. The only problem: Joey is too distracted by the women in his life. First, it's Linda English (Kim Novak), a chorus girl. And then it's Vera Simpson (Hayworth), a widow and former burlesque dancer. But the love triangle soon compromises his dreams, forcing Joey to make decision about his future. Like she did in other Hayworth musicals such as Cover Girl and Tonight and Every Night, Lawrence created seamless cuts during each routine in Pal Joey, which complimented Hayworth's rhythmic ease.
Lawrence of Arabia, 1962, Edited by Anne V. Coates
This historical epic, directed by David Lean, featured everyone from Peter O'Toole to Omar Sharif to Anthony Quinn to Alec Guinness. Set in the early 20th century, British lieutenant T. E. Lawrence (O'Toole) is sent to Arabia to examine their revolt against German-supported Turkey. Once there, Lawrence teams up with Prince Faisal (Guinness). Along with a small group, they set out across the Nefud Desert. But things take a dark turn when one of the group's men goes missing.
In the years following Lawrence of Arabia, Coates explained that the "match" sequence, arguably the most famous cut in cinematic history, happened by accident. Originally, she intended for Peter O'Toole to dissolve into the flaming desert. But after an early screening of the movie, the film spattered with grease-pencil marks, she decided that the direct cut packed a bigger punch. And she was right.