When photographer Mindy Tucker first started regularly photographing comedians in New York in 2008, she saw it as a way to hang out with her friends and hone her art skills. But over the last decade, Tucker has built a reputation as the official documentarian of the New York comedy scene, photographing everyone from Hannibal Buress to John Mulaney, many when they were just starting out. You'll spot her at comedy festivals and at venues like UCB, The Bell House, the Knitting Factory, or any dive-bar show, quietly getting the best shots without disrupting the set. Or you might see her doing portraits after the show in a hallway or green room, holding her flash high above her head at just the right angle to achieve her photos' signature glow, making even the dingiest back room look like an Instagram-worthy backdrop. ("Shooting a comedy special? That's easy. Shooting in a room lit by two clamp lights and trying to make it beautiful? That's a workout," she says.)
Now with a regular studio practice and a calendar filled with today's biggest names, Tucker still respects the hustle of up-and-coming comedians and makes an effort to capture them in the early stages of their careers. "They're balancing day jobs and night jobs and comedy and auditions and nothing has paid off yet. That can last a year. It can last three. It can take even longer if you're so unique no one knows where to put you," she says. "All I can really do is give them a photo, but it's a little encouragement."
To celebrate Tucker's ten-year anniversary documenting the New York comedy scene, Vulture asked the subjects of some of her earlier works one simple question: What advice would you give your younger self? The result is a collection of responses, both silly and sincere, revealing what wisdom these comedians wish they could impart to themselves five, eight, or even ten years ago.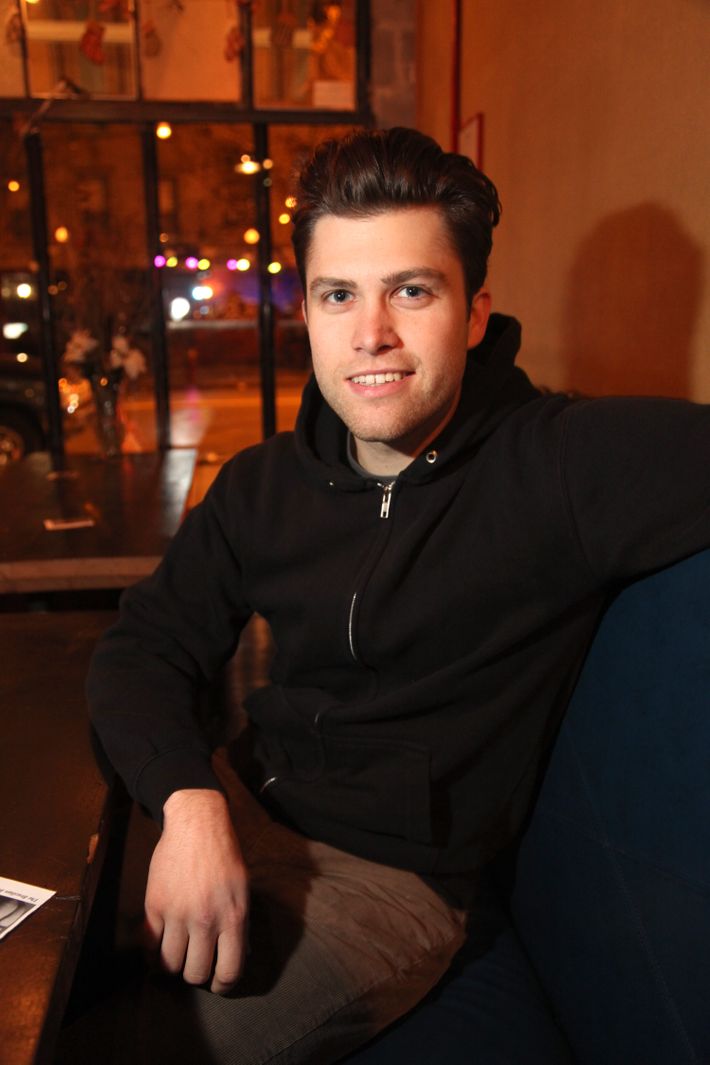 Colin Jost at the Knitting Factory, December 6, 2009: "Wow. This photo was taken at the Knitting Factory the night I asked Michael Che to submit a writing packet to SNL. My advice to my younger self would be: Shake him down for money first. Then invest all that money in Kardashian emojis."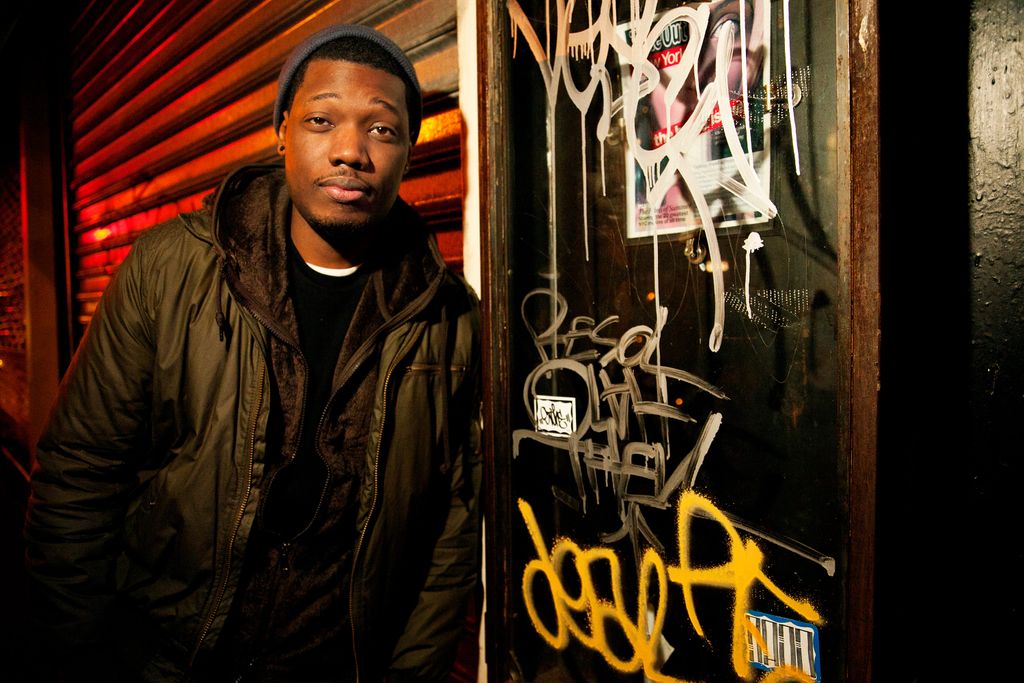 Michael Che outside Luca Lounge, December 1, 2011: "Play more black rooms."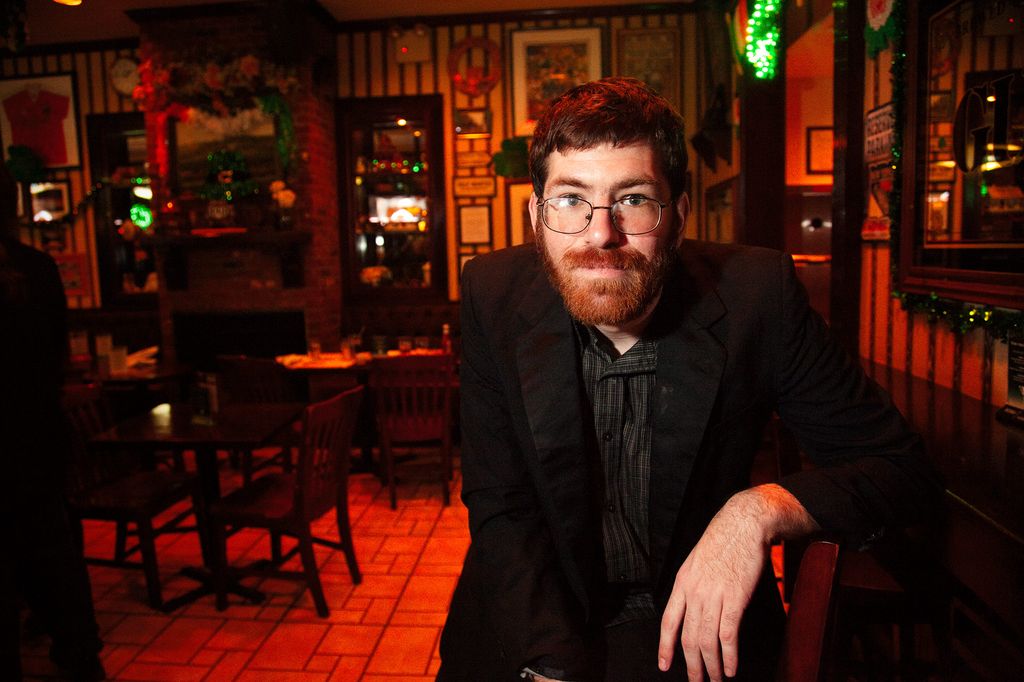 Mike Lawrence after Whiplash at UCB Chelsea, March 8, 2010: "Enjoy this. This will be the thinnest you'll ever be."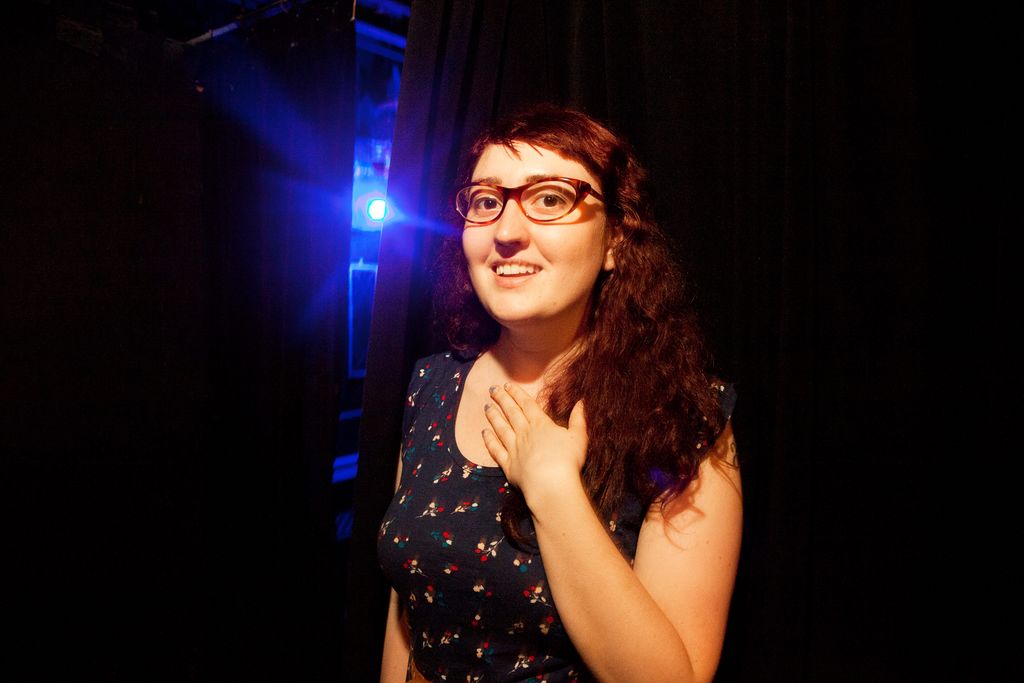 Emily Heller at Whiplash at UCB Chelsea, May 21, 2012: "The lady in this photograph doesn't need my advice. A lot is about to go right for her, and the stuff that is about to go wrong isn't stuff I want to spare her from. But for the next year, which she doesn't know will be her last in New York, when she is going to be the brokest she's ever been, and she can only afford to buy these $10 Forever 21 stretchy dresses like the one pictured, I wish she had known to wash them on cold, delicate cycle, not too much detergent, and hang-dry only. I wore a lot of pill-y, grayed-out cotton/spandex blends back then. Some hair product wouldn't have hurt either. Oh, and don't run the light at the Cellar your first time up, ya fuckin' idiot, or it'll be your only time up."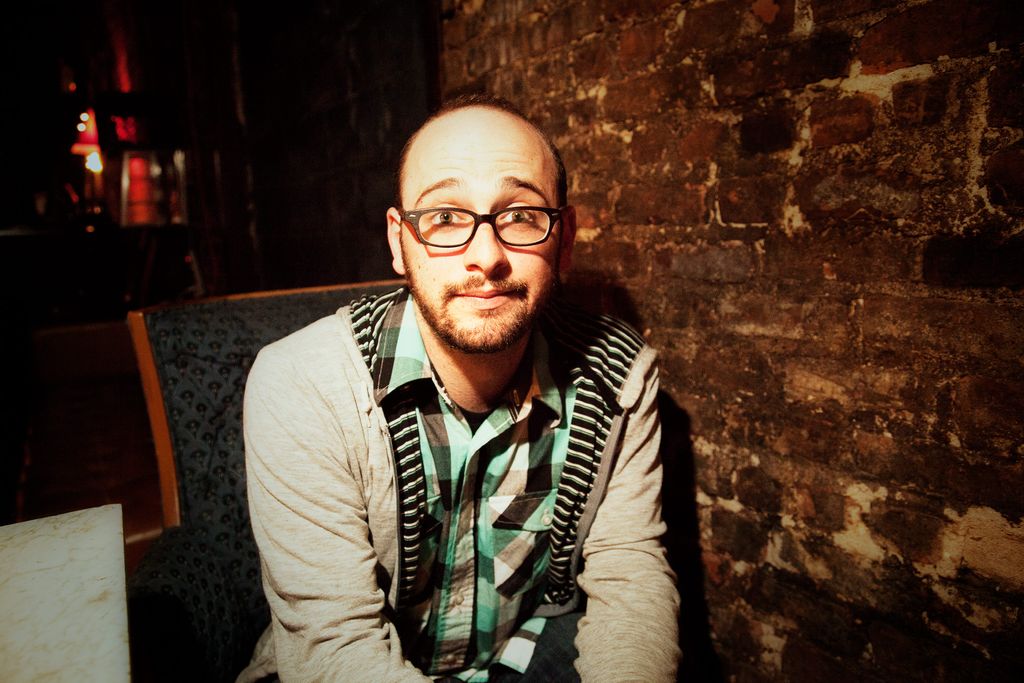 Josh Gondelman after Lasers in the Jungle at Luca Lounge, April 19, 2012: "Hey, young me! In the future, your life will get better, and your body will get worse. But some things will remain the same: You'll still have that shirt, and you'll always look better in pictures that Mindy takes than you do in person."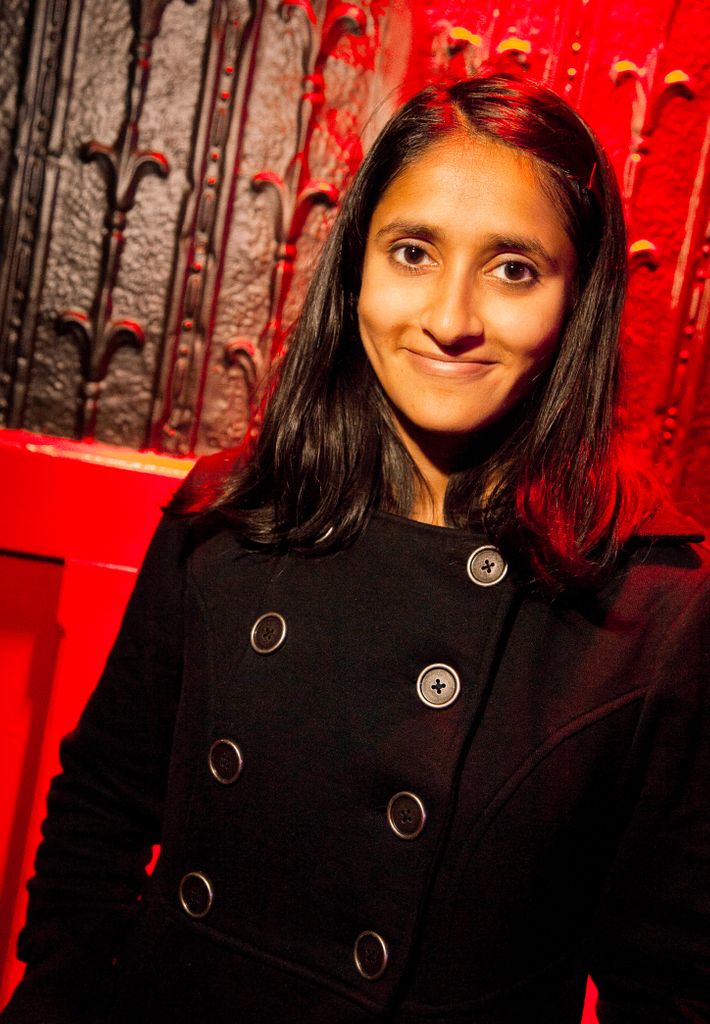 Aparna Nancherla, November 2, 2012: "Don't let the ups and downs stay all cooped up in your head — give 'em a little breathing room."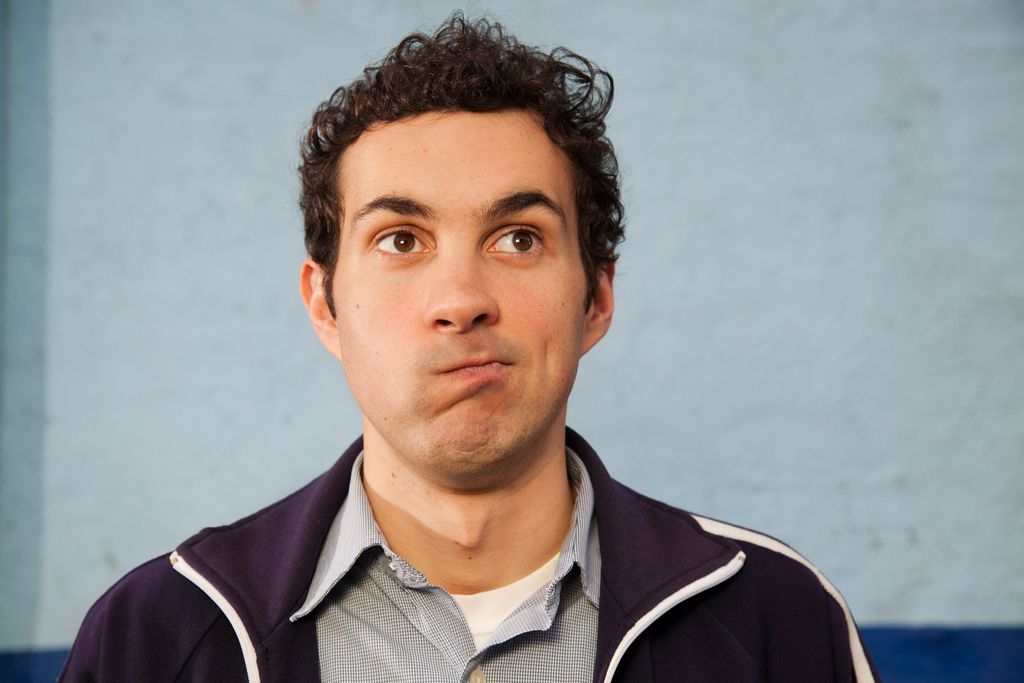 Mark Normand, October 23, 2010: "For the love of Allah, cool it with the booze. I spent too many wasted days hungover. Have fun; these are some of your best years. Go to therapy, be weird, and don't dwell on things too much. Enjoy your hair, frequent boners, and few responsibilities."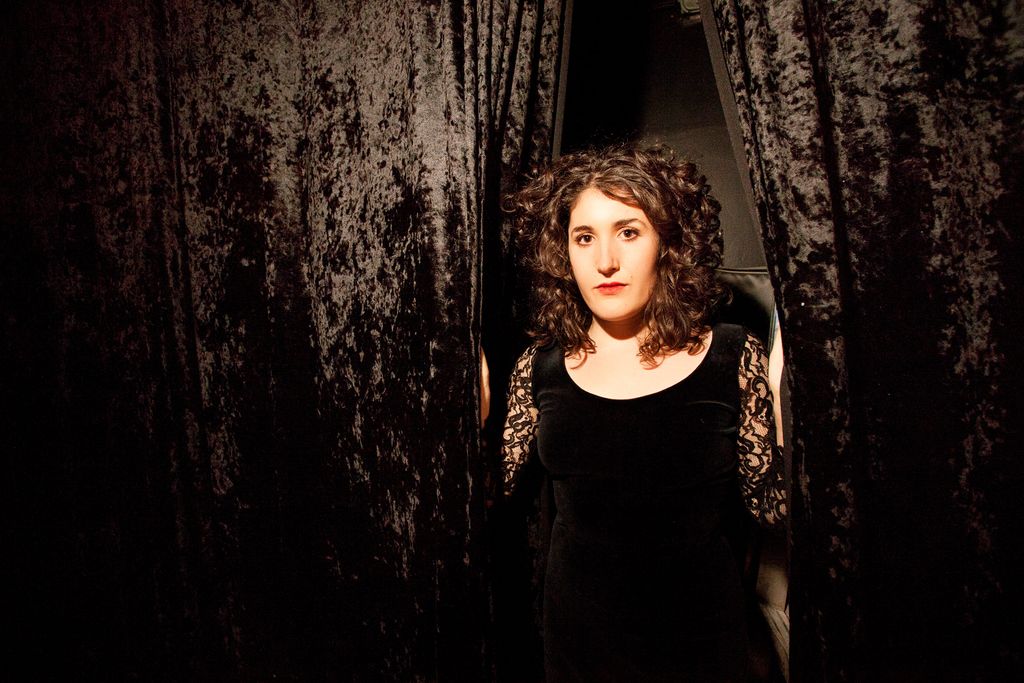 Kate Berlant at The Creek and the Cave, January 14, 2012: "Fuck the boys' club. Don't worry about impressing people you don't respect. Also, I love you! Keep going."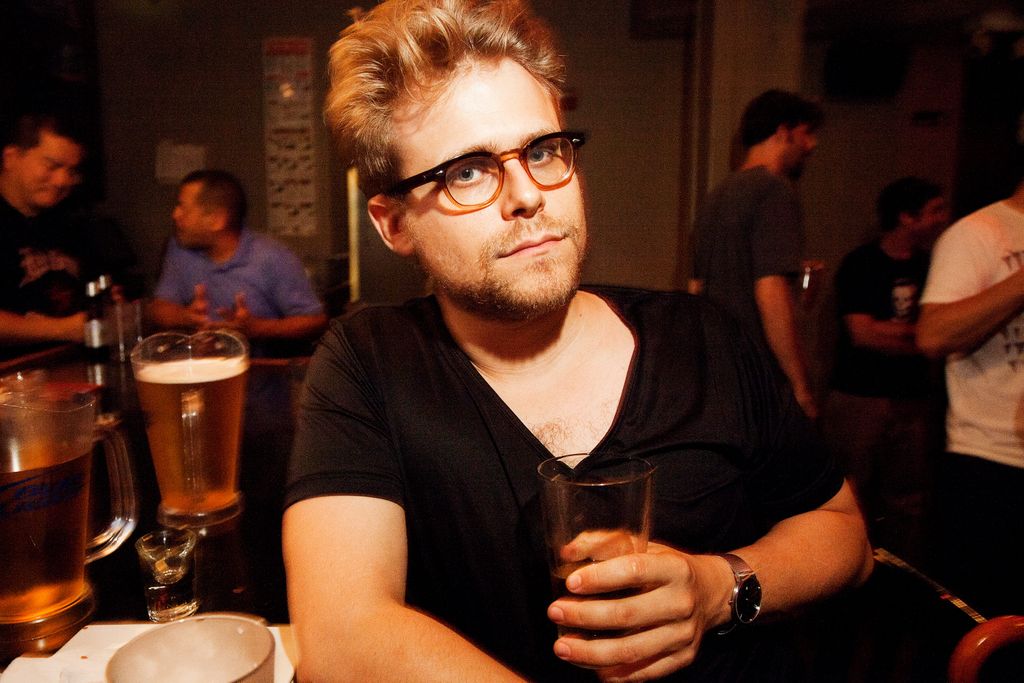 Adam Conover at Red Star Bar, August 2012: "First: Don't wear what appears to be an undershirt to the bar. For Christ's sake.
Second: I know that, at this time, drinking seems like the main thing that makes life interesting. It isn't. I realize this sounds incredible, but you can live without it, and you'll be happier when you do.
Third: You're doing fine. You're doing fine. You're doing fine. Be patient. Be kind. Keep at it. That's all you need.
But seriously — God, the shirt, what were you thinking?"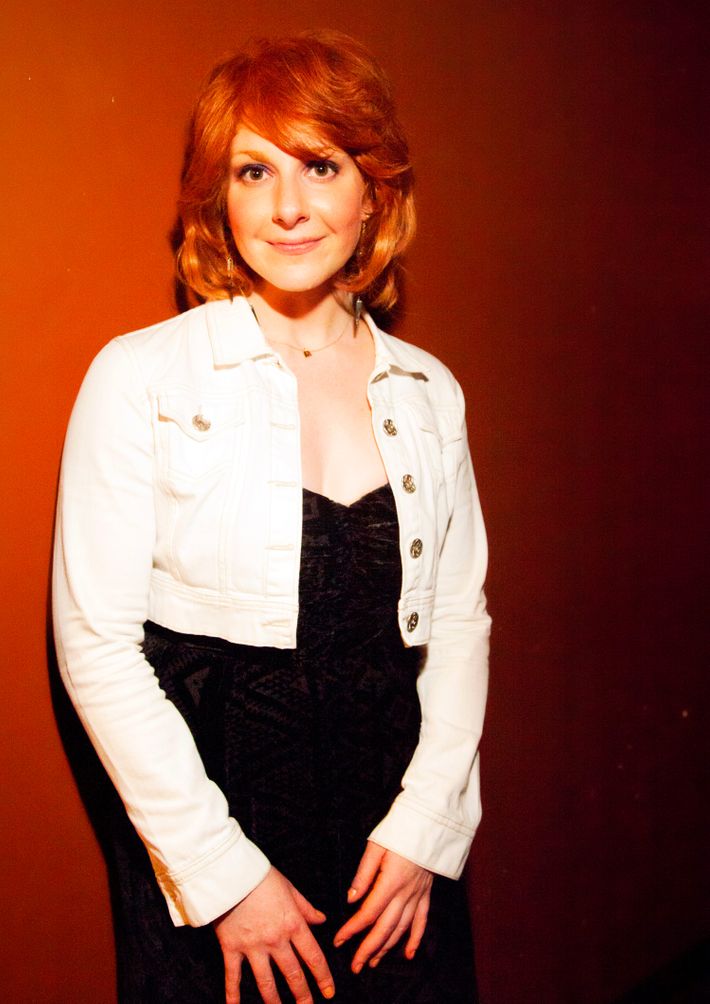 Julie Klausner after How Was Your Week? at The Bell House, October 20, 2011: "Julie — do NOT go on Abilify during the summer of 2017. You will never lose the weight you gain and it doesn't even help your depression. Just stop texting him instead."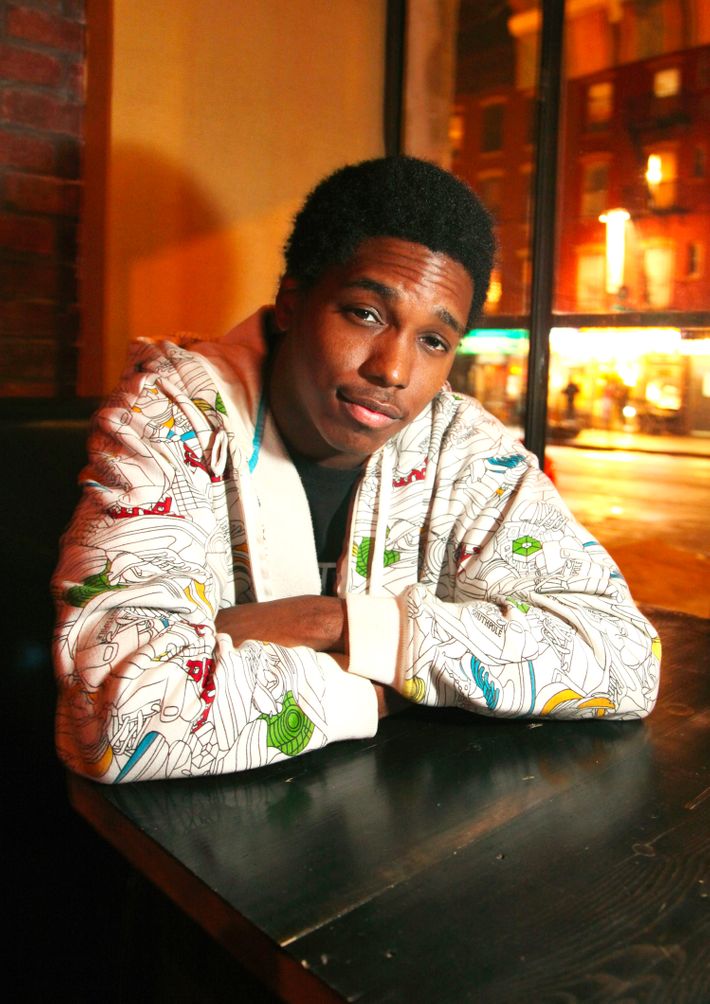 Kevin Barnett at the Knitting Factory, December 13, 2009: "Stop wearing your hair in a fro."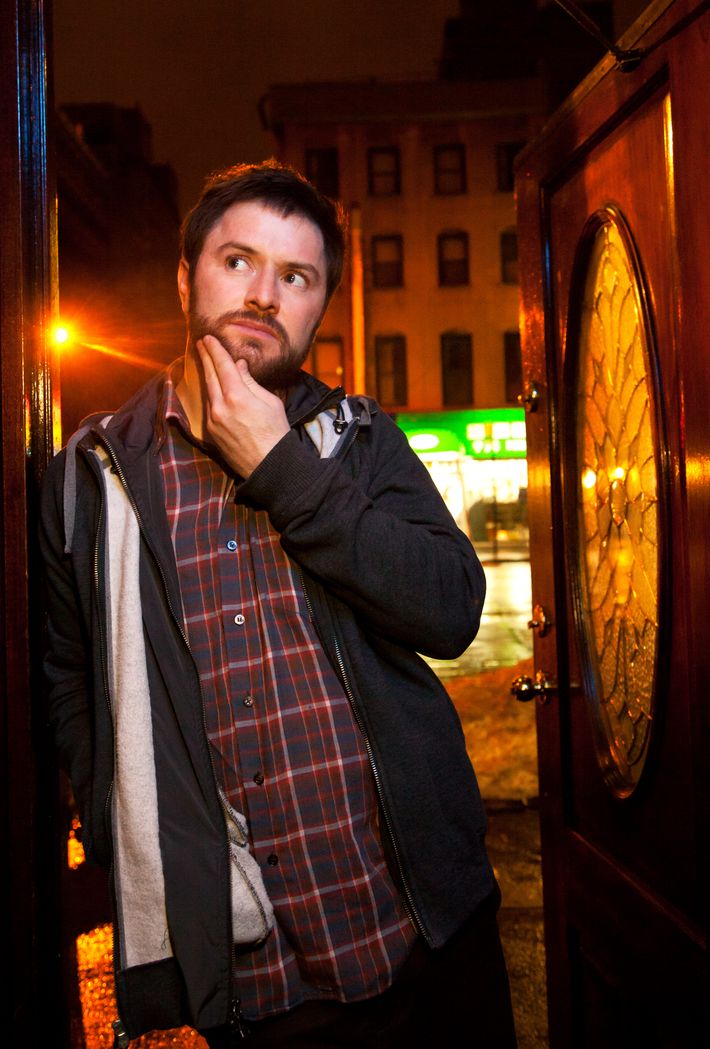 Adam Cayton-Holland at The Molly Wee after Whiplash, February 7, 2011: "I would tell that guy to keep hustling as hard as you can, but to remember that comedy isn't everything. I was so singularly focused back then, so driven by comedy exclusively. I'd go back and tell that guy to slow down and realize how great you have it. The things you want out of your career, they'll come. The people you love, they're not going to always be around. Enjoy them. Soak up every second with them. They're what matter most. And also, my man, the Hollywood stubble looks fine and all that, but lean into your beard, dog. You can grow a great one. Trust me. You got this."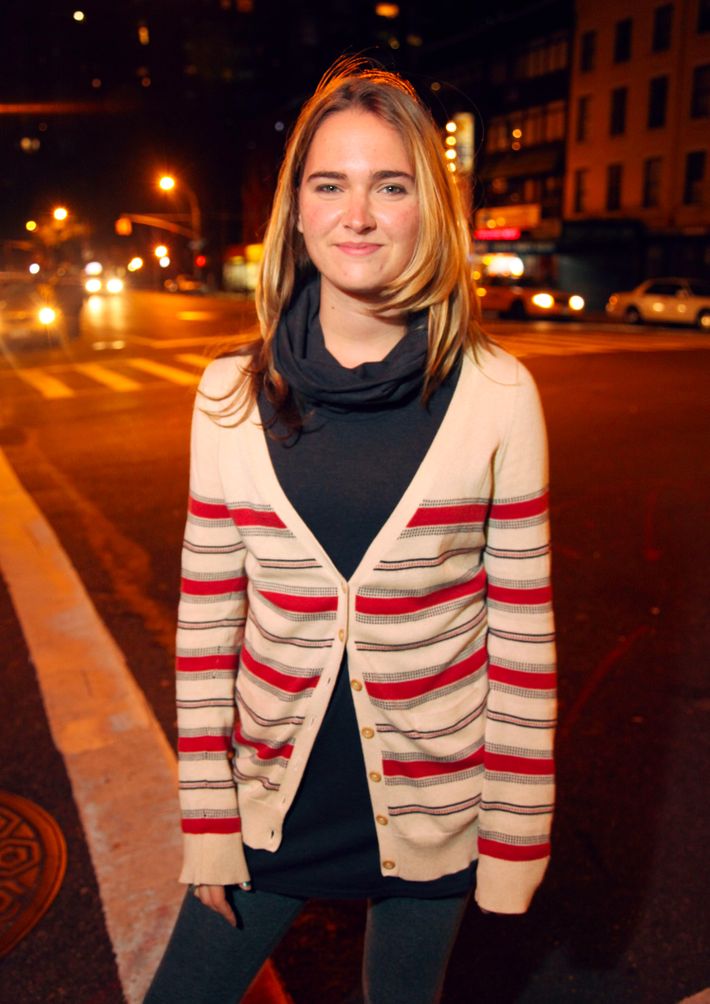 Jena Friedman after Whiplash at UCB Chelsea, October 19, 2009: "Invest in Bitcoin, Google, and Amazon."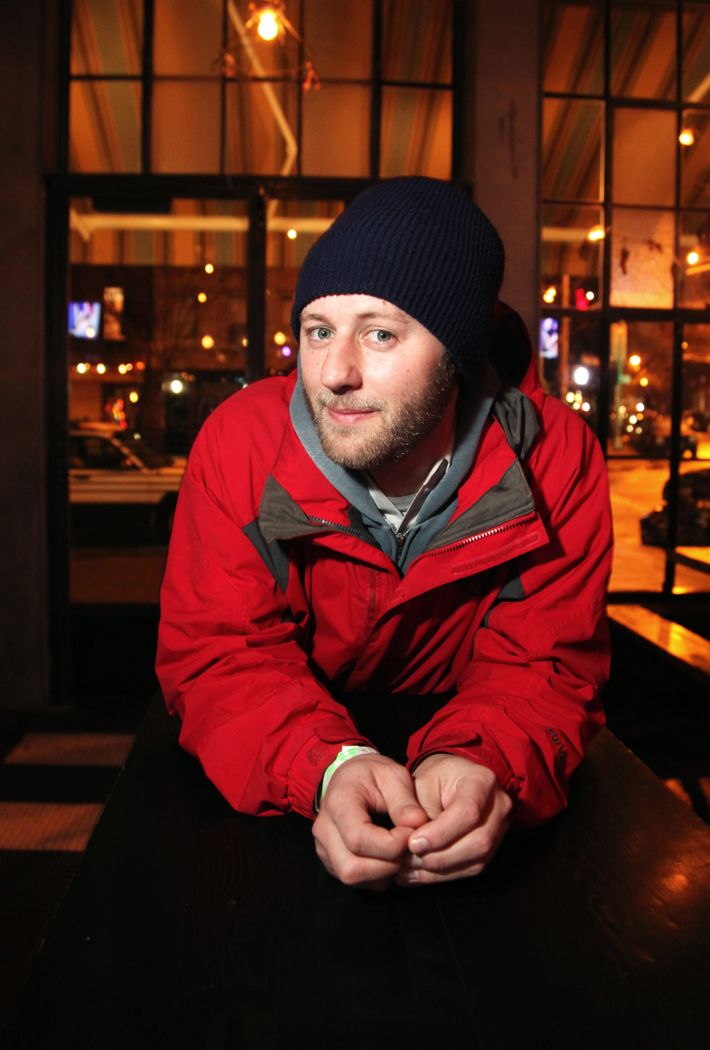 Rory Scovel at Whiplash at UCB Chelsea, March 8, 2010: "Take that fucking hat off you fucking clown. Also, get away from all the pot material sooner, you sound like a goddamn hippie up there, you beautiful, wonderful boy."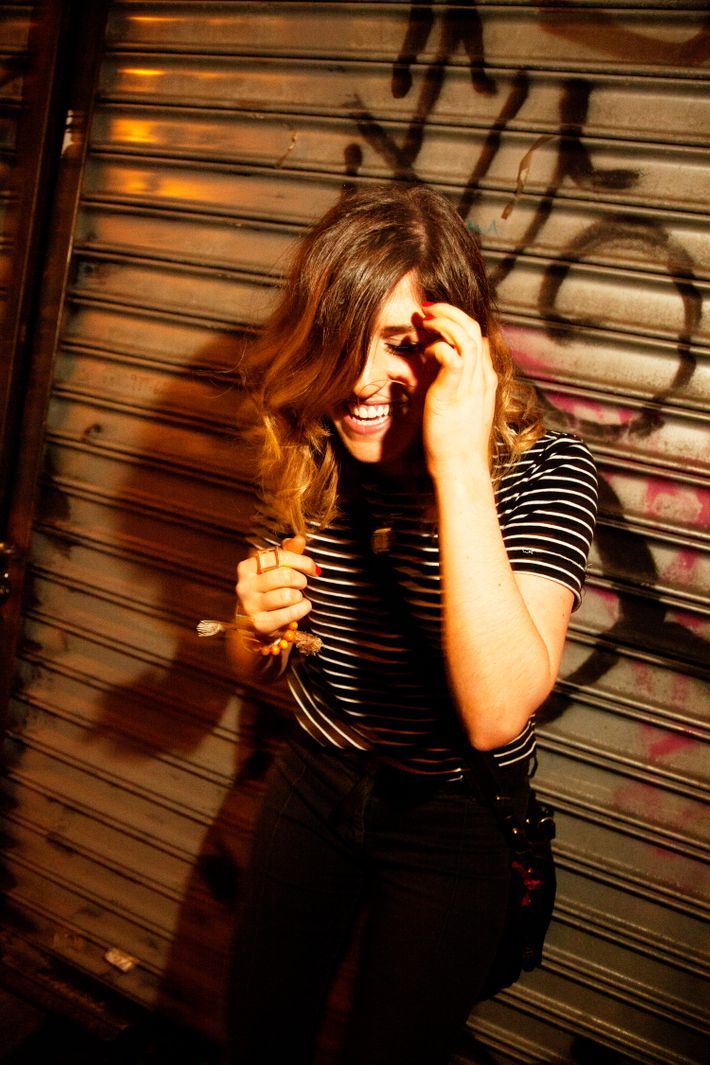 Emmy Blotnick outside of Luca Lounge, December 1, 2011: "Be sure to take your car* to the shop** every few thousand miles.***
*brain
**therapist
***once a week.
Oh, and Sun-In makes your hair go crunch."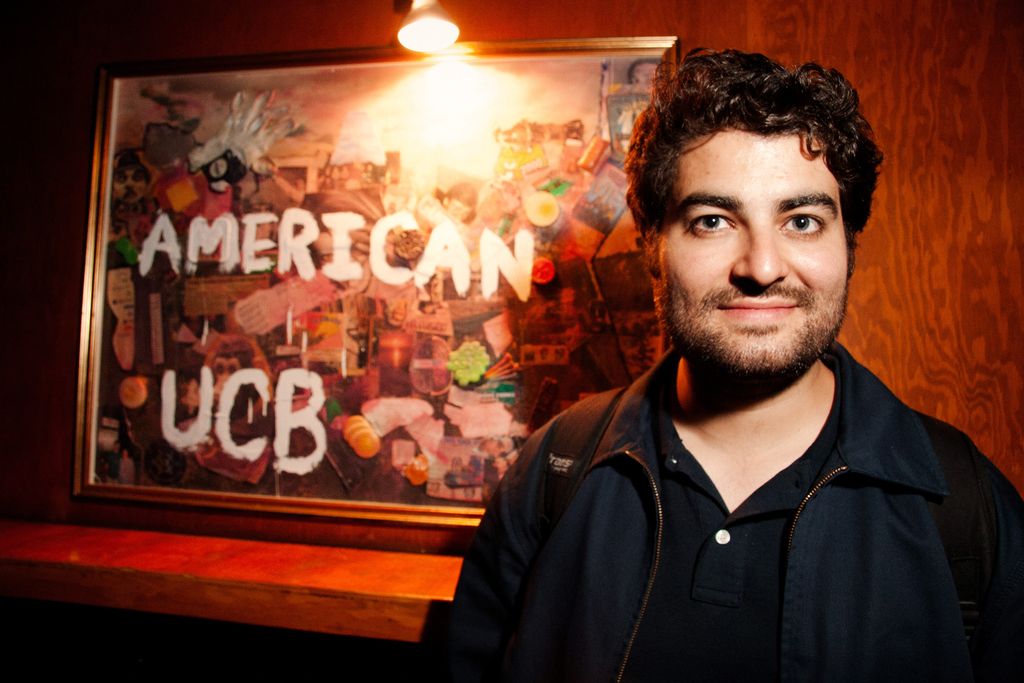 Sean Patton at Whiplash at UCB Chelsea, September 22, 2008: "Stop smoking cigarettes and drinking so much beer. Always remember how much you love this. It's gonna get really hard, especially one night in 2009 that you won't think you'll rebound from. You will. Do a different set on Conan in 2013, because in this timeline you bomb on that show on 11/12/13. People are gonna tell you it doesn't matter because nobody watches late night (Conan will be on TBS by then too), but it will matter to you a lot. You will hate yourself, but eventually you'll overcome. (OR you can do a different set! Save yourself months of agony!)
There's gonna be rough times. Let them hit you, stand back up, and stare the adversity in its eyes until it crumbles. Keep going. Be more than you think you could be, because you can.
Also, Obama's gonna win in November. He'll get reelected in 2012. Around then, start bashing Donald Trump on stage every night. People are gonna think you're a jealous asshole until around 2015, but trust me, it'll pay off.
And seriously, stop smoking. And drinking that much PBR. And stressing out about everything. Look at this picture. See that face? Now be that face."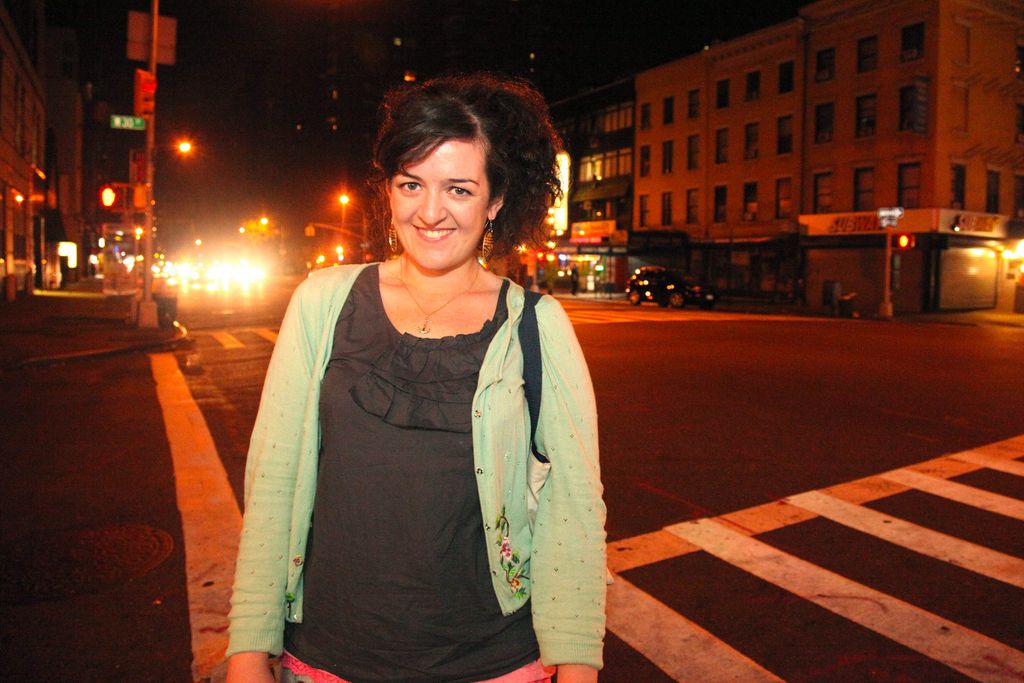 Maeve Higgins after Whiplash at UCB Chelsea, September 21, 2009: "My advice to the little creature in the photo is to read more books and to intern for Donald Glover. Also, even though I hate getting my photo taken, I would encourage myself to stop running away from Mindy at shows because one day she'll have a studio actually genuinely filled with light and laughter and she'll take your author shots when you've written a book you're proud of and you'll be grateful you met her at 1:00am in Chelsea and she was kind enough to find you and photograph you after you bombed at Whiplash."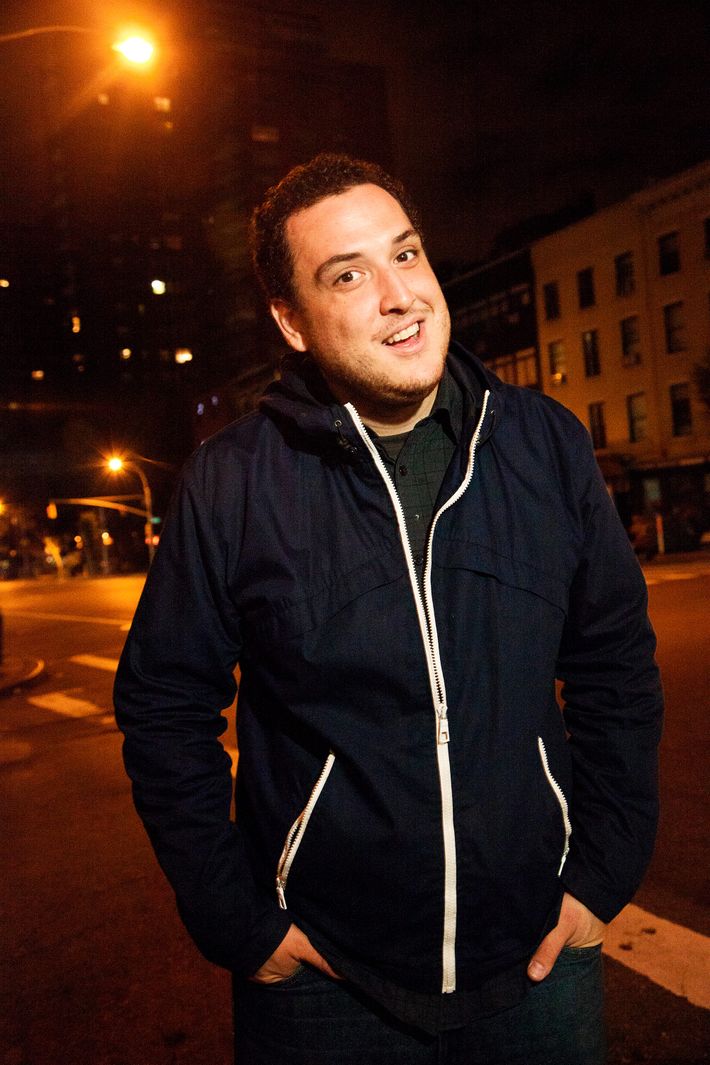 Nick Turner after Whiplash at UCB Chelsea, October 3, 2011: "Do NOT lose that jacket. You will try but never find another jacket like it. You will even forget the brand, making googling it impossible. Better yet, bury that jacket in a time capsule to be opened in 2018 when you are mature enough to check your seat before you leave the subway."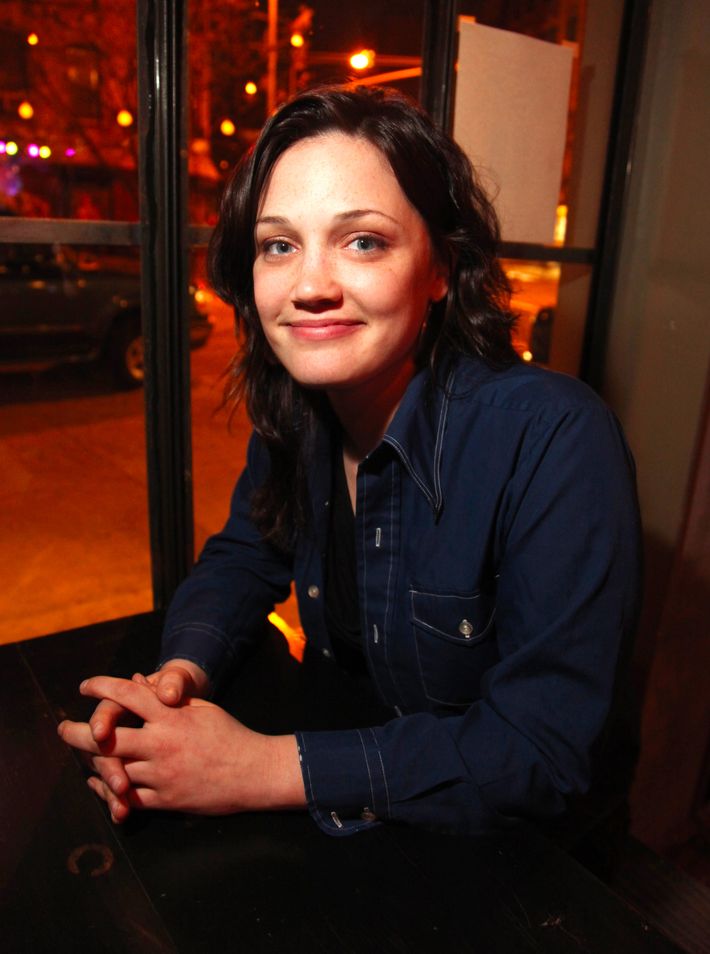 Christine Nangle at the Knitting Factory, December 6, 2009: "Trust your instincts. Figure out whose opinion really, truly matters to you and don't sweat the rest. Don't let shitty work experiences be wasted — when a situation is not ideal, know that it could always be a learning opportunity somehow, even if that means an opportunity to learn how not to do things. Also stop making this dumb face in photos."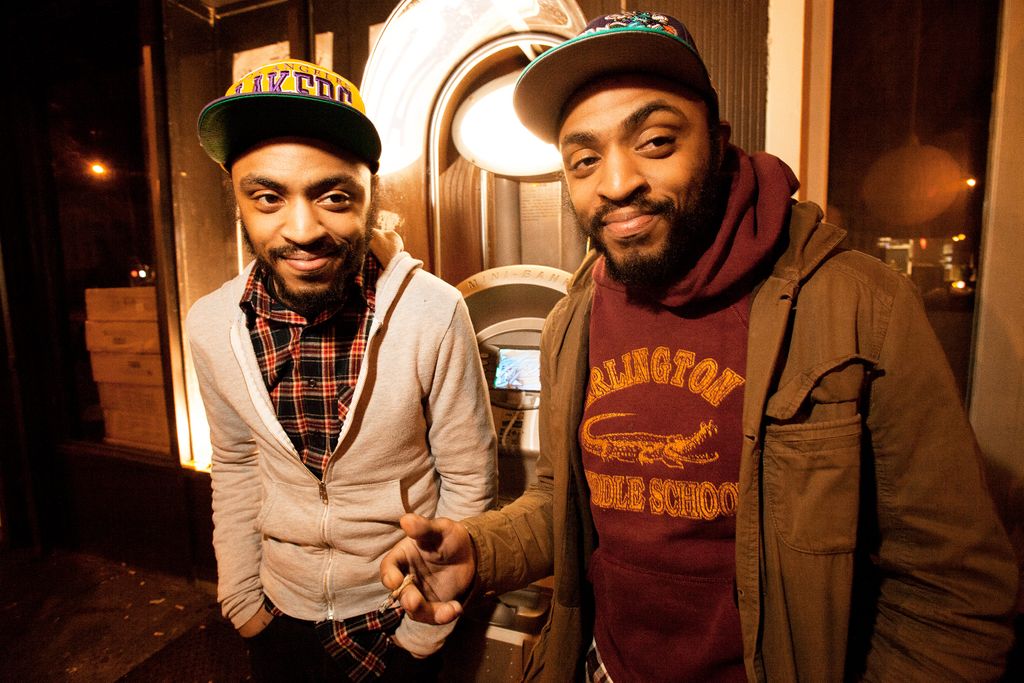 The Lucas Brothers at The Creek and the Cave, January 14. 2012: "Appreciate every moment, good and bad. Don't get caught up with competition, politics, and comparing yourself to others. Enjoy the work of your peers. Recognize you're in a privileged position where you get to watch some of the best hone their craft. Don't take anything and anyone for granted. Don't be too hard on yourself. Success comes to those who work hard. But that doesn't mean not to have fun. Document everything. Experiment more. Enjoy and LOVE​ the process. Listen and learn from the greats. Always be willing to help out those who aren't in your position. Recognize just how fortunate you are to practice comedy professionally." —Kenny Lucas
"I'd tell him to cry a bit more and think a little less. Also, try to help as many people as possible. Absolutely kill the ego. Focus more on the spiritual journey that comedy will take you on. And watch Toy Story 3 every six months." —Keith Lucas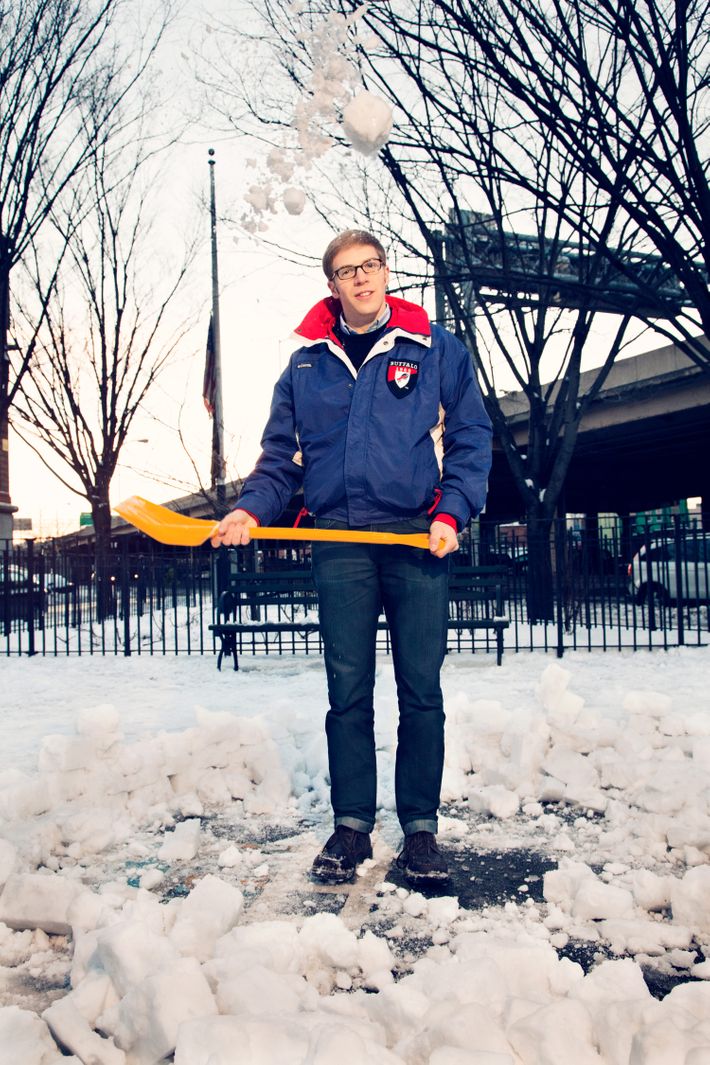 Joe Pera in Williamsburg, Brooklyn, February 10, 2013: "I think my advice to myself is just: pay to have the cooking gas turned back on. It's a long story, but Tomas and I should have just paid it so that we could make some warm food instead of eating so many deli sandwiches over the past five years."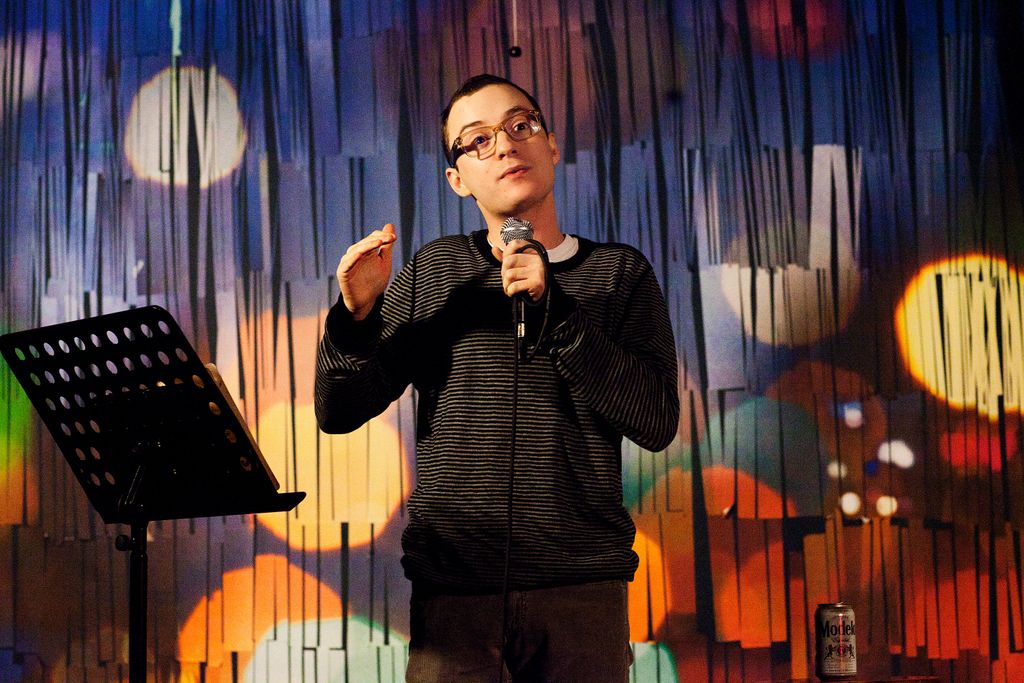 Griffin Newman at Luca Lounge, February 27, 2012: "I would tell my younger self to calm the fuck down and try to have fun. That was the advice I constantly got from friends in my early 20s, and I constantly ignored them and responded with some insufferable diatribe about trying to deconstruct joke structure or whatever. I thought comedy was only worthwhile if it felt difficult, and the audience could see that effort. I was regularly bombing in front of microscopic crowds. This picture was taken on Valentine's Day during a depression-themed storytelling show. I had gotten dumped days before and decided to throw out my regular material and just read a list of my most painful romantic rejections. After years of constantly overthinking what kind of comedian I wanted to be and where I wanted to fit into the NY comedy scene I just dropped all the bullshit and spoke honestly. There must have been less than ten people in the crowd that night (including Mindy and the other performers) but I could feel an immediate difference in both the way they were laughing and the comfort I felt onstage. I see a real personal turning point captured in that photo, even if it took a couple more years for those lessons to really stick in my stupid, stubborn brain."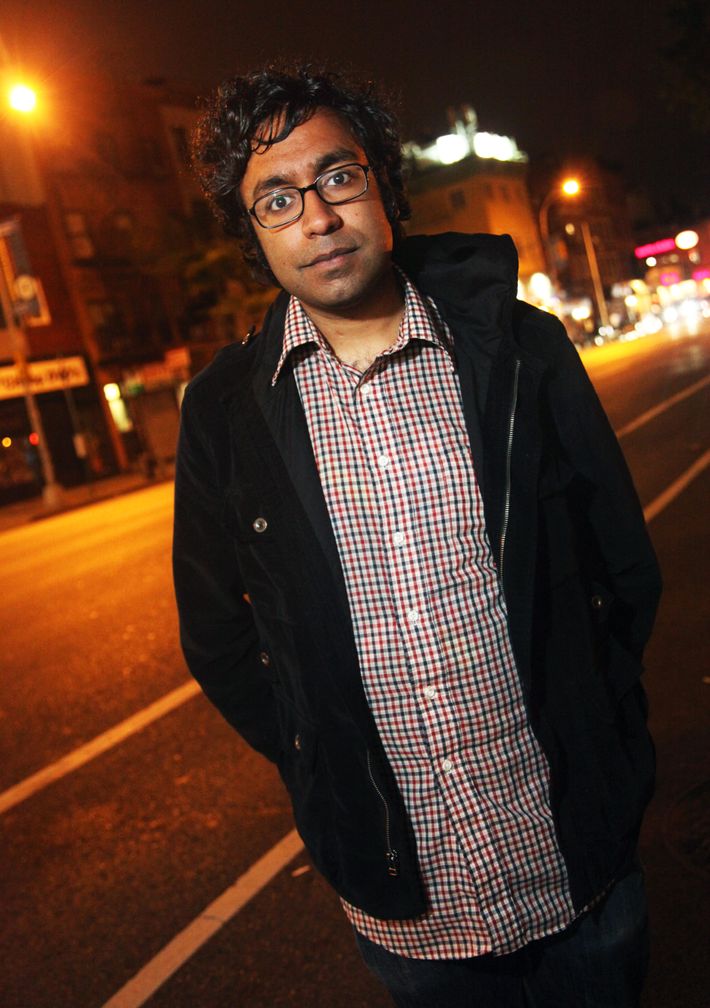 Hari Kondabolu after Whiplash at UCB Chelsea, May 17, 2010: "Dear Young Hari, you are hotter than you think. Know that. Also, take better care of yourself. Eat healthier and take breaks because careers are long and you will get tired. Also, the show you just performed on will rarely book you and you will never get a clear reason as to why this is the case. Ultimately, it will have no impact on your career."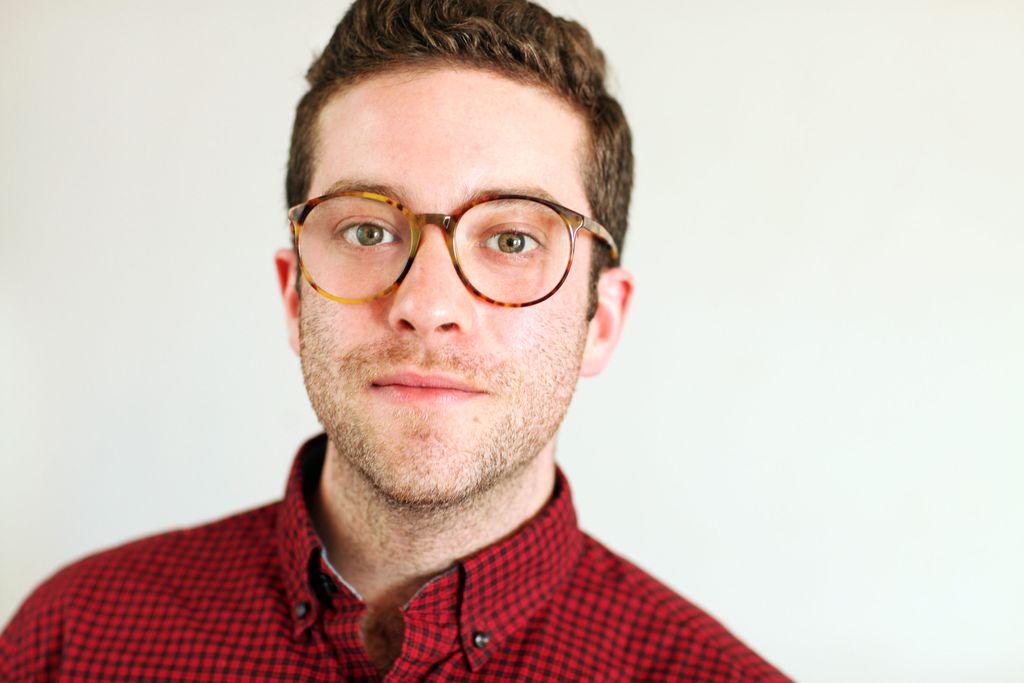 Gabe Liedman, January 9, 2010: "I would tell this guy: 'Gabe, my friend, it gets so good. People will love you. You don't have to worry so much. Stop second-guessing yourself and just enjoy it. You're good enough, you're working hard enough. Nourish your friendships, because it turns out, they're everything. Oh, and not to be a bitch, but please quit smoking. I know, I know.'"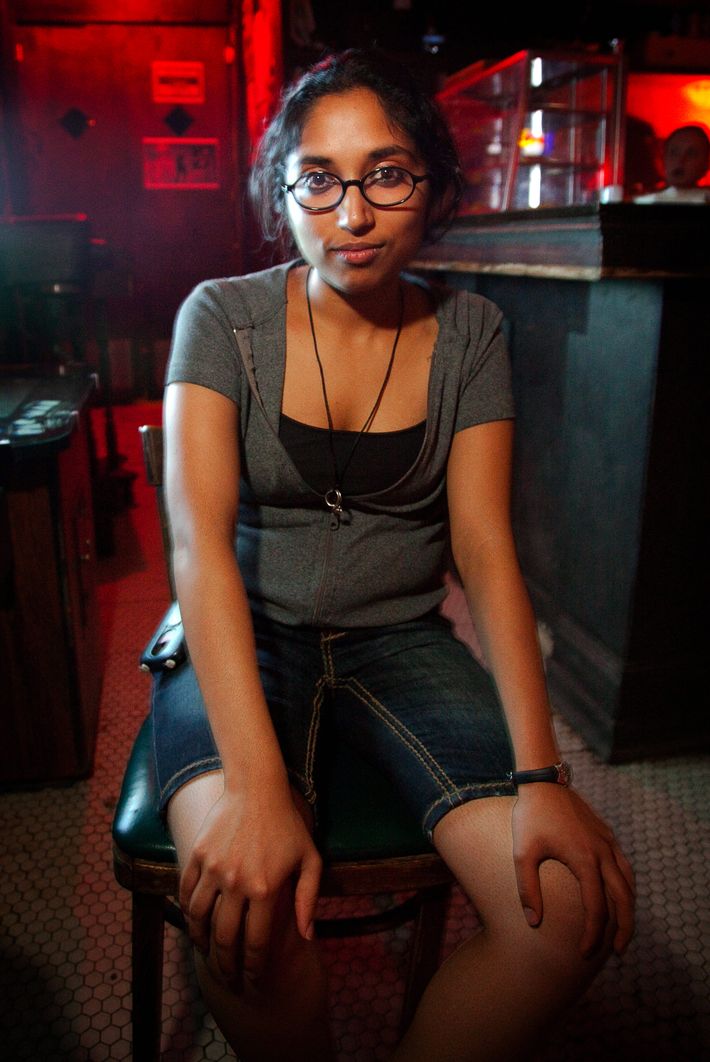 Subhah Agarwal at Luca Lounge, July 7, 2011: "Wearing those goofy glasses won't stop you from getting harassed, so quit it."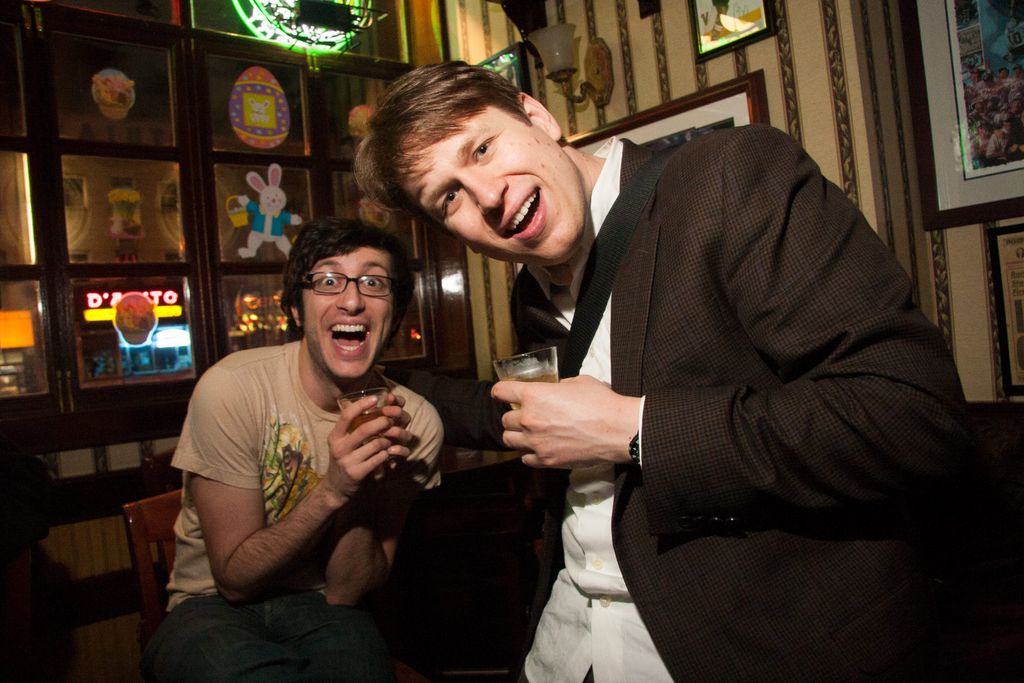 Pete Holmes and Oren Brimer at The Roast of Pete Holmes, March 31, 2009: "I would say, 'There are so many people who think and feel exactly like you do but are embarrassed to admit. Don't be afraid to share everything that you are!'" —Pete Holmes
"The business will give you downtime, but that doesn't mean you should take a break. And you make that same face in every picture, try switching it up." —Oren Brimer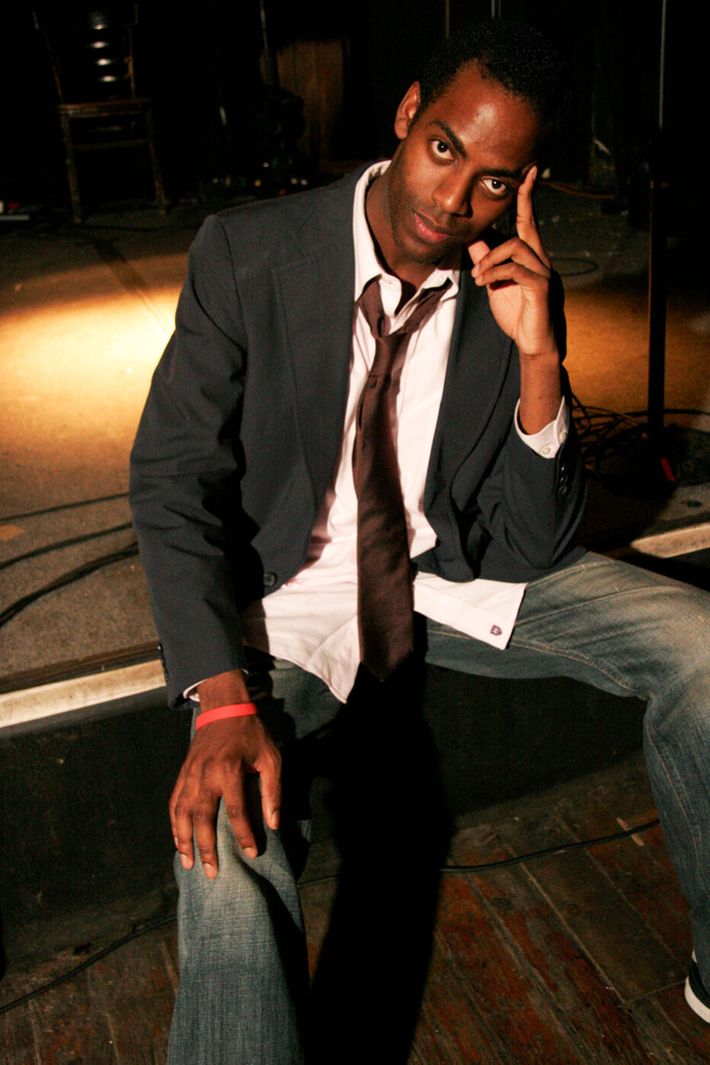 Baron Vaughn at Shoot the Messenger, September 18, 2007: "Worry less about having to fit, and focus more on what you want to make — this will always serve you.
When things get stressful and crazy and you think to yourself 'When will this get easier?' it won't, because that's what a career feels like.
Anxiety is your creativity turned into a weapon that you use to beat yourself up. And this is because anxiety is mostly storytelling — repeating poisonous stories that you've inherited from others. It feeds on your fear. Instead of letting anxiety run you, try voicing it. Voice it in your comedy. Voice it in a script. Just voice it, and it'll help you release it. That way, the insane scenarios you come up with that make it so you can't get out of bed become something you can play out on stage or on screen, and not something you play out in real life.
And lastly, don't buy so many sneakers. You won't wear most of them."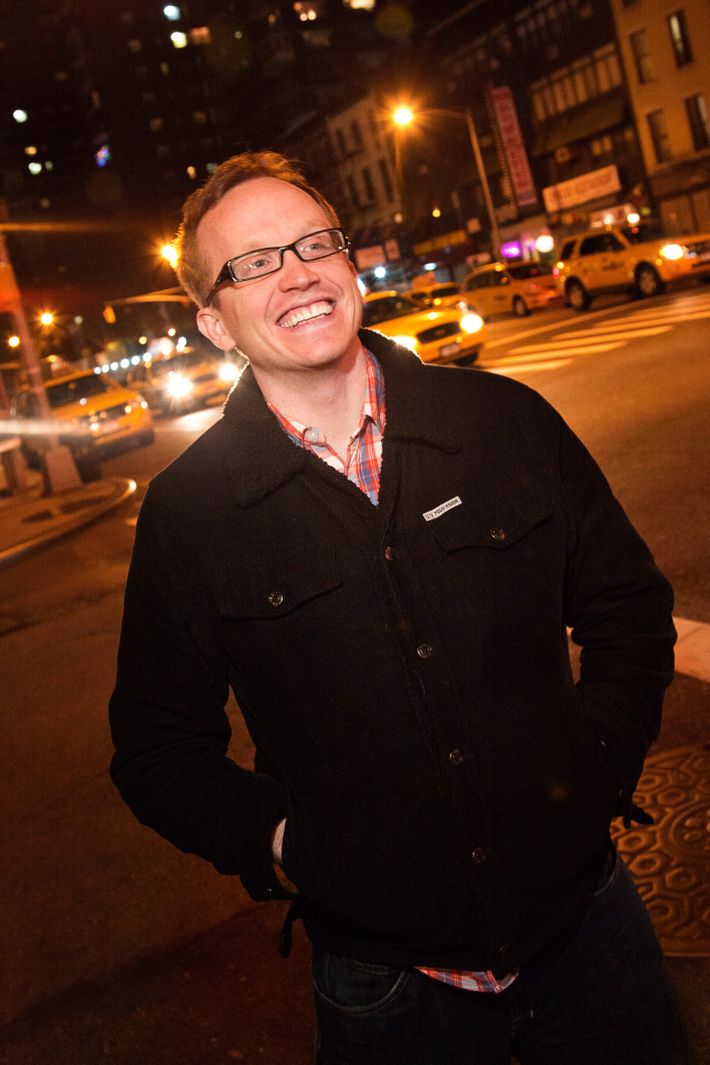 Chris Gethard after Whiplash at UCB Chelsea, February 6, 2012: "The first thing I would tell this young man is to keep an eye on that jacket. It fits well, looks nice on you, and is shockingly warm considering its relatively light weight. You are going to lose it in a year or so, and you are going to be sad.
The second thing I would say is that in the next few months you are going to fall off the deep end and it's going to be scary. But persevere and keep working hard. It's going to be okay.
In a more long-term sense, I would say that you have to remember at all times that working in the entertainment industry means you sell a lot of things. You sell your talent. You sell your time. You sell your name, your effort, your 'brand.' But one thing you must NEVER sell is your integrity. The next few years will test that hard for you. Know that you will stay the course on this one and it will serve you well.
And young man, please never lose sight of the fact that what you do is for the people you do it for and not for you. Getting in front of a crowd and performing live in that room is the core, roots, foundation, and synthesis of why you do what you do. Maybe for some the heights of other things is the goal. Not for you. Make people laugh, go as one-on-one as possible as often as you can manage, and as always, stop fucking apologizing."