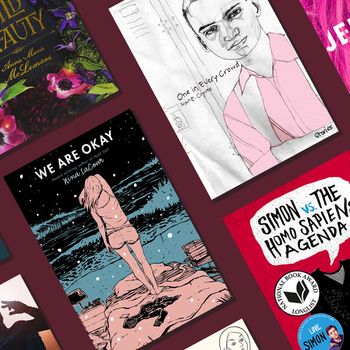 While queer-lit history stretches back to the days of Sappho mooning over girls, queer YA is significantly younger. It was less than 50 years ago that the first queer YA novel was published: I'll Get There. It Better Be Worth the Trip, by John Donovan. This tragi-queer novel set the stage for the awkward first decades of queer YA. Very few were being published, and the ones that were had narratives that centered around the tragedy of being queer. These were "problem novels" that had a lot more in common with an after-school special than they did with escapist fun. Annie on My Mind offered a bright spot in the '80s, though it also came with a good deal of melancholy. Twenty years later, Boy Meets Boy changed the game entirely by presenting a gay utopia. But it wouldn't be until just recently, post-2010, that queer YA began to really take off.
Just in the last few years, we seem to be entering a golden age of queer YA. We are seeing far more titles getting published than ever before, and a much broader array of stories being told. We still have a long way to go, however. Trans YA continues to be in its infancy, and many other queer people have to scrounge to find even a handful of titles to represent them, including asexual, aromantic, intersex, two spirit, nonbinary, gender-fluid, and a myriad of other people whose identities fall outside of "LGBT." That's no reason to ignore the progress we've made, however! The following 35 books, arranged by the year they were published, are by no means a definitive collection. Consider this a wide-ranging list of recommendations curated by a lover of the genre and supplemented with the fervent recommendations of other queer YA fanatics. We may have missed your favorite queer YA, and to that we say, tell us more! We're always up for discovering something new.
Photo: COPYRIGHT, 2011
Annie on My Mind by Nancy Garden (1982)
This may not have been the first queer YA, but it was the one that put queer YA on the map. It is a love story at heart, as well as a coming-out story. The main characters do experience a lot of anti-gay discrimination, but they also have queer role models, who suggest that they are not alone in the world. It suggests — radically, at the time — that queer people can have happy endings, too. Annie on My Mind holds a charm that has kept it in print and appreciated by new readers and rereaders alike.
Boy Meets Boy by David Levithan (2003)
When this came out in the early 2000s, it shattered expectations of queer YA. Here was a YA novel that imagined a world where being gay wasn't a tragedy. Where the quarterback could also be gender-nonconforming, and no one takes issue with that. Where the main character could be out since kindergarten. Other characters deal with anti-queer discrimination, however. Boy Meets Boy includes both the incredible hope inherent in the idea that it might be easy for someone to be queer, and the crushing disappointment of not having that be true personally.
Starting From Here by Lisa Jenn Bigelow (2012)
It doesn't hurt that this is a dog story, but it has a lot more going for it. This is a story with angst, but it is angst from loneliness and insecurity, from feeling lost, not simply from coming out. Starting From Here takes the reader into the depths of that loneliness, but also finds a way out. It shows the bravery of allowing yourself to be vulnerable, and how we can find and strengthen connections while in that space.
One in Every Crowd by Ivan Coyote (2012)
Ivan Coyote brings a rural perspective to queer storytelling that is sorely lacking in the genre. Although the family and friends described may not be familiar with queer terminology or theory, they are loving and accepting. Ivan Coyote's stories are filled with resilience and tenderness — a decidedly nontoxic masculinity. We recommend any one of their short-story collections, but this is curated for teenagers, and may appeal especially to trans and gender-nonconforming teens.
The Miseducation of Cameron Post by Emily M. Danforth (2012)
This book is a masterpiece. It follows Cameron's "coming of gayge" in the '90s, in Miles City, Montana. While the first half of the novel meanders through her adolescence, dealing with her parents' deaths and being closeted, it is the "conversion camp" that comes up mid-novel that demands attention. It is heart-wrenching to read about, with the knowledge that this was (is) reality for many people. Danforth paints this scene with subtlety; the details are what really bring it to life. We look forward to the movie adaptation, but we highly recommend you read this beautiful book first.
Aristotle and Dante Discover the Secrets of the Universe by Benjamin Alire Sáenz (2012)
This is one of the most well-loved queer YA books out there, and it's easy to see why. Aristotle and Dante is beautifully written and dripping in atmosphere. The narration is from inside Ari's head, and it is heartbreaking to see his pain so clearly, even when he is unaware of it. Ari and Dante are also both Mexican-American, and they discuss what that identity means to them. This is a raw and honest story that envelops you in Ari's life. There is anti-gay and transmisogynistic violence described, as well as an outing, so be prepared for that.
Silhouette of a Sparrow by Molly Beth Griffin (2013)
Silhouette of a Sparrow takes place in 1920s America, and Garnet is pulled between the practically Victorian values of her family and the rapid changes happening in society. When Garnet falls for a flapper girl, she is torn between new possibilities and the obligations she has to her family. This tension is rendered sympathetically: Garnet's mother isn't a villain for wanting her to help support them, and it's not as simple as just being "true to herself." This is a quiet, thoughtful book that ranges from straightforward prose to the poetry.
Two Boys Kissing by David Levithan (2013)
Two Boys Kissing follows two teenage boys who are trying to beat the world record for longest kiss, but their story is narrated by a chorus of gay men from the '80s and '90s who died from AIDS. The AIDS crisis is of course an important part of queer history, but it is rarely given this much attention in queer YA. The unapologetic title and cover alone give this book a place on the list. While most readers have to search for queer content, Two Boys Kissing displays it prominently.
Adaptation (2012) and Inheritance (2013) by Malinda Lo
Drawing inspiration from The X-Files, this is a government conspiracy–alien visitation duology with a bisexual main character. The first book is so action-packed that we had an adrenaline rush reading it. The first chapter has birds falling out of the sky, planes mysteriously simultaneously crashing across the country, and government cover-ups, and the tension just ratchets up from there. It includes discussions of sexuality, race, and gender — including nonbinary genders — as well as alternative relationship structures, while still being completely accessible to any reader intrigued by the premise.
Adaptation by Malinda Lo
Proxy by Alex London (2013)
Proxy is a dystopian retelling of The Whipping Boy. This book tackles capitalism and consumerism, while also showing Knox's slow and believable character development. Dystopia is a genre in YA that has grown in popularity, but despite the wave of books that came after The Hunger Games and Divergent, very few include queer protagonists. The beginning of queer YA painted being queer itself as practically dystopian, so it's gratifying to see stories that include queer characters without making that the reason for their suffering. After all, capitalism hurts queer people, too!
Everything Leads to You by Nina LaCour (2014)
Looking for the queer-girl equivalent of Boy Meets Boy? Try Everything Leads to You. This is full of Hollywood glamour on top of the adorable love story. Part of the appeal is Emi's passion for her work, her deep appreciation for set design and Hollywood movies in general. This is a quick, engrossing read that bypasses coming out completely and instead features a character who is already confident in her identity. Everything Leads to You is a pick-me-up of a read that is a perfect antidote to ingesting too many tragi-queer stories.
Far From You by Tess Sharpe (2014)
Far From You is not afraid to get dark. Sophie is a recovering drug addict, and she's trying to find out who killed her best friend. This is a book that's sorely needed in queer YA: There are very few mysteries represented, and even fewer novels that feature a disabled (and bisexual) main character. Dark queer YA stories need to be told just as much as the lighter ones, especially when they aren't centered on suffering that is caused by the character's queerness.
Simon vs. the Homo Sapiens Agenda by Becky Albertalli (2015)
You may have recently heard of this one. Simon is an adorable love story that takes place through email. The secondary characters are strong and well-rounded, and maybe a little idealized. It would be a great environment to come out in, but Simon is frustrated that he has to. It's an interesting exploration of the concept of coming out: Why does everyone assume he is straight? Why don't non-queer people have to come out? Despite that, it is a very sweet love story, and although it touches on things like outing and blackmail, it is much more of a comforting read than that would suggest.
More Happy Than Not by Adam Silvera (2015)
More Happy Than Not is not an easy read. In fact, it's probably the bleakest book on this list. Aaron is Latino, lives in the Bronx, and is struggling to deal with his father's suicide. It offers a sci-fi take on "conversion therapy," and faces the worst of anti-gay bigotry and violence head on. We wish we could promise that it is counteracted with a beam of hope and sunlight at the end, but the title is about as optimistic as the story gets. Do be prepared for heartbreak when you pick this one up.
Little & Lion by Brandy Colbert (2015)
The protagonist of Little & Lion is black, bisexual, and Jewish, and all these aspects of her identity affect her everyday life, manifesting in microaggressions that never fail to rankle. But those labels aren't what's at the heart of the story: Suzette's brother has recently been diagnosed with bipolar disorder, and during that time, she was sent away to school. Now that she's back, there is a gulf between them, and they struggle to find the ease and closeness they had before. This a skillful narrative that crafts fully realized characters with all their flaws and vulnerability.
We Are the Ants by Shaun David Hutchinson (2016)
Henry keeps getting abducted by aliens — not that anyone would believe him. During the last abduction, he's told that the world will end in 144 days, unless he pushes a button … But he's not sure he wants to save the world. This story deals with suicide and depression, so it does get dark, but there is also humor to it. The secondary characters are complex, and as Henry begins to slowly develop those relationships, he becomes more anchored. Although aliens are involved, this is fundamentally a story about how (and why) we strive to be human, even when nihilism seems easier.
Radio Silence by Alice Oseman (2016)
Part of what we loved about Radio Silence is the emphasis on friendships as powerful, life-changing relationships. Frances is bisexual and Aled is also queer, but the most intense connection in the book is their platonic friendship. Beyond the queer representation, though, this was an affecting read because of its treatment of mental health and the institutional nature of university. For Aled, university is a toxic environment that he feels trapped in because of his abusive mother, and Frances feels trapped there, too. The whole situation seems bleak and inescapable. Luckily, there is a glimmer of hope in the darkness.
Labyrinth Lost by Zoraida Cordova (2016)
Daniel Jose Older perfectly described this as "a brilliant brown-girl-in-Brooklyn update on Alice in Wonderland and Dante's Inferno." Alex is a bruja who resents her own powers. As a queer protagonist of color, her struggle to recognize and respect her own power is especially poignant. She's also pulled in a love triangle between a brooding brujo and her bubbly best friend. It was refreshing to read a fantasy where the magic system is based not in European lore, but Latinx and Afro-Cuban cultures and beliefs.
Of Fire and Stars by Audrey Coulthurst (2016)
What a delight. This is a YA fantasy where two princesses fall in love. There's court politics, betrayal, warring religious factions, and suppressed magic. There is forbidden love, but only because Denna is engaged to Mare's brother and falls for Mare instead. Oops! There are fun romance tropes at play here, like opposites attract, and a reluctant-friendship-turned-romance story line, too. Did we mention it has two princesses falling in love?
Last Seen Leaving by Caleb Roehrig (2016)
Flynn's girlfriend has gone missing, and he's the prime suspect. But Flynn's secret isn't so nefarious: He's gay, and he needs to find a way to clear his name without outing himself. This is another addition to queer YA thrillers, a niche that deserves to expand. The mystery, red herrings, and twists will keep you frantically turning pages. After all, staying closeted is already stressful enough. Add to that the tension of a thriller and trying to hunt down whoever is responsible for January's disappearance, and you have a recipe for rattled nerves.
If I Was Your Girl by Meredith Russo (2016)
We can't have a list of the best queer YA without including If I Was Your Girl. This is a book about a trans girl, by a trans woman, with a trans girl model on the cover, which is a first. This is an entertaining and engrossing read that weaves the story of Amanda's coming out and transition into a YA romance plot structure. It faces the difficulties and dangers of being a teenage trans girl while still maintaining a lightness and optimism. If you want a much more in-depth take, definitely check out Casey Plett's Plenitude review.
As I Descended by Robin Talley (2016)
This is a boarding school, lesbian Macbeth retelling, which means it's packed full of broody atmosphere and revenge plots. It starts southern gothic, then descends into downright horrifying. It was fascinating to watch Maria start as the ideal student, then lose the high ground and just keep slipping. Meanwhile, Lily is determined to overcome being seen as just "the girl with the crutches" and doesn't want to take on the added burden of the label "lesbian." This is the perfect read for a blustery fall evening, to sink into this world of Ouija boards, spirits, and betrayal.
In Other Lands by Sarah Rees Brennan (2017)
If you enjoy snarky, "unlikable" characters, this should be right up your alley. Elliot can be A Lot upon first encounter, but he grows on you. He's bisexual, and there is an adorable queer romance here as well. Elliot is acclimatizing — not only to a new world, but also to having people in his life who care about him. This takes on the portal fantasy with a good dose of silliness, but also draws complex, captivating characters. Bisexual boys are still fairly rare in YA (or … any books), so this is a great addition for that representation.
Not Your Sidekick and Not Your Villain by C.B. Lee (2017)
Another genre that is lacking in queer YA is superheroes! Not just comics, but any stories featuring superheroes. This is an unabashedly fun, trope-y take on the superhero genre. It's entertaining, fast-paced, and includes the kinds of characters that haven't always been found in these stories, including a Creole-American trans-guy best friend. And there's an f/f romance! Not Your Villain continues on in this world, but with the trans character as the protagonist. This will be a trilogy, and the third book is highly anticipated.
Not Your Sidekick by C.B. Lee
Girls Made of Snow and Glass by Melissa Bashardoust (2017)
Girls Made of Snow and Glass is a fairy tale about misogyny. Although this story includes an f/f romance, the primary relationship is the complicated one between Lynet and her stepmother, Mina. We see how Mina got to be where she is, how she has been endlessly told that she is unlovable, and that her only value is in her beauty. This feminist take on the story breaks apart these roles and shows how connections between women, how love and solidarity and trust between them can offer up whole new possibilities that were missing from the original narrative.
How to Make a Wish by Ashley Herring Blake (2017)
This is a quiet, powerful book about grief and parental abuse. Grace is holding back so much anger and fear that she lashes out at the people who love her. She is falling for the new girl in town, Eva. Eva's mother has just died, and she finds comfort in Grace's mother, leading Grace to boil over with resentment and worry. This is a messy situation, handled delicately. There are no easy answers, but these characters feel so real that we couldn't help but feel fiercely protective of them.
Dreadnought (2017) and Sovereign (2017) by April Daniels
Although Dreadnought is a superhero story, it's not an escapist romp. It's about fighting bigotry, but with superstrength. This series deals with transmisogyny and parental emotional abuse. Even her fellow superheroes aren't exempt from bigoted beliefs. Sovereign continues with the difficult questions by tackling what happens when you give a traumatized teenager superpowers and reward them for being violent. This can be an uncomfortable read, but it's an excellent examination of the consequences of a world with superheroes, while also starring a trans lesbian main character. (The f/f romance isn't until the second book, but it's worth waiting for!)
Dreadnought by April Daniels
Autoboyography by Christina Lauren (2017)
When Tanner moved from California to Utah, it meant a brief trip back in the closet. He can be out as bisexual again when he goes to an out-of-state college the following year. That's the plan — until he finds himself falling for his Mormon writing mentor. Autoboyography makes the list for its nuanced and sympathetic treatment of religion, specifically of Mormonism. It challenges some of the beliefs and behaviors of the church while not painting its followers as villains. This is a sweet love story, but there are a lot of barriers to this couple getting a happily ever after.
We Are Okay by Nina LaCour (2017)
Marin is spending her holidays alone with her thoughts. The grandfather she grew up with has died, and she has no other family to lean on. Until her best friend shows up. This is a very different vibe from LaCour's Everything Leads to You. We Are Okay is suffused with grief and loneliness. There isn't a fast-paced plot here, just an exploration of Marin's emotional state. Marin and Mabel's relationship is muddled, and they are trying to find a way to be there for each other, whether that's romantically or not. Keep a box of tissues nearby for this one.
Wild Beauty by Anna-Marie McLemore (2017)
Anna-Marie McLemore has quickly become a staple of queer YA, especially for her bisexual and Latinx representation. Her dreamy, magical-realist stories have built a solid base of fans, and Wild Beauty is no exception. The Nomeolvides women carry a curse: If they fall in love with someone, they vanish. All five cousins have fallen for the same girl and have vowed not to pursue her, lest she fall victim to the curse. This a lyrical story that deals with colonialism, racism, and queerness — but indirectly, and through metaphor. The writing inside is as beautiful as the cover.
Ramona Blue by Julie Murphy (2017)
Ramona is crammed into a trailer with her father, her pregnant sister, and her sister's boyfriend. She feels like she's bursting at the seams of her life. This is a story that deals with sexual fluidity and shifting labels, which is definitely not something we see a lot of — not just in queer YA, but in media in general. Ramona is 100 percent sure of her attraction to women. It's Freddie that confuses her. Sexuality, romantic attraction, and identity labels are all very complicated things, and Ramona Blue deals with this complexity head-on, while also tackling racism and classism.
History Is All You Left Me by Adam Silvera (2017)
When Griffin's boyfriend, Theo, breaks up with him and dates Jackson, Griffin remains completely certain that they will get back together. After Theo drowns, Griffin is plunged into grief, anger, and confusion over what happened. Griffin is a deeply flawed character who is struggling to cope. His OCD has worsened, and he can't decide whether reaching out to Jackson and sharing their grief makes things better or just exacerbates his anger. Griffin can be a difficult character to spend time with, but his pain is palpable. This is not an easy read, but it is honest and moving.
Queens of Geek by Jen Wilde (2017)
Queens of Geek shares two point-of-view characters: Charlie and Taylor. This story is so good that you that won't even mind the m/f romance! Of course, it's Charlie's flirtation with a fellow YouTube star that ups the cute level. It's also nice to have an interracial relationship represented where both women are of color. You'll devour this book; it's one of the few that you'll finish in one day when you only mean to read a chapter or two. It's a fun, geeky read that also includes a beautiful diversity of characters.
All Out: The No-Longer-Secret Stories of Queer Teens Throughout the Ages edited by Saundra Mitchell (2018)
Historical fiction has not been very common in queer YA, and All Out is here to change that. Queer people have so often been erased from history that it can feel as if we have no roots. All Out imagines the lives of queer teens throughout different time periods, often playing with genre (retellings, fairy tales, magical realism, fantasy) as well. Not only does this imagine queer histories, it imagines happy ones! It also features a range of identities, including trans, gay, lesbian, asexual, and aromantic characters.
Anger Is a Gift by Mark Oshiro (2018)
This is a brilliant, gutting work that tackles police brutality and the militarization of schools while starring a large cast of queer characters of color (including trans, nonbinary, lesbian, gay, bisexual, and asexual characters). You really get a sense of Moss's world — his friends, family, and neighborhood — in descriptions reminiscent of The House on Mango Street. Moss finds a way to stop repressing his anger and start using it to fuel change. We can't recommend this book highly enough, but it is a dark, difficult story, so please make sure you're in the right headspace to pick it up.