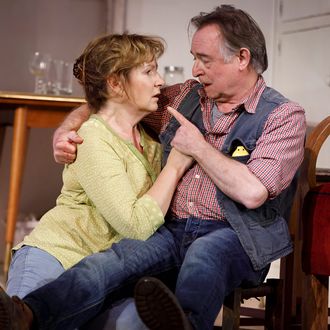 Deborah Findlay and Ron Cook in
The Children.
Photo: Joan Marcus
I'm a Tony Awards voter. If you know me as New York's theater critic, this isn't particularly strange or hilarious. But if you know me in person, it is. For the past few weeks I've been intermittently logging into my very official, somewhat forbidding, online ballot, clicking on names and then tentatively — as if I'm playing "Who Wants to Be a Millionaire?" — confirming them as My Final Answer. I'm not a big fan of awards shows, I get itchy writing "Best of" lists, and in my own directing, my heart belongs to the scrappy, the raw, the intimate, the wild, the weird — to the theatrical magic conjured by rubbing a few dimes and a couple of hot glue sticks together. I occasionally feel as though I've crashed a fancy party, and I'm that woman in the corner, housing hors d'oeuvres and ducking behind the ficus when Denzel walks by. At the same time, it's undeniably exciting to be able to raise my hand in support of some of my favorite plays and performances from this past year.
Exciting — and hard! This year brought a wildly varied slate of nominations, rendering comparisons even more odious than usual. By now, if this kind of thing is your jam, you've probably scrolled through the myriad prediction pieces out there, so here's a different kind of list: Five Things That Probably Won't Win But I'm Voting for Them Anyway and Here Are Some Reasons Why. So much for #KEEPTHESECRETS.
Best Play: The Children
Harry Potter and the $68 Million Extravaganza Cursed Child is probably going to walk (or fly, or floo powder) away with this award, but I'd be thrilled to see Lucy Kirkwood's taut, devastating three-hander about guilt and responsibility in the face of the manmade apocalypse get the love it deserves. The Cursed Child is a mightily impressive feat of stage magic, but if it picks up the Tony here, then the award should probably be renamed "Best Production." (We generally don't spend enough time picking apart the difference between the two.) As a piece of writing, Jack Thorne's venture into the Potterverse is high-spirited and full of entertaining Easter eggs — it's also an exposition-laden, box-checking, somewhat baggy behemoth that's conjured into life by a director, a design team, and an ensemble of first-rate theatrical alchemists. Kirkwood's play is tight, exhilarating, and resonant on the page and was embodied with a heartbreaking lightness of touch in James McDonald's graceful, mercifully unsentimental production. Comparatively un-splashy —with its cast of four (stellar) actors in their 60s and its (brilliantly used) box set — The Children will most likely be eclipsed on Sunday by a sparklier brand of magic, but I'll remember its power for a long time to come.
Best Revival of a Play: Travesties
It feels like I'm breaking some kind of law: Thou shalt have no other plays before Angels. There are a lot of heavies here — lush revivals being the meat and potatoes of Broadway these days — and in the end, I don't doubt that this one'll be Angels all the way down. And that's great! I raved about Marianne Elliott's stark, majestic production of Tony Kushner's incomparable epic. So, why Travesties? Truthfully, I had the most wonderful time of the year at Patrick Marber's perfectly pitched production, and these days, delight in the theater matters a great deal to me. It feels rejuvenating and sometimes even rebellious. A gifted playwright himself, Marber worked with Tom Stoppard to do some subtle but powerful retooling of his dazzling intellectual whirligig. Its mixed-up memory tale of artists and revolutionaries in Zurich during World War I felt not only breathlessly hilarious but unexpectedly poignant and, underneath all the frenzied fun, politically incisive. Disguised as a farce — and a brilliant one at that — the play makes its own case for the Great Work of human creativity and at the same time pokes holes in our pretensions and in the militancy with which we tend to approach both art and politics in times of crisis. For me, laughter is often the sharpest weapon.
Best Performance by an Actor in a Leading Role in a Play: Tom Hollander
And while we're on the subject of Travesties, I'm casting my vote for its infinitely versatile star, Tom Hollander. Hold on, you might be saying, didn't she just hang out with him? Yes, I did. I'm voting for Hollander for the same reason I wanted to interview him: I think he's a brilliant performer and, at least in America, underappreciated. My guess is that — despite controversy over his performance — Andrew Garfield will bag this one for his bold, expressive Prior Walter (a performance I admired, though I've chatted with several folks who took issue with it). Whatever the case, with Garfield, Mark Rylance, and Denzel Washington in the running for Big Serious Performances, Hollander's unlikely to get a statue for his mantel, even though his performance as Travesties' Henry Carr is as masterfully agile as a high-wire clown's. But Americans don't like giving big acting awards to comedies — never mind that any decent comic actor knows what prodigious chops they require — and we especially like performances that evoke, or even directly involve, excruciating pain. Leonardo DiCaprio had to crawl through frozen mud and eat raw bison liver before we'd give him an Oscar. I'll be happy to see Garfield's work acknowledged, especially in a play that has as much humor in it as Kushner's does. But I've also been musing on our general penchant for suffering, and how we can sometimes be a bit snobby when it comes to comedy, even though at its best it can bring us performances like Hollander's — nuanced, nimble, hilarious, human.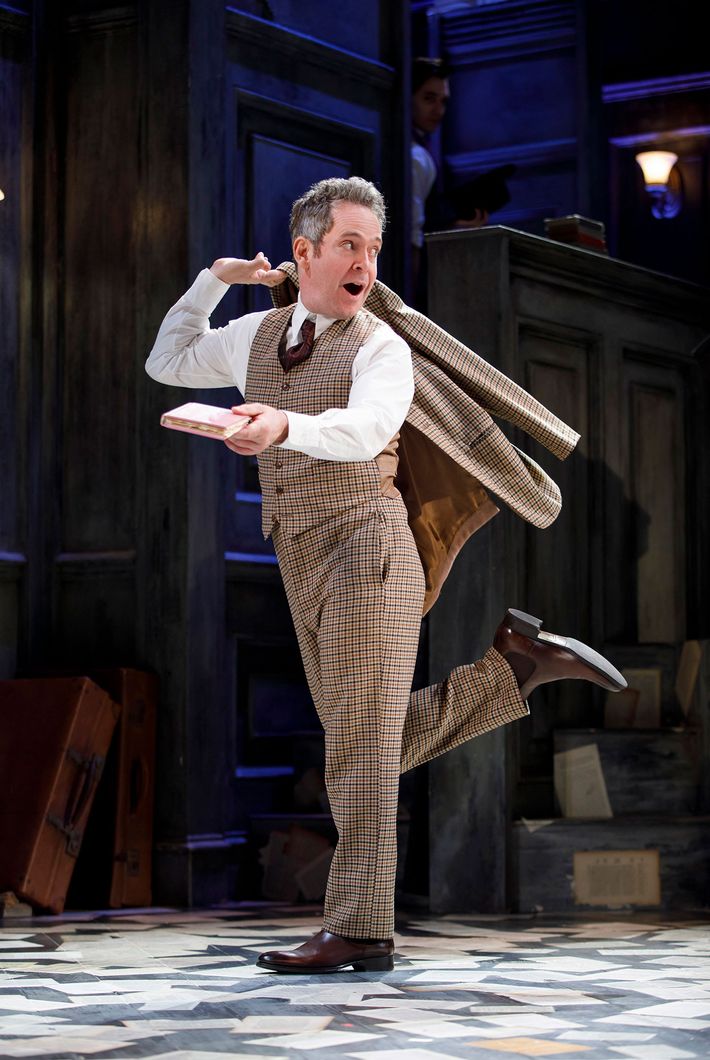 Best Performance by an Actor in a Leading Role in a Musical: Ethan Slater
Seriously, how are you supposed to cast a vote in this category? We've got Harry Hadden-Paton for Higgins in My Fair Lady, Joshua Henry for Billy in Carousel, Tony Shalhoub for Tewfiq in The Band's Visit, and Ethan Slater as SpongeBob. That's like voting on Best Animal: What's it going to be — the lion, the octopus, the bower bird, or the praying mantis? (Best at what? At mauling zebras? At postcoital decapitation? At home décor?) In the end, I don't doubt the award will go to Henry — and he deserves it, despite my issues with the show he's starring in. But like Tom Hollander, Ethan Slater is turning in an indefatigable, technically assured, and marvelously funny performance. Despite its theme park–esque material, SpongeBob is a startlingly smart, unfailingly entertaining musical, with director Tina Landau and sets and costumes designer David Zinn adding all sorts of weird, vibrant, ingenious life to the material. Slater's performance both lives up to and buoys the exuberantly overstuffed Technicolor universe he's nightly living in. And this is his Broadway debut, at 26. He's killing it up there, and I like what a win would do for his absorbent young career.
Best Performance by an Actress in a Featured Role in a Play: Deborah Findlay
Another tough category, populated by two ringers from Angels, Hermione Granger, and Laurie Metcalf. And also by my choice, Deborah Findlay, whose portrayal in The Children of a mother and former nuclear engineer trying to yoga-and-stiff-upper-lip her way through disaster — while in fact running desperately from her own mortality and responsibility — left me gasping. Kirkwood's play is an incredible gift for three older actors, and the gradual emotional unraveling of Hazel, Findlay's deceptively warm and practical character, is its beating heart. Under James McDonald's meticulous direction, none of The Children's triple-threat ensemble overplayed a note. Ron Cook and Francesca Annis did that most striking and subtle of dances: fully embodying their roles, holding down two unshakable corners of an equilateral triangle while simultaneously lifting Findlay up, supporting her and letting her shine at the uppermost point as a woman who, in her turn, "holds up the world." And shine she did. I still think about Hazel's climactic breakdown, in which she cries in her husband's lap over an adult daughter that just can't get her shit together, that the loving, worried parents have continued to support. Hazel and her husband Robin are in the process of making a decision that might help the wasted countryside where they live (and where the nuclear plant they used to work in has had an apocalyptic meltdown), but that will certainly kill them. In the midst of these critical moments, their daughter calls. She can't figure out how to install her washing machine. As Findlay spoke gently into the phone, she balanced the mortal and the mundane. Watching her navigate the devastatingly short distance between the two still gnaws at my heart.
Bonus Round! Best Scenic Design of a Play: Ian MacNeil and Edward Pierce for Angels in America
I know I said five, but here's an extra. Honestly, I agonized over the design awards. (Correction: am still agonizing — I still have a few hours before I have to submit this ballot. This could all change! What about that?!) Again, so many apples to compare to oranges. Or more like apples and monster trucks. I have a feeling that Christine Jones will snatch up this award for The Cursed Child, and there's no denying that the Potter play has some seriously striking scenic gestures going on. But for me they're inextricably bound up with Finn Ross and Ash Woodward's mind-blowing projection design. The Tonys still haven't instituted a category for projections, or figured out how to marry that ever more critical and expansive field with set design (with which it is indivisible, whether we award them separately or not). For stunning scenic designs that relied less on digital technology, it finally came down to Angels in America and Three Tall Women for me. Frankly, choosing between the two hurts. Miriam Buether pulled off something pretty miraculous in Three Tall Women, employing a couple of stunning, simple (I mean, simple to look at and I'm sure fantastically expensive to achieve) gestures to transform what looked like a well-appointed one-room period set into a surreal house of mirrors. And the miracle of Angels was its constant sense of transformation through subtraction, of peeling back layer upon layer of scenic gesture until, as Prior visits Heaven, the theater's massive brick back wall is gorgeously exposed. The play's characters are stripped naked in every sense, and in Elliott's vision as accomplished by MacNeil and Pierce, so is the stage. You always feel it in your bones when a play's design manages to locate and embody its central metaphor, and that's what Angels' stark, operatic landscape did for me.