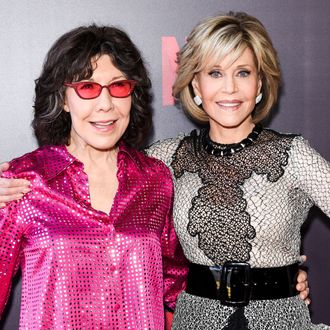 Lily Tomlin and Jane Fonda.
Photo: Presley Ann/Getty Images
Bless, Lily Tomlin. She likely just spilled the beans on a future Netflix series with the incomparable Dolly Parton. At a panel for Netflix's FYSee, the streaming giant's version of For Your Consideration events showcasing Emmy contenders, in Hollywood on Saturday afternoon, Tomlin was onstage with Jane Fonda, Sam Waterston, Martin Sheen, and the creators of Netflix's Grace and Frankie to promote the series to Emmy voters. Instead, when asked who she would like to guest star on Grace and Frankie, IndieWire reports, Tomlin explained why her former 9 to 5 co-star wasn't on the list, pointing to Parton's own "big show deal" at Netflix.
IndieWire, who shared that Netflix representatives declined to comment on a potential Parton show, describes the scene.
"We'd like to see Dolly and we keep hoping we'll work out a schedule, but she's just so busy," Tomlin said. "She does so many things, and now she has a big show deal herself at Netflix, so I don't know."




"She does?" Fonda said, to the delight of the surprised crowd.




"Yeah," Tomlin said. "It's a show — Sam Haskell, her partner, they're going to do a series about Dolly's songs, like she did with 'Coat of Many Colors' and all that stuff."




When asked if Parton was going to star in the series, Tomlin said, "Yeah, she'll be in it when it calls for her."
Fans have been hoping for a 9 to 5 reunion for years, and Parton, Fonda, and Tomlin are all-in for that reboot. Tomlin, will you let us know if that's happening too?