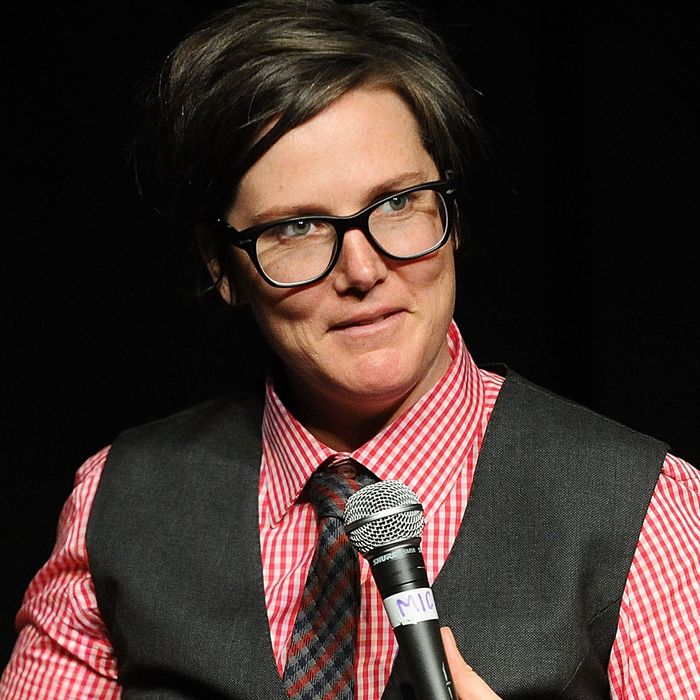 Hannah Gadsby at the 2013 Edinburgh Festival Fringe.
Photo: Scott Campbell/Getty Images
In the year-and-a-bit since Australian comedian Hannah Gadsby started performing Nanette, her latest hour-long set, her international acclaim has climbed to a surprising, though deserved, new level, particularly in the U.S. After winning the Barry Award for Best Show at the Melbourne Comedy Festival last spring, Nanette went on to win Best Comedy at the Edinburgh Fringe Festival, had extensive runs at London's Soho Theater and New York's SoHo Playhouse (her final New York performance is this Saturday), and last week was released as a special on Netflix.
"It's bigger than me. It's taken on a life of its own," she told us of the overwhelming response to the show. Nanette, which, ironically, is presented as a swan song of sorts (Gadsby announces that she is "quitting" comedy within the first 20 minutes of her set), is an honest, subversive, moving, and often hilarious take on the hour-special format. It touches on similar subject matter as her previous work — her thoughts on sexuality, homophobia, gender, and stories about her family and childhood growing up in Smithton, a small town in Tasmania — but takes a very different approach to storytelling and highlights the problematic nature of comedy and joke construction itself.
In Nanette, Gadsby challenges some of the methods, constructions, and versions of stories from her older shows, but to understand the full scope of her career, where Nanette fits in, and why it is so radical, it is useful to look into some of her previous material. Though Gadsby may be new to American audiences, she actually has 12 years of material under her belt, having created and toured with a new hour every year since 2007. She has also appeared on a number of Australian TV shows, including Adam Hills in Gordon Street Tonight and Josh Thomas's acclaimed Please Like Me. To start you off, we've compiled some highlights below.
Stand-up Performances
Gadsby has been performing stand-up on the Australian and British festival circuit since 2006, when she won the Raw Comedy competition on the Australian radio station Triple J and So You Think You're Funny? at the Edinburgh Fringe Festival. Her humor at the time relied on a very specific, sarcastic brand of self-deprecation focusing on her body image and sexuality, which is something she notes in Nanette. Though not many of these sets are available in full, there are several clips online from her appearances at festival galas spanning the last decade.
In one of her early performances in Edinburgh in 2007, Gadsby included a joke about her wide hips, a subject she would return to frequently over the course of her career. "I like to tell lies. According to Shakira, hips don't lie, which makes me a bundle of contradictions," she says. She also tried out a version of one of her early staple jokes about the shape of the state of Tasmania, which, as she notes, has an uncanny resemblance to the female pubic region.
At a gala in New Zealand in 2010, she returned to the subject of body image: "I never recovered from puberty. I didn't get visited by the breast fairy. I got a visit from the thigh fairy, and she had a trigger finger."
In Edinburgh in 2012, Gadsby included several jokes on the stereotypes surrounding her sexuality. "Of course I'm a lesbian. Look at this haircut. What else am I gonna do?" she says. "The thing about this haircut is I've always had it. I've always had it and I have never, ever asked for it. It's as if every hairdresser I've ever walked into has just taken one look and gone 'Oh yeah. She looks a little bit lesbian. Why don't we just clear up any confusion?'"
Also in 2012, at the Warehouse Comedy Festival, she built on this theme of lesbian stereotypes in a joke about getting her motorcycle license. "The guy running the course asked everyone why they were getting their motorbike license … but I didn't get to answer that question because the guy running the course just looked at me and said, 'I suppose you wanna get your license because you don't think you're a big enough cliché.'"
At the Melbourne Comedy Festival in 2013, she discussed taking antidepressants. "Some people don't like antidepressants. I've been told, 'No, they should be banned. They're for the weak. The weak in the head,'" she says. "Yep, that pretty much sums it up. School's for the uneducated. Do you wanna close them down too?"
At the Melbourne Comedy Festival 2014, she took on a longer-form storytelling format, recalling an embarrassing incident from her teenage years, in which she got stuck on a children's waterslide:
In 2015, at a gala at the Melbourne Comedy Festival, she returned to the topic of mental health, this time discussing her ADHD diagnosis. "I've got Attention Deficit Hyperactive Disorder," she says with a smirk, before continuing: "I don't seem to be exhibiting too much of the hyperactive part of that equation. I think my attention is in so much deficit I forgot to fidget and chuck pencils."
At the Melbourne Comedy Festival gala the following year, in 2016, Gadsby poked fun at the assertion that Taylor Swift is an ideal role model for girls. "Basically Gwyneth likes Taylor because she doesn't 'slut it up,'" she said of Gwyneth Paltrow's T-Swift enthusiasm. "Why are we still doing that? I clocked off for a few years — I was doing some gardening or something. When I last looked, it didn't look like we'd really accepted that there was more than two types of women — the virgin and the whore. I thought, 'Oh, I might make it one day.' But no. I look up and here it is, just the slut-guts or Taylor."
Then last year at the Melbourne Comedy Festival, Gadsby told a version of a joke she uses in Nanette regarding the lesbian community's response (or "feedback," as she says) to a previous show, and another making fun of contemporary society's obsession with gender. "Pink headbands on bald babies — stop it," she says. "It's dumb. It's just weird. Stop it. Would you put a bangle on a potato?"
Prior to Nanette, Gadsby released two one-hour specials on film via Madman Entertainment: Kiss Me Quick I'm Full of Jubes in 2011 and Mrs. Chuckles in 2011. At the moment, neither are available in the U.S., but hopefully this will change soon. If you're in Australia, you can download them on iTunes.
Television
Fellow Australian comedian Adam Hills featured Gadsby on two of his TV shows between 2010 and 2013 — Spicks and Specks, a music-trivia game show, and the talk show Adam Hills in Gordon Street Tonight, where she served as Hills's sidekick and sometimes co-interviewer. Both shows aired on the Australian Broadcast Network (ABC, the Aussie equivalent of the BBC). If you're interested in seeing more Adam Hills in Gordon Street, a few full-length episodes have been uploaded to YouTube by some enthusiastic fans.
Gadsby also appeared in seasons three and four of Josh Thomas's semi-fictional show Please Like Me, where she played a version of herself, also named Hannah. "I'm not acting when I act. I played a fat, depressed lesbian called Hannah," she joked on The Comedian's Comedian podcast last year. Please Like Me, which has had significant crossover success in the U.S., is available to stream on Hulu.
Art History Documentaries
As Gadsby mentions in Nanette, she studied art history in college, and not only has she integrated this art knowledge into her stand-up sets, but in recent years she has used it to create a range of art-specific content, including short videos on YouTube, lectures at the National Gallery of Victoria in Melbourne, and two documentary series.
The first of these documentaries, Hannah Gadsby's Oz, used Australian art as a means to interrogate the country's sense of national identity and aired on the Australian Broadcast Network in 2014. Unfortunately is not yet available to stream in full in the U.S.
Luckily, though, her second series, Hannah Gadsby's Nakedy Nudes (discussing, well, nudes), which aired earlier this year, is streamable on ABC's iview portal.
She also has a group of very funny short clips called The Renaissance Woman on her YouTube channel.
If she is indeed "quitting" stand-up, let's hope that we'll still get to see more of Gadsby's witty takes on art history on some other platforms in the near future.