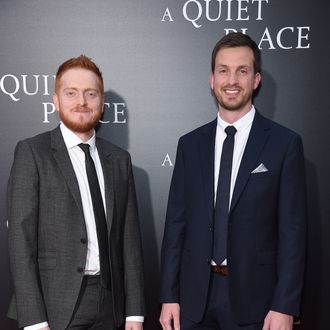 Scott Beck and Bryan Woods.
Photo: Jamie McCarthy/Getty Images
It's a wonderful time to be alive. That is, of course, if you're a person who has been meaning to read all of Stephen King's work for a long time but isn't super sold on actually reading. In addition to Hulu's upcoming series Castle Rock, a number of King's other stories are being adapted into television and film projects, including The Tommyknockers, In the Tall Grass, and The Bone Church. And now Fox is developing The Boogeyman into a feature film.
Variety reports that the creepy tale will be adapted for the big screen by Scott Beck and Bryan Woods, who are most known for their work with John Krasinski on the screenplay for A Quiet Place. The Boogeyman is a short story King published in 1973 that involves child murders, a psychiatrist office, and cries of "boogeyman." So it sounds like some of us will need to ease into this one with a quick read of the Wikipedia plot description first.