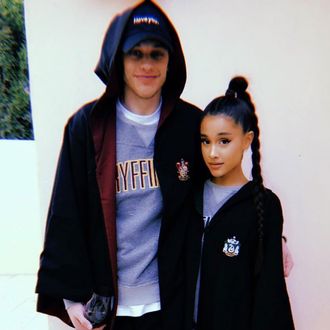 Davidson and Grande.
Photo: Instagram/Pete Davidson
On May 9, 2018, news broke that Mac Miller and Ariana Grande, the couple responsible for the bop "The Way," had broken up. Although it meant the death of a longtime relationship, it couldn't have prepared us for the absolute roller coaster that was coming next. If you were also ill-prepared for the news that, a month later, Ariana Grande is engaged, here's the brief timeline of what has happened since.
May 12: Ariana Grande attends the Saturday Night Live after-party and is later photographed with a cell-phone case that looks just like one SNL player Pete Davidson has. Get used to seeing that cloud shape.
May 14: Grande posts an Instagram photo using a little cloud emoji. Arianators, her fans, are immediately on high alert because the singer used to constantly post clouds in 2014.
May 16: Pete Davidson spills on Complex's Open Late Show that he and his longtime girlfriend Cazzie David (comedian and daughter of Larry David) have split. They're apparently on good terms; just 13 days before, she posted a photo calling him her BFF.
May 17: The comedian posts a photo of his left hand covering his face. Now featured on his middle finger is a familiar little cloud outline. But this is the guy who has Hilary Clinton and a dire wolf from Game of Thrones tattooed on his body. The cloud could mean anything, right? No.
May 18: Bossip catches on and reports that Pete and Ariana are seeing each other. The SNL and Ariana Grande fandoms collide. It's at this point that Pete and Ariana start liking more and more of each other's photos on Instagram.
May 20: The Billboard Music Awards happen. Pete is caught on video by a fan hanging out around Ariana and her team (including big brother Frankie Grande). Then, thanks to Getty Photos, fans discover a matching cloud tattoo on Ariana's finger. More and more news outlets come out with their relationship. For the next couple of days, things are quiet. And by quiet I mean the two of them post, like, and comment on each other's Instagrams constantly.
May 23: Ariana Grande sets the record straight for a fan who wants to blame her for Mac Miller's recent DUI. Her heartfelt post doesn't confirm or deny her relationship with Pete, but it does send a powerful message about blaming women for their ex's actions.
May 24: In a similar vein, Pete posts a long iPhone note on his Instagram Story, discussing his mental health.
May 30: In what seems to be their official announcement, Pete posts a photo of the two of them in full-on Hogwarts attire. Ari's a Slytherin and Pete's a Gryffindor, as if you couldn't already guess. He captions it "the chamber of secrets is open," perhaps both a reference to the magical world and the fact that their relationship is outed. Ariana comments "u tryna slytherin" which is the first of many disgustingly cute comments from the two of them.
June 2: Pete's tattoo artist reveals two new tattoos. One of them is Grande's iconic bunny ears mask from the album Dangerous Woman. And the other is simply "AG" on his thumb. Seems he thought the clouds were too subtle.
June 3: Ariana's Wango Tango set (where she debuted her new song "The Light Is Coming") is apparently so good Pete goes into a rant on his Instagram story.
June 7: The pop singer posts her new boyfriend in a video where Pete defends his Harry Potter knowledge.
At this point it seems this is what life will be like now. Pete and Ariana will post about Harry Potter, about loving each other, and their celebrity friends like Alfredo Torres and Nicki Minaj will comment back in support. This is fine. Their joy is kind of infectious and it's totally worth clogging your feed.
June 9: Ariana Grande's official Instagram account becomes a Pete Davidson updates account. Update: They're still in love. The photo is actually from the day before when the two of them attended Kanye West and Kid Cudi's listening party in the desert hills of Santa Clarita, California. Kids may see ghosts, but Ari and Pete only have eyes for each other.
June 11: After being suspiciously chill through the weekend and probably spending a lot of time raving about Harry Potter and the Cursed Child's Tony wins, it's reported that Pete Davidson and Ariana Grande are engaged. Somewhere far, far away (literally — she's in Africa) Cazzie David takes a big sip of wine.
So, congratulations to the happy couple! Their likely Harry Potter–themed wedding will go down in Pottermore history.