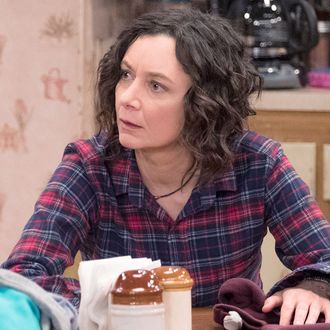 Maybe it always should have just been Darlene.
Photo: Adam Rose/ABC
ABC swiftly canceled Roseanne after creator Roseanne Barr sent out a racist tweet on Tuesday, but the network is apparently still considering ways to keep part of its ratings hit alive. TMZ reports that ABC is considering rebranding the show to focus on Sara Gilbert's character Darlene, Roseanne Conner's daughter, and that Gilbert has been reaching out to her castmates to gauge their interest — John Goodman is reportedly "very interested." TVLine also says ABC is looking into a Gilbert-centered show, though it describes it as a spinoff, not a rebranding of the same show. As the network had already renewed the show for a second season, this would also allow them to continue to employ the show's crew and writers, who lost out on work and might not get paid after committing to the show. Barr, of course, wouldn't be involved, though it's not clear how much she would stand to profit from a show she created (historically there's been contention about Roseanne's created-by credit, but Barr got it in full on the revival).
Gilbert was a driving force behind the revival of Roseanne in the first place, and she executive produced the new season. After Wanda Sykes said she would leave her job as a consulting producer on Roseanne, Gilbert was also one of the first involved in the show to speak out after Barr's tweet, though in doing so, she emphasized that the show was "separate and apart from the opinions and words of one cast member."