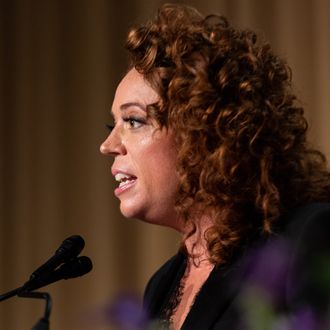 Michelle Wolf.
Photo: Cheriss May/NurPhoto via Getty Images
As comedians and pundits alike continue to weigh in on ABC canceling Roseanne after a racist tweet from the show's star Roseanne Barr, Michelle Wolf is now offering her own opinion on how the network should've handled the situation — mostly that Roseanne shouldn't have returned in the first place. "Everyone's been saying it's so brave of ABC to cancel their biggest hit show, but the bold move was actually putting this lady Hitler chef back on the air in the first place," she said in her new episode of The Break. "So kudos to ABC. It takes a lot of courage to fire someone after they've been openly racist for the thousandth time." Wolf points to a photo of Barr that was heavily circulated in 2009, which showed her dressed as Adolf Hitler and holding cookies.
As for why ABC canceled Roseanne, but TBS hasn't canceled Full Frontal With Samantha Bee after a lewd comment from Bee about Ivanka Trump, Wolf admits there's a double standard at play. A double standard that she believes can be fixed with this solution: "How about we enslave all white people for a couple hundred years. And even after they're not slaves anymore, still hold them down in society, devalue their existence by comparing them to animals, never apologize, never really make it right, and then after that there will be no more double standards and everyone will get fired for everything they say." Until then, she's waiting for the next faux pas.