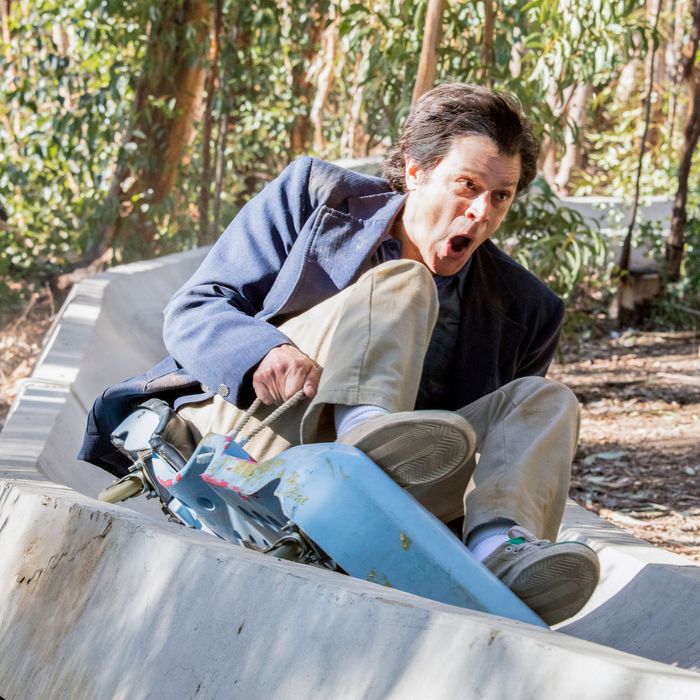 Photo: Sean Cliver/Paramount Pictures
The Johnny Knoxville amusement-park comedy Action Point is extraordinarily gentle for a film in which a man is catapulted through a barn wall and a little kid whomps a guy in a bear suit in the nuts. It has a loose, ramshackle feel, maybe because, as in Knoxville's Jackass movies, it gets its oomph not from smash-and-bash editing and an orchestral racket but long takes of people doing amazingly risky (and often really dumb) things. Some of the purest laughs come when Knoxville — who plays D.C., the stumblebum owner of the rundown park — converses with his motley management team while behind them someone flies across the frame or dangles helplessly from a broken chairlift. Calamity is a fact of life at Action Park. A hefty fellow jumps onto a water slide and goes right through the plastic to the ground, after which D.C. says, "What were you trying to do?" and the guy, nursing a mangled leg, says, "I was trying to go faster." D.C. says, "That's fair," and walks away, satisfied. No biggie.
Okay, in one respect, it is a biggie. As an overprotective dad who has taken his kids to amusement parks and cringed while watching them spin delightedly on swings 50 feet in the air, I'm not given to guffawing at such calamities. There were casualties at the New Jersey park that inspired Action Point; and, recently, a Midwest congressman's kid was decapitated by a poorly designed (allegedly — there's a lawsuit) coaster. When I raised that incident in a conversation with Knoxville at the recent Vulture Festival, he didn't have much to say.
But of course that's why I laughed like a hyena during the movie: It's liberating to be told — implicitly — that for 90 minutes you don't have to worry about real-world consequences. People are nearly engulfed in flames; illegal fireworks are set off; a 13-year-old swills beer; D.C. tries to create a petting zoo by capturing animals in the wild, including a porcupine and a bear. The facts that the scary stunts were done in real time and there's no CGI adds to the naughty, irresponsible fun. And it's all okay as long as idiots Don't Try This at Home, which frankly isn't my problem. Yes, offscreen, Knoxville was injured more than in any Jackass film. (He told me, "I got four concussions, broke my wrist, busted my knee, got stitches, whiplash, uh, lost two and half teeth … Once I got home from the emergency room after one bad concussion … I blew my nose, and when I did, my left eye popped out of the socket.") Onscreen, his crew crowds around as he writhes on the ground and applauds when he rises. As in Jackass, the vibe is familial. They're all in it together.
The plot of Action Point is generic slobs-versus-squares. The bank is on the verge of calling in a loan of a hundred grand, and a humorless Realtor named Knoblach — whom D.C. calls, of course, "Knob-lick" — wants to buy up the land for the owner of a fancier amusement park a half-hour away. That's when D.C. hatches his plan to make the park even more dangerous. The other story line centers on D.C.'s relationship with his visiting 13-year-old daughter, Boogie (Eleanor Worthington-Cox, who originated the lead in the musical Matilda). Too focused on the park, D.C. hasn't shown much responsibility as a dad. (His dilapidated house is like a boy's club.) Although Boogie falls in with D.C.'s team in their attempt to make Action Point a success, she has trouble holding his attention.
Knoxville has a likable, modest presence — he's primarily a straight man. What's around him, however, is very, very variable. I loved the bit when D.C. frantically searches for the pissed-off, runaway Boogie and discovers that the bus station is full of pissed-off runaway daughters and similarly frantic fathers. But fewer than half the gags land. The Brit director, Tim Kirkby, has done sophisticated work. (He collaborated on a U.K. TV series with one of my favorite comedians, the meta genius Stewart Lee.) But he doesn't protect the actors. The sweet-natured Jackass vet Chris Pontius needed more careful handling. (A scene in which he sneaks into a TV station to slip an Action Point commercial into the mix is badly mistimed, although the audience certainly reacts to the gross-out punch line.) The agreeable looseness edges into a less agreeable limpness.
I saw Action Point at a midnight screening in Times Square (the film wasn't screened for critics) with my 20-year-old daughter, who laughed a fair bit but overall disliked it intensely. She said, "It's for 8-year-old boys — like you." Ouch.
But that is the movie's reason for being. I thought the movie's framing device helped put the film over. It takes place decades later, when Knoxville's D.C. (in the familiar, Bad Grandpa old-age makeup) tells the story of his adventure to Boogie's daughter, laid up with a broken leg. Their scenes are tender: The girl loves her grandpa's wayward temperament, and D.C. gets to relive his antic, overgrown-juvenile days. As much as my daughter's contempt stung, I look forward to enjoying such movies one day with my granddaughter.