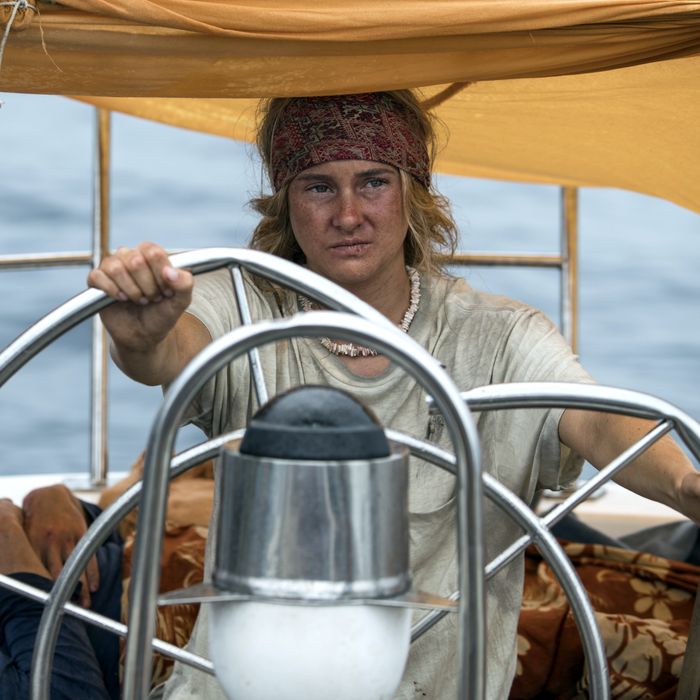 Photo: Kirsty Griffin/STXfilms
There have been quite a few films in recent years that focus on a kind of sun-kissed, beachy-haired surfing/sailing off-the-grid expat, and as appealing as that lifestyle sounds on paper — two of those drifters-in-crisis that come to mind have been played by Blake Lively — it just never seems to go well for these people. In Adrift, Shailene Woodley is particularly believable as a chill, not-all-who-wander-are-lost boathand following her bliss to the South Pacific; there's something simultaneously soothing and aspirational about watching her in 1980s denim smoking a joint on the porch of her beach shack. Adrift, more so than most films in this loose subgenre, spends its time ruminating on how and why adrenaline-seeking wanderers get that way, courting worst-case scenarios until it's their turn to get stranded at sea in a disaster movie.
The year is 1983, and Tami Oldham (Woodley) meets wandering sailor Richard Sharp (Sam Claflin) while both are docked in Tahiti, neither sure where the winds will carry them next. They fall hard for each other while cliff diving and hiking barefoot through the jungle; the picturesque locale surely doesn't hurt, either. When Richard gets a job taking a wealthy older couple's boat to San Diego, they agree to make the trip, albeit with some hesitation — San Diego is home for Tami, the last place she wants to go, but the money will fuel another year of adventures for the couple. But along they way they run afoul of a tropical depression, nearly capsizing the boat and leaving it adrift somewhere in the lonely, endless waters of the Pacific Ocean.
It certainly seems like it sucks to get shipwrecked. Director Baltasar Kormákur (recently seen taking Jake Gyllenhaal and Jason Clarke into equally arduous conditions in Everest), doesn't sugarcoat this, though the film skimps on the arduous and miserable details of the 41 days adrift more than, say, The Revenant. Instead, the script flashes back and forth between Tami and Richard's courtship and the events that lead to their disaster at sea; and the salty, sunbleached torture of floating some thousand miles in the hopes of running into Hawaii. The idea seems to be that Richard and Tami's love keeps them afloat after the storm, but this is Tami's movie without a doubt; Richard is more of a good-looking dreamboat (pun unavoidable), warmly inhabited by Claflin but nowhere near as rich a character.

Adrift is the kind of based-on-a-true story movie that more or less doesn't function if you happen to know anything about the true story; the less Googling done ahead of time, the better. Being blissfully in the dark, its third-act "twist" worked quite well for me, planted just subtly enough ahead of time to be more satisfying than manipulative when it comes rolling out. It helps that Woodley's performance is so lacking in vanity throughout; she's the kind of actor who's completely uninhibited orgasmically devouring fingerfuls of salvaged peanut butter, and whose face you long to see crack into ugly-crying bliss at the sight of land on the horizon. Adrift is enough of a boilerplate piece of survival drama that you know to expect those beats more or less coming on schedule, but Woodley makes it more emotionally satisfying than it would be otherwise.