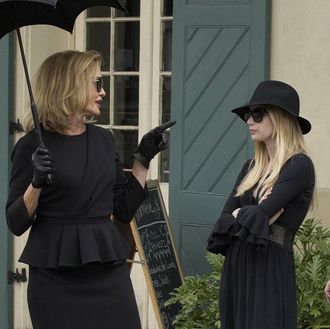 I bet you thought you'd seen the last of me.
Photo: FX
American Horror Story, always competing with itself to become the most extra show on TV, is going to be a big, spooky crossover next season. That's according to the voice of God Ryan Murphy himself, who tweeted, "The Coven/Murder House AHS crossover season won't be happening next year…because it's happening THIS YEAR. AHS #8 WITCHES RULE THIS SEPTEMBER." Murphy had teased the potential for just this crossover season before, and said that he was reaching out to the actors in those seasons quietly.
It's unclear what exactly might happen in the crossover — except that there will be WITCHES — or how much it will change from the previously announced plans for season eight of the show. Murphy had said in April that Sarah Paulson, Evan Peters, Billy Eichner, Cheyenne Jackson, Adina Porter, and Leslie Grossman, who all appeared in American Horror Story: Cult, would be back for season eight, which would take place 18 months in the future, so around October 2019. Whatever happens, we'll hopefully learn a little more about how this whole show is connected, and maybe why half the people in its universe look like Sarah Paulson.