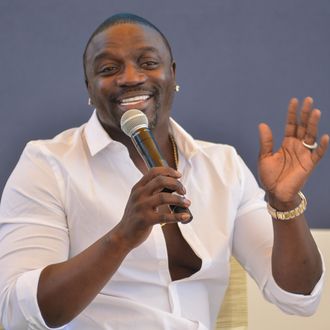 Akon.
Photo: Christian Alminana/Getty Images for Cannes Lions
Cryptocurrency is a thing. A big thing. It's not a thing we all understand, but it's a thing. And now Akon, the Senegalese-American singer of such hits as "I Wanna Love You" and "Don't Matter," is getting into that thing, big time. The singer announced at Cannes that in just two weeks his new cryptocurrency will hit the market, and the singer hopes this could be the start of something big for the African continent. As he told the panel at Cannes Lions, "I think that blockchain and crypto could be the savior for Africa in many ways because it brings the power back to the people and brings the security back into the currency system and also allows the people to utilize it in ways where they can advance themselves and not allow government to do those things that are keeping them down."
As Page Six reports, the singer wasn't ready to go all in on the technical specifics of the currency, noting that, "I come with the concepts and let the geeks figure it out." Meanwhile, the website for the coin states that the singer plans to build a "100 percent crypto-based city" on 2,000 acres of land gifted to him by the president of Senegal. Wow, he's going to need a lot more geeks.