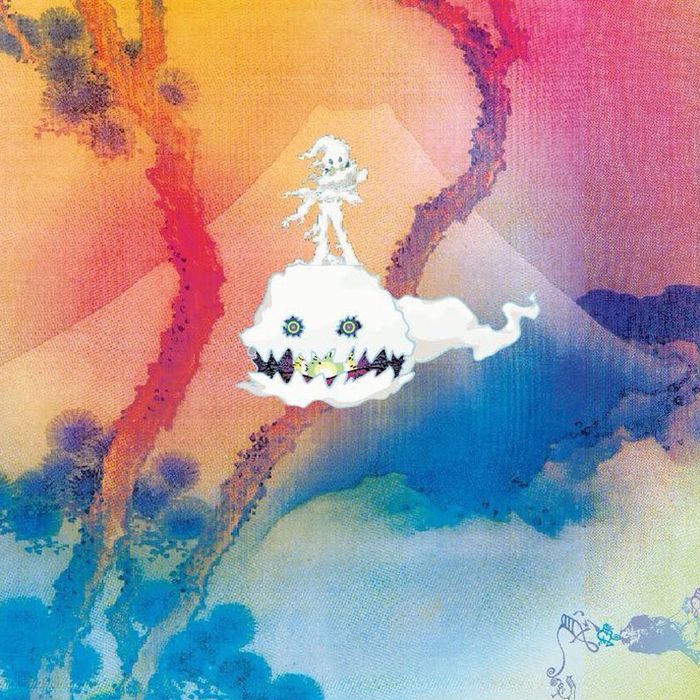 Kids See Ghosts
artwork by Takashi Murakami.
Photo: GOOD/Def Jam
Hip-hop's greatest duos are wonders of chemistry and complementary strengths. Chuck D was Public Enemy's politically charged brain, and Flavor Flav provided comic relief. Outkast's Big Boi anchored Andre 3000's offbeat creativity with solid hooks and bars. Pusha-T and Malice mixed a malevolent id and a haunted conscience as the Clipse. Kid Cudi and Kanye West are an unlikely pair because neither one is heralded as a technically gifted singer or rapper, but working together on West's 808s & Heartbreak, Cudi's Man on the Moon series, and elsewhere, the pair managed to leave indelible marks on the landscape of mainstream rap. 808s is on the short list of the most influential albums of the aughts; without the soft drums, atmospheric synths, and wounded vocals of songs like "Say You Will," it's possible that Drake would continue trailing the moves of indie rap vets Phonte and Nickelus F, as he did in his early mixtapes, instead of exploding into the pop-rap supernova he is today. You can catch a glimmer of Cudi in fashion-conscious rappers like Travis Scott and A$AP Rocky; you can hear his unvarnished emotionalism in the confessional words of young songwriters like Kevin Abstract.
Kid Cudi and Kanye West are an effective team because both are Midwest boys with complicated stories, whose music radiates whatever joy or pain they're feeling in the moment. Kanye is hip-hop's premier maximalist and egomaniac, but his music and manner have grown progressively prickly and troubled since the loss of his mother in 2007, and we are only this year learning that worrisome reports about his well-being during the rollout of 2016's The Life of Pablo dovetailed with an opioid addiction and a bipolar disorder diagnosis. Cudi chased his dream of success in hip-hop from Cleveland to New York City, where he toiled in retail until he met West and Fool's Gold Records founder A-Trak, who joint-released his bleak breakout single "Day N Nite." Over the next few years, the singer built a strong following off of therapeutic tunes about coping with depression, then a 2010 drug arrest cemented the idea that the depression and dependency stories of "Don't Play This Song" and "These Worries" were coming from a very real place of inner torment. Both West and Cudi closed out 2016 in treatment, West in a terrifying hospitalization incident where he was carted off, handcuffed inside an ambulance, and Cudi in rehab for self-harm and thoughts of taking his own life.
Kids See Ghosts, their debut collaborative album, is the work of two men struggling to shake their demons. West is the reckless, flamboyant half of the duo; his first appearance on the album opener "Feel the Love" seats him in the role of a ballroom commentator (or a dembow artist), yelping monosyllabic exclamations over the beat while Cudi whoops through the hook. "Fire" sees Kanye blasting rails and lashing out at haters before Cudi, the pair's relaxed, introspective half, offers an earnest invocation: "Heaven lift me up." The good-cop, bad-cop approach is aided by music that can turn from bliss to rage on a dime. "Fire" is a devilish drum-and-guitar stomp that sounds like Man on the Moon 2's "REVOFEV" descending into a riot. "Freeee (Ghost Town Pt. 2)" cues up old Marcus Garvey lines about knowledge of self over a sinister rock riff while both rappers engage in a bit of primal-scream therapy. A massive hook from Ty Dolla $ign teases stunning beauty out of the maelstrom, as if to suggest that true freedom is the potential either to sink under the weight of what's bugging you or to work at rising above it. Kids See Ghosts wants us to float; the same way Kanye's newest solo effort YE sought a measure of redemption across "Wouldn't Leave" and "Ghost Town," the new album's "Reborn" and "Cudi Montage" attempt to carry on by creating distance between both men and their tough times.
"Reborn" could be the closest thing we get to an apologetic Kanye West this cycle. His opening verse has a firmer grasp on what infuriates people about his antics nowadays than YE, an album he claims to have written specifically to address the subject: "I was off the chain, I was often drained / I was off the meds, I was called insane / What an awesome thing, engulfed in shame / I want all the rain, I want all the pain / I want all the smoke, I want all the blame." Cudi's refrain of "Keep movin' forward" acknowledges the choice you face after fucking things up for yourself. You can stew and grouse, or you can get to work making sure whatever you did never happens again. The album closer "Cudi Montage" is a pledge from both artists to do the latter. Cudi's lines about wanting to crack under pressure end on a promising note — "in time, I find I'm stronger that I ever was" — and the old woke Kanye returns (slightly) in a verse about how goodness is a cakewalk until good fortune fails you.
Kids See Ghosts is the sound of old friends pooling their strengths to overcome tragedy. It's more nakedly emotional than YE could muster in all of its indecision and bluffing. That's thanks to the presence of a sentimental hook man to cut into Yeezy's cinematic scenes of drugs and mayhem. Kids is more concise than Cudi's gifted but bloated last album Passion, Pain & Demon Slayin'. That's because Cudi needs someone to challenge and edit him, and the presence of Kanye (as well as longtime collaborators Plain Pat, Dot Da Genius, E*Vax from Ratatat, and Jeff Bhasker) reins in the questionable experimental tendencies that torched his 2015 album Speedin' Bullet 2 Heaven. Capping all the new G.O.O.D. Music projects at seven tracks saved Kanye West from himself once this month. YE wrapped before the man got a chance to say anything as damaging as he did when given the opportunity to speak at length on TMZ. At seven tracks, Kids See Ghosts smartly deprives itself of much room to waver. There are verses that could be tighter — see: anytime Kanye raps harder than his threshold for breath control permits — but no outright duds.
This is a better outcome than we've seen in the recent rash of rappers teaming up to make single-serving joint mixtapes out of mutual admiration and a week of shared studio time. Drake and Future famously united for 2016's What a Time to Be Alive, which patterned itself after Datpiff-era mind melds like Gucci Mane and Future's Free Bricks. The success of What a Time tripped off some reasonably well-received follow-ups: Future and Young Thug's Super Slimey, 21 Savage and Offset's Without Warning, and Travis Scott and Quavo's Huncho Jack, Jack Huncho. Each tape posted up some great ideas but lasted long enough to illuminate subtle imbalances in the pairing, ultimately wearing out its welcome. Drake could match Future for hooks and feels, but the street talk landed him out of his depth. Super Slimey solo tracks like "Killed Before" and "4 da Gang" outclassed the tandem tracks, because Future and Thug often work better alone than in groups. Kids See Ghosts is the succulent fruit of a collaboration that stretches back a decade; it's the guitar album Cudi has tried and failed at twice; and it's the longest we've heard Kanye speak this year without saying anything awful or otherwise disappointing. Let's claim this W.