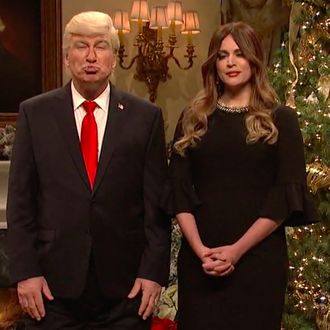 Photo: YouTube/SaturdayNightLive
Oh, the hay they would make out of that Zara jacket! If First Lady Melania Trump is looking for a way to publicly counteract the bad press she received after wearing the now-infamous "I Really Don't Care" coat to visit detained migrant children in Texas, Alec Baldwin has just the (uncomfortably worded) ticket: Join him on Saturday Night Live. Oh, and also renounce her husband's administration and all it stands for.
"Dear Melania-We know what you're thinking. What you're feeling," Baldwin tweeted on Saturday. "You are quaking w anticipation. Shuddering w a strange, newfound courage. Come. Come over to the light. We will welcome you as a hero in ways you never imagined possible. And then do SNL w me."
Of course, the question is, would Melania really want to appear on a show that depicts Donald Trump as a despotic buffoon and her own life as that of a captured princess? Hey, her husband already got to do an episode, so why not? It only seems fair.