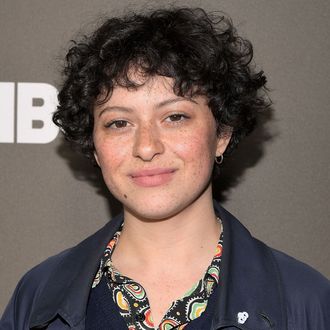 Alia Shawkat.
Photo: Charley Gallay/Getty Images for HBO
Last month, what was supposed to be a standard press interview for Arrested Development's new season soon turned into chaos over at the New York Times, when Jessica Walter revealed, through tears, that her co-star Jeffrey Tambor verbally abused her on set. While fellow co-stars Jason Bateman and Tony Hale defended Tambor's actions as being normal for their industry, Alia Shawkat was clear in her support for Walter, saying "that doesn't mean it's acceptable." Now, reflecting on this interview experience with Broadly, Shawkat said she was compelled to say something because her male co-stars became excessive with their defenses. "It just kept going and I, all of a sudden, started to feel hot inside," she explained. "Because I was like, okay, if they say all this, then I now have to say, 'But, this is a bigger issue.' "
It didn't help, Shawkat said, that the group didn't discuss talking points or a strategy about Tambor beforehand, which resulted in an "unnatural" conversation that was simultaneously "public and private" for all the world to see unfold. She also wished she was more vocal in her support of Walter, but it proved difficult with the men continuously interjecting each other's comments. "Afterwards, I was scared that I didn't say enough and was kind of upset with myself that I wasn't able to stand my ground more," Shawkat explained. "But once Jessica was upset, that was my main concern. I didn't even want to necessarily talk about the issues any more. I just wanted to make sure she was okay." Since the interview occurred, Bateman and Hale have issued apologies about how they treated Walter:
David Cross also said he would "unequivocally apologize" to Walter for how he behaved in the interview.