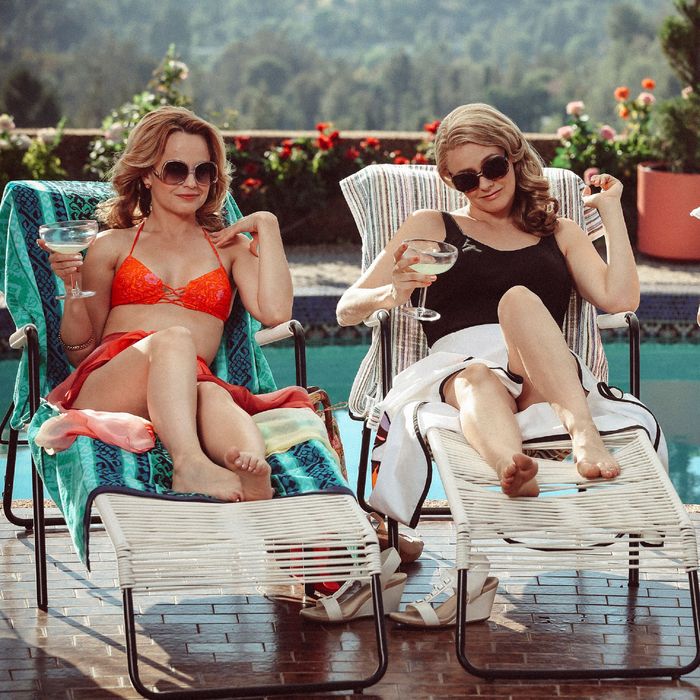 A scene from
American Woman
.
Photo: Paramount Network
Here at the Real Housewives Institute we have sat as judge, jury, and sometimes executioner on so many heinous acts. We sat and judged women as they fell in bushes, flipped tables, fell off camels, planted their faces into cakes while the candles were still lit, asked a vaping psychic for a reading, threw gummy bears in the faces of well wishers, and of course, pulled at each other's wigs on a sidewalk in front of Michael Lohan. But never, not even once, have we been asked to sit and judge a member of the unscripted royalty's scripted television comedy.
Yet, thanks to "co-executive producer" Kyle Richards, that is just what we are here to do. For several seasons we've seen this Real Housewife of Beverly Hills creating and filming this series loosely based on her mother, which also happens to be the mother of her co-star Kim Richards and their half-sister Kathy Hilton (mother of Paris and host of I Want to Be a Hilton). We've also seen the drama that it caused in her family, particularly with her sister Kathy who thinks that Kyle sold out their private life for a little bit of TV money. Was it all worth it?
Honestly, I think it kind of was. There is something of a stiffness to the program, but the silly one-liners and bald-faced female empowerment vibe of a mother striking out on her own in Beverly Hills in 1975 is well worth it. Who am I kidding? The outfits are well worth it. I want every single outfit worn by Bonnie (Alicia Silverstone) for my Fire Island drag bag right this second. They are, all, both flowing and formfitting at the same time. I feel like the wardrobe coordinator for the show might be Kyle by Alene Too because Kyle has the same exact style. Also, much like Kyle, Bonnie never covers her shoulders, even when she's wearing full sleeves.
We find out that Bonnie Nolan got knocked up when she was young and it thwarted her burgeoning career as an actress. Now she's married to a successful real estate agent and spending her sun-dappled afternoons taking care of the house and making him the perfect Old Fashioned when he walks in the door to complain about his long day at work.
Something is brewing not just inside Bonnie but also in the country. She sees something on the television about how women should be entitled to their careers as well, or at least their choice to have a career or not. Her husband, Steve (James Tupper), doesn't share this philosophy and thinks that women have a pretty good deal just making dinners, planning parties, and wearing all of those flowing yet formfitting dresses.
But it's Steve who messes things up. After a dinner with a younger couple that just moved to town and joined the agency, Bonnie discovers that Steve is wearing new cologne. While chatting with her sister Kathleen at the country club, she hears about a woman on Donahue who found out that her husband was cheating when he changed his cologne. When Steve calls in with a "work emergency" that night, Bonnie tails him and discovers that he's sleeping with another woman.
This outing with the children in the back seat (which Bonnie likens to a cheaper version of a roller coaster) was hopefully not inspired by real life, but it was the best part of the episode. Silverstone does a great job with Bonnie, giving her both a Stepford Wife passivity and a little bit of psychosis crackling just beneath her thin veneer of hairspray and expensive manicures. As she's trudging with the kids to spy on her husband or, better yet, when she starts threatening the thugs trailing her through a bad part of town, you get the feeling that Bonnie is just crazy enough to go full Lorena Bobbitt on Steve.
When he arrives home she confronts him and immediately kicks him out, getting even firmer in her resolve when he tries to get a bit physical. The next day Bonnie throws the big birthday party she's been planning for Steve's birthday, even though he has been disinvited. The kids were invited though, partying with the grownups who were hopefully responsible enough to keep the martinis out of their hands.
Her hangover the next morning is interrupted by the cops looking for her husband. Turns out he's about to be under arrest and Bonnie could lose the home that she was just willing to risk everything for. Alright, I'm intrigued enough to tune in next episode. Well, I'm getting paid to tune in next episode, but hopefully you're hooked.
There's also some possibility in Bonnie's two besties, her sister Kathleen (Mena Suvari) who has a thick Texas drawl even though Bonnie sounds like she grew up at a boarding school somewhere near Farmington, Connecticut. Kathleen seems to have a lot of money as well, whereas Bonnie is struggling without her husband. Kathleen is parting with that money though. Her new boyfriend Greg (Cheyenne Jackson) has convinced her that they should open their own casting agency, with Greg doing all the casting and Kathleen just writing the checks. Just wait until she finds out that Greg would much rather be making out with the pool boy than shacking up with her. (And quite an attractive pool boy he is.)
Their third amigo is Diana (Jennifer Bartels). We don't know much about her quite yet except she's a career gal who works at a bank for a boss who tells her she has nice tits every day. Also she looks like she would be a really good dancer, but I am basing that on absolutely nothing other than a gut feeling.
Sadly, this episode we don't get to see much of Bonnie's kids Becca and Jessica (Makenna James and Lia McHugh), but based on the life of Kyle's mom "Big Kathy" she's going to be pushing them into show business sometime very soon to make ends meet. So far it seems like the Real Housewives aren't just good at reality TV but TV in general. Let's just hope they can keep this act up.