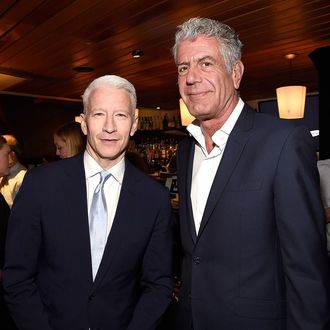 Anderson Cooper and Anthony Bourdain.
Photo: Kevin Mazur/2016 Kevin Mazur
Television personality, chef, artist, and all-around wonderful guy Anthony Bourdain was tragically found dead at the age of 61 on Friday while filming a Parts Unknown episode in Kaysersberg, France. Hours after the news broke, Bourdain's colleagues and peers at CNN paid tribute to his remarkable life, with Bourdain's good pal, Anderson Cooper, leading a special broadcast on the network. "Honestly, talking about him in the past tense it's, it's really — yeah, it's really hard to — hard to imagine," Cooper said in Remembering Anthony Bourdain, which you can watch below. "But certainly, you know, the pain he must have been feeling, at least in that moment or in those moments, and the loneliness he must be feeling it's just terribly sad to think about. And makes me very sad for him to have — to have a succumbed to that. He gave me hope for what one's life can become, can be at 61."
Cooper added, holding back tears: "He loved and was loved in return." All of CNN's tributes to Bourdain are available to watch online. Tonight, the network will air its regularly scheduled episode of Parts Unknown, which finds Bourdain traveling to Hong Kong.