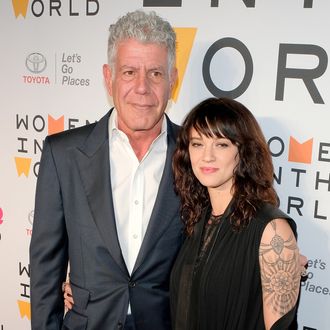 Anthony Bourdain and Asia Argento.
Photo: Matthew Eisman/Getty Images
By no means is Anthony Bourdain known for his sweet, loving nature. The chef and television host, currently on CNN's Anthony Bourdain: Parts Unknown, has built a career on his searing comments and tendency toward machismo. But Bourdain revealed a softer side in a recent interview with IndieWire. In reacting to his girlfriend Asia Argento's stunning speech at Cannes in May, Bourdain recalled how proud he was: "From the second she said she'd been invited to present an award, I knew it would be a nuclear bomb. I was so proud of her. It was absolutely fearless to walk right into the lion's den and say what she said, the way she said it. It was an incredibly powerful moment, I thought. I am honored to know someone who has the strength and fearlessness to do something like that."
(In case you forgot, while presenting the best actress prize at the Cannes Film Festival, Argento made a scalding speech about Harvey Weinstein, which you can read here.)
Later in the interview, Bourdain reflected on his relationship with Argento. "She listens to my advice and frequently if not most of the time, rejects it," he said. "That is something that Asia cannot help but do. She is brutally honest about herself and anything, and it's a great quality."
Awwwww. Let us know when the next "meeting of the minds," is Bourdain, you big softy, especially if you're cooking.