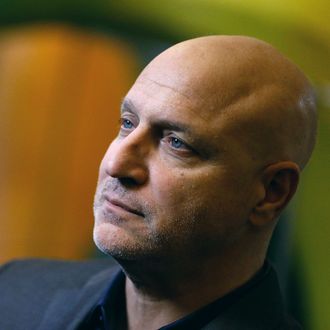 Tom Colicchio.
Photo: John Lamparski/WireImage
Two days after Anthony Bourdain died by suicide at the age of 61, his contemporary and friend in the culinary world, Tom Colicchio, is reflecting on his legacy. "What we are going to miss is the best of him," the Top Chef chef told THR in a new interview. (Bourdain served as a judge on the reality program in 2010 and 2011.) "He was willing to speak up and he came out strongly against sexual harassment in our industry. Privately we talked about it, and it was good to have someone who was willing to put himself out there." Bourdain and Colicchio were two of the most prominent food personalities to publicly condemn Mario Batali last year, when he was accused by multiple women of sexual harassment and assault. Batali is now under investigation by the NYPD.
Colicchio also pointed to Bourdain's multi-hyphenate status as a chef, writer, artist, and documentarian, and how seamlessly Bourdain could thrive in these disciplines when he deemed the timing right. "He was thoughtful and found a way to fit into the food world when he no longer wanted to cook. I feel that the best was yet to come and now those stories aren't going to be told," he said. "We are all grappling with the fact that it's hard to understand how he was in that dark place and didn't find help, and I feel really bad that his best friend had to find him. It's so rough, and I don't know how to process it." Other celebrities, both in and out of the food world, have also been paying their respects to Bourdain over the past few days.