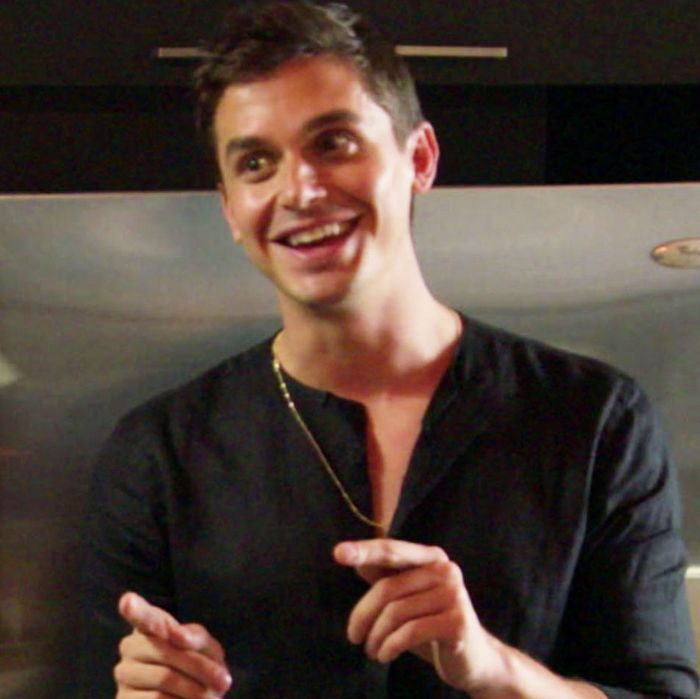 Photo: Courtesy of Netflix
We've spent two seasons of Queer Eye celebrating and scrutinizing the culinary capabilities of food and wine expert Antoni Porowski. And we assume that you too have gobbled up the latest eight-episode season by now, which wasn't as tear-inducing as the first, right? Whether you're caught up or not, and whether we are qualified or not, we've decided to rank all the beautiful little recipes whipped up by the polarizing Porowski. We're taking into account three elements: originality, creativity, and how much the dish changed the life of its recipient.
21) Peanuts Masala (Season 2, Episode 4)
Or, "If Nuts Were Extra."
20) Green Beans (Season 1, Episode 6)
It's beans drizzled in olive oil and a sprinkling of salt. Though it's meant to be a simple side dish at Remy's holiday dinner, there's very little we can say about this one. Pair it with a protein and/or a grain and call it a day.
19) Five-Dollar Hot Dogs (Season 1, Episode 8)
This is ranked low partly because it's a hot dog that costs (an up-charged) five dollars, which is a heinous price point even if it does support firefighter Jeremy's fundraiser. To have pickled carrots on hand that you have to julienne is the prohibitive thing here, and it's safe to say this one-off recipe is anathema to these poor Georgians' notions of practicality. The crushed chips are cute, though.
18) Peach and Egg-White Face Mask (Season 1, Episode 8)
Hear us out: It may have technically been Jonathan's creation for the firefighters' spa day, but there's a decent chance that this face mask would be pretty good scrambled. We won't test this theory out, but you should!
17) Whiskey Punch (Season 1, Episode 6)
"Whatever amount of juices you want" is the guiding principle for this drink, plus unquantified soda water and ginger ale. As for the whiskey, it's helpful to have a buddy named Jim who owns a distillery and has the hookup on rye, bourbon, or the clear stuff.
16) Avocado-Grapefruit Salad (Season 1, Episode 3)
Antoni's challenge for his Trump-voting charge in the episode was to have him eat healthy, and this clean and simple salad fits the bill just fine. The one big question mark here is in the dressing, however, as Antoni mixes Dijon mustard, olive oil, and a mysteriously unspecified "acid." Are we dealing with a Bronsted-Lowry acid here? An Arrhenius acid? We'll settle for any qualifier, really, but it's chilling that Antoni has something to hide. Watch this space.
15) Jalapeño Margaritas (Season 1, Episode 1)
This appears to be a regular margarita, kicked up a notch with some jalapeño slices and bits of cilantro as garnish. Jonathan likes it (sans coriander), so we suppose it's good! This may or may not have been meant as the upgrade to Tom's Mountain Dew marg from earlier in the episode, but we may never know since this was a Fab Five loft exclusive.
14) Target Chili (Season 1, Episode 5)
We don't know very much about this chili other than its having Target-sourced ingredients from Antoni and (non–Fab Five) Bobby's lovely shopping trip. There's definitely ground beef, shredded cheese, garlic, and yellow onion involved, but the only instructive bit we receive is to dump everything (?) into a Crock-Pot and let it sit for eight hours.
13) Gruyère Mac 'n' Cheese with Peas (Season 1, Episode 6)
This mac 'n' cheese serves as the centerpiece to a holiday menu that also commemorates Remy's late father, a skilled cook whose absence in the family is still deeply felt years later. Antoni and Remy's mother Esther have a moving conversation after she shares her delicious recipes for sweet potato pie and five-cheese mac, which sounds way yummier than the dumbed-down version Antoni offers in the end. Peas? Ugh. Calling panko "Japanese breadcrumbs"? Ugh!
12) Pasta Amatriciana (Season 2, Episode 3)
The fresh-pasta routine is not a new one for Antoni, but Leo loves Italian, and if it ain't broke, don't fix it. Antoni knows pasta (as everyone on Instagram is well aware), and he covers all that good carb-y freshness in an amatriciana sauce here. Points deducted based on the fact that the desired dish never got made, and a hapless Leo ends up using dried spaghetti. But we're sure this was going to be delicious. We believe Antoni has pasta down!
11) Meatloaf (Season 1, Episode 6)
Another recipe for Remy that the edit glosses over, but there's presumably meat and raw egg or some equivalent binder. Roll the mix into a little ball, fry it, then taste to figure out how much other stuff to put in, or something!
10) Leek and Gruyère Grilled Cheese Sandwiches (Season 1, Episode 2)
These sandwiches mainly function as a crowdpleaser at Neal's party, but Antoni gives us the useful factoid that leeks contain lots of sand. No one would object to a gussied-up grilled cheese, and the truth is they do look pretty great even if they're slathered in butter. Just make sure to wash the sand out of your leeks, folks!
9) Peach and Tomato Salad (Season 2, Episode 8)
Ted the Mayor is holding a big dinner at his home for some important international folks, and Antoni wants to make sure that the Big Event doesn't create Big Stress. The fruit and vegetables growing in Ted's very own backyard pique Antoni's interest, and so he creates a garden-centric dining moment; it's "light summer fare." A summer-grilled peach salad with heirloom tomatoes will be easy for Ted to execute as all the ingredients are in his own backyard, and this is straightforward enough to take pressure off the meal prep. Antoni's smart ideas for seasoning (Parmesan, basil, pepper, etc.) go a long way. Seems flavorful and yum, and most importantly, Ted really nails it! Bonus points to Ant for the tips on how to host a casual yet elegant dinner party the right way, and the sensual shots of peaches being sliced. How very Georgian!
8) Pork Tenderloin Canapés (Season 1, Episode 5)
An elegant hors d'œuvre that's perfect for Bobby Camp's vow renewal party, though there's a fair amount of prep work that's easy to overlook because TV. As long as you have gorgeously seasoned pork tenderloin and some whiskey-caramelized onions at the ready, making this is a cinch! Still, it's a lovely party snack and a good example of Antoni's taste meeting the episode's hero halfway.
7) Fruit Kebab Sangria (Season 1, Episode 3)
In Antoni's own words, this is one "frickin' cute" and "frickin' delicious" sangria. We agree, and we can also admire him fastidiously describing a sangria as a "cocktail that was developed in Spain" instead of just saying it's a Spanish cocktail. Points docked for incorrectly defining maceration as "mixed with sugar," but the comically large fruit kebabs look splendid when perched over the glass.
6) Tahdig (Season 2, Episode 6)
Ari is a fast-food-loving, video-game-playing slob, so it doesn't seem like the fix would be too difficult here; just introduce some healthy food, any healthy food, into his diet and he's better off than he was before. But Antoni takes the time to get to know Ari and embrace his Iranian culture by showing him how to make tahdig, a comfort food that's basically a mix of crispy rice, saffron, and potatoes. It's thoughtful and helps bridge a gap between Ari and his mother, who he needs to make comfortable before delivering tough news about his recent failure in college. As fans of tahdig ourselves, we're happy this traditional Persian dish gets this kind of exposure. "It's the most awesomest thing in the world!" exclaims Antoni, and we agree!
5) Spicy Poké and Sweet & Tangy Poké (Season 2, Episode 5)
Skyler expresses a love for sushi but an inability to prepare it in his own kitchen, which is an interesting challenge for Antoni. He spends the episode largely absent, seemingly pontificating elsewhere on how to deliver the raw goods. What he creates is actually rather involved, while also being pretty characteristic of Antoni's work thus far in the series: two varieties of poké (a salad made with raw tuna), one spicy and one sweet and tangy. A relatively easy-to-make chili mayo is mixed with sushi-grade tuna to create the spicy version, and the latter sweet-and-tangy dish seems a little more elaborate but we believe that Skyler will be able to handle the meal prep. Antoni probably could have waved soy sauce in front of Skyler's face and had a home run here, but instead he challenges himself. We're impressed and very much craving this! The presentation is also A-plus.
4) French Omelette (Season 2, Episode 7)
Antoni is, again, not given much to work with in this episode, as Sean's meals are prepared (and dishes are cleaned!) almost entirely by his mother, rendering him with almost no experience in the kitchen. He takes an interest in breakfast prep, and a routine French omelette would seem a safe, maybe even boring, choice on Antoni's part. But this is not about impressing the audience — it's about teaching Sean to be independent in the kitchen, and this is a solid first step! Antoni thrives when he is laying down the basics, and an omelette is decidedly that. A fun touch is having the socially awkward Sean learn this dish in a community setting. Narratively delicious!
3) Queso Fundido, Grilled Vegetable and Arepas Spread (Season 1, Episode 4)
Sweet AJ brings Antoni to his stepmother's house as they join in making delicious tamales filled with mouth-watering pork and masa, giving the viewer a wonderful look inside the traditions of Tex-Mex cuisine. It's a bit confusing, then, for Antoni to take a left turn and teach AJ how to make Colombian/Venezuelan arepas. At any rate, this recipe looks very good, and most of us could slay with an infrared grill pad. Thank you for giving us the tools for arepa success, Antoni!
2) Roasted Cauliflower and Green Goddess Dressing (Season 2, Episode 2)
Fresh cilantro, parsley, green onion, avocado, jalapeno, and Greek yogurt blend with a healthy amount of olive oil to create this "vegetable candy" for vegetarian (even they need to be Queer Eye'd sometimes!) William. One of the most likable and friendly "heroes" of the second season, it's possible William was being extra kind to Antoni in his emphatic rave of the dressing, but his reaction seems pretty damn honest. Maybe it was the return to Porowski's favorite green/Greek ingredients?
1) Guacamole (Season 1, Episode 1)
All hail the avocados of provenance: the ones that started it all and worked themselves into the canon of famous gay stone fruit. It's the first recipe of the Queer Eye reboot, but it's also one of the only recipes to intersect Antoni's two trademark ingredients: avocado and Greek yogurt. In fact, the big innovation here is a Greek yogurt base with an extra dollop to top the whole thing off, and the idea of dabbing an ingredient over a colloid of that same ingredient must be laden with meaning. It's an easy, accessible recipe for Tom to re-create, but most importantly, it is iconically Antoni.