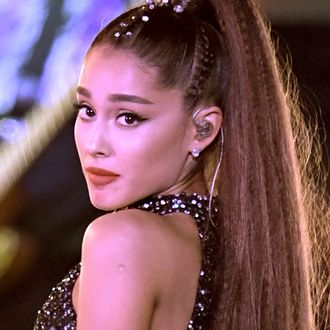 Are you really surprised?
Photo: Kevin Winter/Getty Images for iHeartMedia
It's not a love story for the (modern Instagram) age until you write a song about it. So expect to hear all about Ariana Grande and Pete Davidson's whirlwind romance on her new album Sweetener. Though much of the album was completed during her Mac Miller relationship (RIP), she has since updated it to include an ode to the new man in her life. Over the weekend, she previewed that song and later revealed on Twitter that it's from an interlude on the album named what else but "Pete." Not to be confused for Peter Dinklage, Pete Rose, or, like, Peter the Great (though she definitely thinks this guy is, too), but her fiancé Mr. Davidson. Naturally, the news of the Pete track did not go over well with some fans. And Ariana Grande could not care less, responding to someone who called her "dumb" about why Pete already gets a song. "I been the fuck thru it and life's too short to be cryptic n shit about something as beautiful as this love I'm in," she wrote. "So ǝʇǝԀ it is." Ain't love grand(e)!