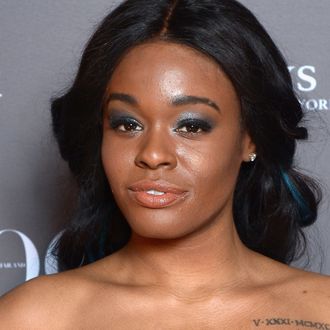 Banks.
Photo: Dominique Charriau/Getty Images
Azealia Banks has launched a GoFundMe to fund a lawsuit against Russell Crowe. For two years, Banks has maintained that the actor spat on her, choked her, and called her the N-word at a party she attended with RZA. The campaign, created on June 24, has raised about $2,000 of its $100,000 goal. "Crowe called me a nigger, choked me, and spat on me … if I were a white singer he wouldn't have even thought about laying a finger on me," Banks wrote in the campaign's summary. "So many things like this happen in the entertainment industry and it's time that ALL these perpetrators get reprimanded so they STOP this violent behavior!!"
In 2016, the L.A. County district attorney's office decided not to charge Crowe after Banks filed a police report, saying his actions were "justified to prevent the imminent violence threatened by Banks." In her GoFundMe campaign, Banks accused Crowe and witnesses who contradicted her of gaslighting her: "Russell Crowe spit on me at a party in 2016 and denied it, had a group of people gaslight me causing irreparable damage to my acting career and my reputation as well as loads of emotional damage." Banks says whatever money she gets from winning a lawsuit against the actor will go to charities protecting the ocean.