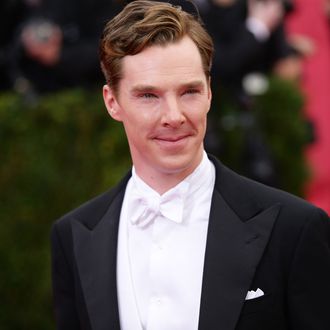 Benedict Cumberbatch.
Photo: Neilson Barnard/2014 Getty Images
A recent night on the town for Benedict Cumberbatch and his wife turned rather unexpectedly cumbersome, when the actor ended up intervening and saving a bicyclist from being beat up on a London street. The Guardian reports that the couple was being driven home in a cab from the city center when Cumberbatch spotted a Deliveroo employee being repeatedly hit over the head with a bottle by a group of men, in what appeared to be a gang-related attack. As such, Cumberbatch emerged from the cab to protect the victim, with the cab driver joining him for backup. "Here was Sherlock Holmes fighting off four attackers just round the corner from Baker Street," the cab driver, Manuel Dias, revealed to The Sun. "He stood there instructing them in the street, shouting, 'Leave him alone.' I had hold of one lad and Benedict another. He seemed to know exactly what he was doing. He was very brave. He did most of it, to be honest."
Cumberbatch himself added: "I did it out of — well, I had to, you know." While the attack, according to The Guardian, reportedly occurred in November, the story is only emerging now for reasons unknown.