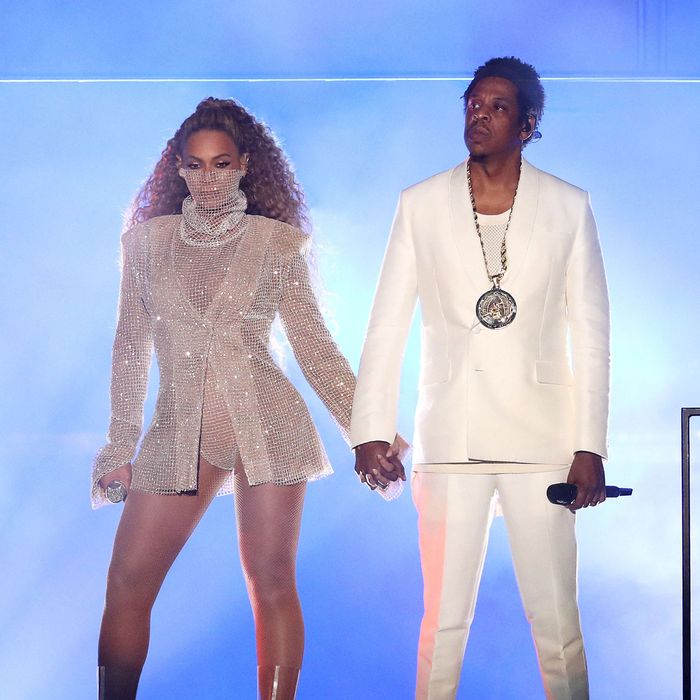 Bey and Jay.
Photo: PictureGroup/REX/Shutterstock
It's been all quiet on the Beyoncé and Jay-Z front since Beychella, except, wait, no it hasn't — they've been prepping for a world tour! Their current sequel to the 2014 On the Run tour (titled On the Run II, natch) kicked off in Cardiff, Wales, on Wednesday night, because once again, the Brits get all the fun. Of course, some things went down, including the reveal that they renewed their vows. And, there was a moment sure to get Kanye's blood boiling. Let's recap, shall we?
They entered in an elevator.
Because please believe if anyone is going to keep capitalizing on that 2014 Met Gala elevator fight between Solange and Jay-Z, it's going to be Beyoncé and Jay-Z. As Bey likes to tell us, there was a billion dollars in that elevator that night, and probably close to a trillion now in the one they're descending from on this tour.
A Rumi and Sir fake-out!
It was thought to be the first official glimpse of the twins in months, but turns out, they're reportedly just some other babies. Still cute though.
Their stage floats — and Jay-Z did "Niggas in Paris" from it.
On a scale of "internal screaming" to "nuclear warfare," how livid do we think Kanye "I invented the floating stage" West is right now?
Their Jamaica footage is used for the interludes.
Earlier this year, Bey and Hov were spotted in Jamaica filming visuals for something top secret, but what? An album?! High-concept home movies? No, just tour footage for the interludes. In one of them, they run toward each into the desert. In another, they have bedroom time. They also have family time with the kids in one, and then the house burns down. Deep!
They've renewed their vows.
Their show ends with another interlude in which they get baptized, meet each other at a church blindfolded, and recommit their faith to each other. Earlier this year, they celebrated their tenth wedding anniversary. And in new footage debuted at the show, the couple reveal that they renewed their vows in front of their three children.
There are more home movies.
Just like the first iteration of this tour, it closes with a ballad — this time, Ed Sheeran's "Perfect" — and personal home videos of their family.
Life: it's still real.
Some of the tour visuals are recycled from the first run, including their "This is real life" disclaimer. But who can really be sure it is.
They're going with a modified Bonnie & Clyde theme.
Where Jay-Z's still the criminal and Bey is his accomplice, but she still wears the crown and occupies the throne.
It sounds like they're using the same Beychella marching band.
Which you can hear on their rendition of "Drunk in Love."
And Bey's "Everybody Mad" dance breakdown is back!
The pink Beychella monochrome is still in full effect, but revamped.
Beyoncé served lewks.
And grained on that wood.
Myyyy goodness.
The merch mercilessly shades Jay-Z's infidelity.
They're selling hoodies with the etymology for the word "Fuckery" on it, as well as hoodies that chronicle the journey of their marriage, including "the confession," "the fight," "the nightmare," "the lies," "the heartbreak," and "the revenge."