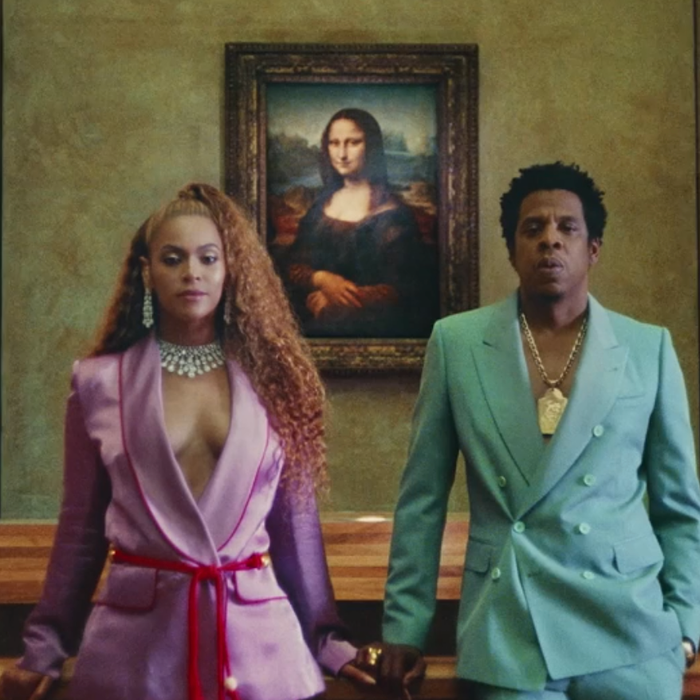 Your weekend plans: Canceled. Yeezy season: Dismissed. Drake: Who? Beyoncé and Jay-Z have pulled a Beyoncé and Jay-Z and surprise-dropped yet another album — but this time, as a couple. Their first-ever joint album Everything Is Love — the one that's been percolating since even before Lemonade and 4:44 — was released on Saturday evening at the end of the duo's London show on their On the Run Tour II with one casual parting announcement: "Album Out Now." Out! Now! The nine-song album, complete with one visual component and a bonus track, is streaming in full on Tidal as we speak. With their trilogy recounting marital strife to remarried bliss now complete, what do we make of this closing chapter? From the shots at Trump, the NFL, Spotify, the Grammys, and Kanye West, to the Blue Ivy cameo, to filming a music video in the Louvre, here's everything you need to know about the conversation the Carters have caused now.
The Backstory
While the origin of some albums is only as old as two weeks prior to its release, a Beyoncé and Jay-Z joint affair has been years in the making — for more than a decade, to be precise, if you trace it back to the beginning of their musical (and real-life) relationship in 2002. The rumors of a joint album first took root in 2015, when producer Detail (the one multiple singers have accused of sexual assault), who previously worked on Beyoncé's 2014 self-titled album, let slip that one was in the works and would be coming at some point that year. "When you think of Jay and Bey together, you think 'album.' You should already know," he said at the time. (Note that Detail is not credited on Everything Is Love.) Of course, we know now that's not what happened. Instead, in 2016, Beyoncé released Lemonade and, in 2017, Jay-Z released 4:44. Hers, a soul-baring masterpiece about black womanhood, self-worth, and trifling men. His, a mea culpa for cheating on his wife.
Following the release of each album, rumors of that elusive joint album persisted, but it was Jay-Z himself who first confirmed its existence last year. During his album rollout, Jay revealed that, yes, the joint album was in the pipeline when Detail said it was, but it was shelved once Lemonade — and the near-dissolution of their marriage — took priority. "We were using our art almost like a therapy session. And we started making music together," he said. "And then the music she was making at that time was further along. So her album came out as opposed to the joint album that we were working on. There was never a point where it was like, 'I'm making this album.' I was right there the entire time … It just felt like, she should go first and share her truths with the world." He hinted that the music could someday still surface, which it did. Their duo name: The Carters, obviously.
The Visuals
Album Cover
The Everything Is Love cover is taken from a still from the only music video released from the album thus far, "Apeshit," filmed inside the Louvre. (More on that below.) It features two of Beyoncé's dancers, So You Think You Can Dance season 10 contestant Jasmine Harper, and famed Brooklyn bone breaker Nicholas "Slick" Stewart, who also competed on SYTYCD and America's Best Dance Crew. In the striking image, Harper is seen picking out Stewart's hair in front of the Mona Lisa. As others have noted, the shot — presumably taken by the video's director Ricky Saiz — appears to be inspired by photographer Deana Lawson (seemingly of no relation to Bey's stepfather, Richard Lawson), whose work captures black intimacy and domesticity not unlike the cover art and other shots throughout the video.
"Apeshit" Video
The first — and maybe only — thing to know about the one video released from the album so far: It was filmed in the Louvre. As in, the the Louvre. The most famous museum on Earth — located in Paris, France (a city Hov loves to be in), for those of you who snoozed through art history class or the Da Vinci Code. Lorde would've settled for having her face hung down the back; Beyoncé and Jay-Z got the keys and declared themselves monarchs of the palace. Bey and Jay serve withering stares in front of the Mona Lisa. (A recreation of their last infamous private Louvre photo shoot.) You've squinted to get a glimpse of it behind the crowds; they posted up right in front of it like they have the piece on loan from their personal collection. The couple filmed the video last month, post-Beychella (hence, the same hair).
Next, you to need to know that the video was directed by Ricky Saiz, who previously directed the "Yoncé video," and was produced by Iconoclast; Beyoncé's personal stylist, Zerina Akers, and Jay's personal stylist, June Ambrose, handled all the lewks; Belgian dancer Sidi Larbi Cherkaoui choreographed it, along with Bey's usual team of JaQuel Knight and Chris Grant.
The video intersperses close-ups of the museum's most famous pieces — most prominently, besides the "Mona Lisa," King B getting in formation in front of the "Consecration of Emperor Napoleon and Coronation of Empress Josephine" — though they all share a noticeably white theme. Poignantly, then, the video ends by spotlighting Marie-Guilhelmine Benoist's "Portrait of a Negress." Also featured in the video are dancers laid out on the steps leading up to Bey and Jay standing in front of the "Winged Victory of Samothrace" (a separate scene there evokes Audrey Hepburn in Funny Girl); Bey and Jay in front of the Great Sphinx of Tanis; plus shots of the museum's exterior and the ceiling in the Apollo Gallery. It should be noted that Beyoncé is not the first Knowles to insert black bodies into canonically white creative spaces; Solange, too, staged an art performance at the Guggenheim last year. And, never forget, Jay-z did once rap, "put some colored girls in the MoMA." Naturally, Beyoncé did better than that.
In a statement to Vulture, a spokesperson for The Louvre has explained why the museum allowed the Carters the run of the place:
"Beyoncé and Jay-Z visited the Louvre four times in the last ten years. During their last visit in May 2018, they explained their idea of filming. The deadlines were very tight but the Louvre was quickly convinced because the synopsis showed a real attachment to the museum and its beloved artworks."
Juxtaposed with the Louvre's artwork are images of black couples — including the cover art — evoking Deana Lawson's work. There is also a reference to Colin Kaepernick, with images of young black men taking a knee in protest of police brutality.
The Songs
"Summer"
The album's intro is also a reintroduction to Bey and Jay's marriage, one more stable and seemingly happy. (Bey sings, heavenly, of wanting to make love to her husband and "drown in the depths of you" in the summertime.) It ends, "Love is universal / Love is going to express itself as a form of forgiveness and compassion for each other." The song was produced by Miami's own Cool & Dre, who are known for their work with Fat Joe, Ja Rule, The Game, Lil Wayne, and more; Bey and Hov also share producer credits, along with Leon Michels of the El Michels Affair. James Fauntleroy II is a credited co-writer; Rory, of Jamaica's Stone Love, is a credited vocalist.
"Apeshit"
The only song to the receive the visual treatment so far has an all-star cast. It features Offset and Quavo from Migos (poor Takeoff) as well as Pharrell, who also produced the song with Bey and Hov; they all also wrote the song. On it, Bey rap-sings "I can't believe we made it" (a reference to their marriage nearly ending), "pay me in equity," and "get off my dick," among many other top-notch bars. On June 18, a demo of the song recorded by Migos leaked online (the label has since had it removed), suggesting the song either originally belonged to Migos or, more likely, they simply recorded a reference track as a guide for the Carters' version. On it, Offset raps Beyoncé's ""Have you ever seen the crowd goin' apeshit?" line.
"Boss"
One of the cockiest songs on the album, "Boss" was co-produced by Bey, Hov, D'Mile (Janet Jackson), Derek Dixie (Lemonade), and MeLo-X (also Lemonade). Ty Dollas $ign is a featured vocalist and co-writer. On it, Beyoncé raps about setting up her family for a lifetime of wealth that'll make history ("My great-great-grandchildren already rich / That's a lot of brown chi'r'en on your Forbes list") and drops an instant-classic quotable: "I be true balling on these bum whores." The song ends with a message from Blue Ivy to her younger siblings: "Shout out to Rumi and Sir, love, Blue." (Blue also featured on her dad's latest solo album because everyone in this family works overtime.)
"Nice"
Another Pharrell-Bey-Jay production! On which Pharrell also features; all three wrote the song as well. Beyoncé raps about not needing Spotify (see below) or streaming gratification, with the kicker: "I'm so nice, Jesus Christ, I'm better than the hype, I give you life." She also quotes the "fuck you" line from Half Baked (!). Meanwhile, Jay brags about not showing up to testify before the SEC in a case involving the company that now owns his old fashion brand Rocawear: "Yeah, fuck your subpoenas and your misdemeanors / Was too busy touring out all your arenas."
"713"
The song is named after the Houston area code and sees Beyoncé once again rep her hometown, while also nodding to Jay's rap history. Cool & Dre, Bey and Hov, and 808-Ray produced it. On the song, Jay interpolates Common's "The Light." (There was once a time when Jay said he wanted to rap like the man until he realized that doing so wouldn't make him famous, so, hey, that's one way to do it.) The song also samples Drake favorites Hiatus Kaiyote's "Sphinx Gate" and "The World It Softly Lulls."
"Friends"
Perhaps the most revelatory track on the whole album, Jay speaks at length about his inner circle, listing them by name — including best friends Tyran "Ty Ty" Smith and Emory "Vegas" Jones, as well as close colleagues like Jay Electronica's manager Lawrence "Law" Parker III and Jay Brown and his wife Kawanna — and sharing their history together. He also references getting Meek Mill freed from prison, and those T-shirts Kendall and Kylie Jenner sold with Tupac's face on them ("Y'all put niggas on a T-shirt, it hurts you ain't never meet 'em"). Boi-1da, Bey and Hov, and Jahaan Sweet produced the song; The Weeknd's XO signee Nav co-wrote it.
"Heard About Us"
Another braggadocio track where Jay all but concedes his rap throne to Beyoncé: "Bitch know me, I been me since the cocaine / Bitch know B, she don't even need a whole name (It's Beyoncé, nigga)." The song also interpolates Biggie's "Juicy" and references filming in the Louvre. It was produced by Boi-1da, Vinylz, Jahaan Sweet, !llmind, and Bey and Hov.
"Black Effect"
This song opens with a woman defining unconditional love, then evolves into an ode to being in love with your own blackness and becoming a symbol of black wealth. He raps, "Shit I am the culture / I made my own wave, so now they anti-Tidal." He also references Trayvon Martin, outsmarting the federal government ("The SEC, the FBI, or the IRS / I pass the alphabet boys like an eye-test"), Prince, and Mos Def ("Shining my light on the world just like Umi says"). Bey sings, "I would never let you shoot the nose of my pharaoh." Cool & Dre and Bey and Hov produced the song. It samples Flower Travellin' Band's "Broken Strings."
"Lovehappy"
The final song is the most transparent Bey and Hov get on the album about the infidelity that almost destroyed their marriage. It was co-produced and co-written by TV on the Radio's Dave Sitek, and also co-written by session writers Denisia Andrews, Brittany Coney, and Nija Charles, who each have writing credits throughout the album. For the second time on the album, Jay interpolates Common, this time his verse on Erykah Badu's "Love of My Life." It also samples Eddie & Ernie's "You Make My Life a Sunny Day."
The References
The Infidelity
Only once do Bey and Hov get candid and truthful about the cheating scandal that nearly did in their marriage, confirming that Jay did indeed break his vows, but also confirming that they renewed said vows anyway (as was originally revealed during their On the Run II tour). They begin with a bit of a tense back and forth, where Bey comes dangerously close to revealing the identity of "Becky With the Good Hair" before Jay cuts her off (rude!):
"Yeah, you fucked up the first stone, we had to get remarried

Yo, chill man

We keepin' it real with these people, right?

Lucky I ain't kill you when I met that b- (Nah, aight, aight )

Y'all know how I met her, we broke up and got back together

To get her back, I had to sweat her

Y'all could make up with a bag, I had to change the weather

Move the whole family West, but it's whatever

In a glass house still throwing stones

Hova, Beysus, watch the thrones

(Happy in love)."
Bey then adds that all is forgiven, but not perfect:
"You did some things to me, boy, you do some things to me

But love is deeper than your pain and I believe you can change

Baby, the ups and downs are worth it, long way to go, but we'll work it

We're flawed but we're still perfect for each other

Sometimes I thought we'd never see the light

Went through hell with heaven on our side

This beach ain't always been no paradise

But nightmares only last one night."
Kanye West and Drake
Per usual elder rap beef etiquette, Jay weighs in on the drama with subliminals aimed at both Kanye and Drake. On "Boss," he scolds Drake and Kanye for passing up business opportunities with him at Tidal, where they could've been entrepreneurs, to be someone else's employee (for Drake, Apple Music; Kanye, Adidas and Silicon Valley). Hov specifically takes a jab at Drake for invoicing Kanye and G.O.O.D. Music during his recent beef with Pusha-T (which is a clue for how recently some of these verses may have been written). He raps:
"No cap, false, nigga, you not a boss, you got a boss

Niggas getting jerked, that shit hurts, I take it personally

Niggas rather work for the man than to work with me

Just so they can pretend they on my level, that shit is irkin' to me

Pride always goeth before the fall, almost certainly

It's disturbing what I gross (what I gross!)

Survey says you not even close (not even close)

Everybody's bosses, to the time that pay for the office

To them invoices, separate the men from the boys, over here

We measure success by how many people successful next to you

Here we say you broke if everybody gets broke except for you

Boss!"
On "713," Jay also raps "And my little baby Blue is like 'Who gon' stop us, huh?'" — a reference to his song with Kanye from Watch the Throne. On "LoveHappy," Jay goes even further and dethrones Kanye from their former shared moniker, instead giving his wife Kanye's crown: "Hova, Beysus, watch the thrones." But his most personal and barbed message for Kanye comes in reference to a recent interview Kanye gave where he admitted he was still upset that Jay and Bey did not attend his wedding to Kim Kardashian. He noted that Jay and Bey were likely having marital issues at the time and that is the reason Jay now gives for missing their big day, though he says Kanye should've understood and buried the hatchet:
"I ain't going to nobody nothing when me and my wife beefing

I don't care if the house on fire, I'm dying, nigga, I ain't leaving

Ty-Ty take care of my kids, after he done grieving

If y'all don't understand that, we ain't meant to be friends."
Spotify
Bey and Hov have officially declared war on Spotify. In the past, Jay has withheld his work from the platform in favor of Tidal, and his wife followed suit. On "Nice," she tells Spotify directly that she won't budge because she doesn't care. (Further stirring the pot, she has since reportedly put Lemonade on Apple Music.)
Patiently waiting for my demise

Cause my success can't be quantified

If I gave two fucks - two fucks about streaming numbers

Would have put Lemonade up on Spotify

Fuck you, fuck you, you're cool, fuck you, I'm out (Ah!)
The NFL
Jay-Z slams the NFL for its continued mistreatment of Colin Kaepernick and censorship of its players, revealing that he refused to perform at the Super Bowl and would rather headline football stadiums with his wife, thank you very much. (He was rumored to co-headline this year's halftime show with Justin Timberlake.) He raps on "Apeshit":
"I said no to the Superbowl

You need me, I don't need you

Every night we in the endzone

Tell the NFL we in stadiums too."
Grammys
Also on "Apeshit," Jay gives a middle finger to the Grammys for shutting him out this year despite giving him the most nominations of the night: "Tell the Grammy's fuck that 0 for 8 shit / Have you ever seen the crowd goin' apeshit?"
Dr. Dre
ON "713," Beyoncé raps the hook "Representing for my hustlers all across the world (still) / Still dippin' in my low-lows, girl! (still) / I put it down for the 713 and we still got love for the streets (ow!)." It's a play on the hook from Dr. Dre's "Still D.R.E." The extremely meta irony? Jay-Z himself wrote that original hook for Dre, which is definitely one way to cut sampling costs!
The Bonus Song
For reasons that aren't clear yet, in addition to the album, Bey and Jay have also uploaded a loose non-album track to Tidal called "Salud!" However, it's produced by Cool & Dre (and features additional vocals from Dre) and Bey and Hov, so seemingly is also of the Everything Is Love sessions. On it, Bey takes shots at fan and media speculation about her life: "Lord knows it takes hella patience / When your name is a verb and these comments absurd / And they swear they know you better than you know yourself." Jay-Z also hits back at Donald Trump's recent comments about Jay's stumping for Hillary Clinton during the 2016 election. "The only way she filled up the arena was to get Jay-Z," Trump said. "And his language was so filthy that it made me, like, the most clean-cut human being on earth. It's true." Jay's response? Keep his name out of your mouth.
"Your president tweeting about Hov like he knows us

My road to the top was to take what you owe us

I give a fuck what that man find vulgar

Just look in my eyes when you toast us."
Once again, Blue Ivy ends the song shouting out the twins.
This post has been updated throughout.