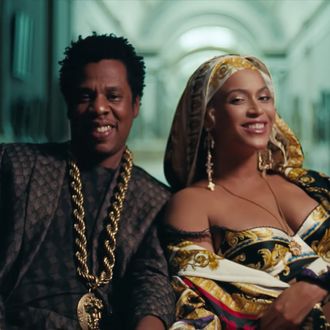 The Carters.
Photo: YouTube/Beyoncé
David. Géricault. Da Vinci! They were just a few of the artists Beyoncé and Jay-Z strategically featured in their new "Apeshit" music video — performing under the name the Carters — because they were given private access to the Louvre to groove around whichever masterpieces they wanted. As us plebeians can't usually get close enough to the "Winged Victory of Samothrace" without being yelled at by another patron to move out of their photo, we couldn't help ponder to Apollo, the Greek god of the arts: How was the museum able to grant such a big request?
"Beyoncé and Jay-Z visited the Louvre four times in the last ten years. During their last visit in May 2018, they explained their idea of filming," a spokesperson for the museum told Vulture. (Who could forget their infamous 2014 trip?) "The deadlines were very tight but the Louvre was quickly convinced because the synopsis showed a real attachment to the museum and its beloved artworks." While the Louvre wouldn't comment on the monetary figure the couple had to fork over, we should note it's not inherently unusual for the museum to grant access for entertainment purposes — as detailed in the New York Times, the Louvre typically hosts around 500 shoots a year for film, television, and music projects. And for around $17,500, you too can have private access to the galleries for an entire day.