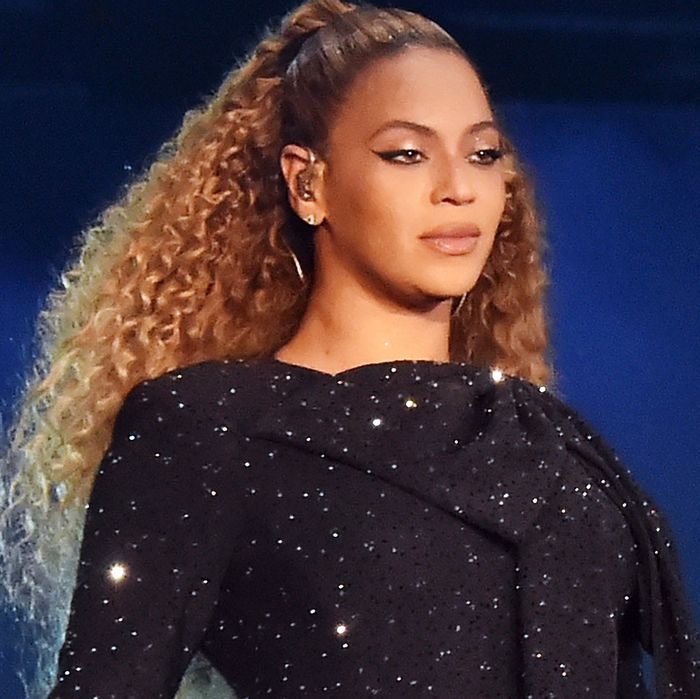 Photo: Kevin Mazur/Getty Images For Parkwood Entertainment
For all of Beyoncé and Jay-Z's world-stopping power, they can't control the powers that be – the Billboard charts. Despite dominating the conversation, music industry, and universe with their surprise joint album, Everything Is Love, they ultimately weren't the favorites on this week's Billboard 200. Instead, they lost out to, of all things, a boy band (just when you thought those were a dying art!). Separately, Bey and Hov nabbed No. 1 albums with their last solo efforts in the trilogy, but together, more was not more. How did two of the biggest artists of all time manage to come up second best? Let's dig into some theories.
Streaming Exclusivity
It's no secret that Beyoncé and Jay-Z pride themselves on ownership and a shared mogul ethos ("What's better than one billionaire? Two," Jay-Z rapped last year). Together, they have a financial stake in their self-owned streaming service Tidal, which they've chosen to make the premier home for all of their work moving forward since Jay took over the company. Upon its surprise release, Everything Is Love was made available initially as a Tidal exclusive – meaning you could not stream or digitally purchase it without subscribing to their service. In other words, there was no (legal) free way to hear their joint album, and there still isn't. Despite Bey's boast on the album that she doesn't "give two shits about streaming numbers" – which was her reason for withholding Lemonade from every service but Tidal – just two days after its release, Everything Is Love landed on all of Tidal's competitors, including their nemesis Spotify. With one big caveat: It's only available on paid tiers. It will arrive on Spotify's more popular free tier by July 2, according to a message on the Carters' page.
This exclusivity window played a large role in their failure to launch at No. 1. For starters, the album was released on a Saturday, where the global album release day is Friday. That means they lost a full day against their competitors on the week Billboard tracked their album performance. Now for the numbers: Everything Is Love debuted with 123,000 album equivalents, 70,000 of which were traditional album sales, 4,000 TEAs (track equivalent albums, which counts digital single sales), and 49,000 SEAs (streaming equivalent albums). (Ten digital track sales equal one album sale; 1,500 on-demand streams equal the same.) For nearly two days, all of those numbers had to come exclusively from Tidal. Another major hindrance: The Billboard 200 does not count video streams toward its chart, so the millions of views on YouTube for the Carters' Louvre-set "Apeshit" video racked up that week meant nothing, except for the Hot 100, which charts songs. Also of note: Billboard's new adjusted rule for giving more weight on its charts for streams on paid tiers does not go into effect until the streaming week of June 29 to July 5. Had Beyoncé and Jay-Z only waited a couple of weeks, it's possible that their paid-window streaming strategy might've yielded better results.
5SOS
The ones to beat Bey and Hov were none other than Australian boy band 5 Seconds of Summer (5S0S), who scored their third consecutive No. 1 album. How'd they do it? Youngblood debuted with 142,000 album equivalents. 5SOS racked up 117,000 to the Carters' 70,000 traditional sales; 3,000 were TEAs and 23,000 were SEAs. You'll notice that both 5SOS' digital and streaming equivalents were lower than the Carters, so it's the traditional sales that toppled the duo. That was intentional: The members of 5S0S implored their (very massive) fan base to boost their album's sales when it was reported that they were closing in on the Carters. The movement got so big that even One Direction's Niall Horan publicized the campaign to get 5SOS to No. 1. And, as previously noted, 5SOS had a better chance at more sales given that their album was available for purchase on all services from the beginning, including physical copies, and had a full day on the Carters. Meanwhile, you couldn't begin purchasing Everything Is Love on iTunes, Amazon, and other services until the Monday after its release. (Everything Is Love is still not available for physical purchase.)
XXXTentacion
Everything Is Love was a surprise, but so was the death of rapper XXXTentacion, who was fatally shot just two days after the Carters released their album. Because of his sudden death, two of his albums rebounded on the Billboard 200, including his latest, ?, which previously debuted at No. 1; it charted just behind the Carters at No. 3, with 94,000 units. But most detrimental to both 5SOS and the Carters is that ? was the most-streamed album in the country for that charting week. You'll recall that Spotify had yanked X's music from its playlists due to allegations of domestic violence, but restored his music just prior to his death after it scrapped that new ethics policy. But XXXTentacion's music was still always available to stream on the service and, in the week of his death, was accessible on free and paid tiers on all services, unlike the Carters'.