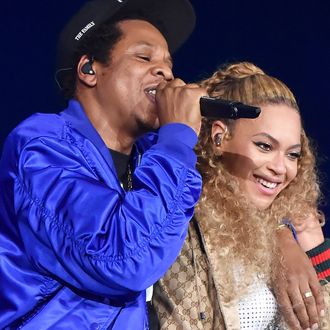 Turns out, they do care about streaming numbers.
Photo: Kevin Mazur/Getty Images For Parkwood Entert
It seems Beyoncé and Jay-Z might actually care about streaming numbers after all. After releasing their joint album, Everything Is Love, over the weekend initially as a Tidal exclusive, they've extended an olive branch to their rival streaming platforms. Everything Is Love is now available on Spotify premium, Apple Music, Amazon Music, Google Play, Pandora, iTunes, and more. Per a message on Spotify, the album will be exclusive to paid subscribers for a two-week window, but will be made available on its free tier by July 2. Ironically, on the album, Beyoncé disses Spotify and expresses a nonchalant attitude about streaming in general: "My success can't be quantified / If I gave two fucks about streaming numbers, would've put Lemonade up on Spotify/ Fuck you, fuck you," she raps. Well, Spotify, it's your lucky day: Beyoncé found a fuck to give. Jay-Z, however, hasn't — his solo music is still nowhere to be found on Spotify.