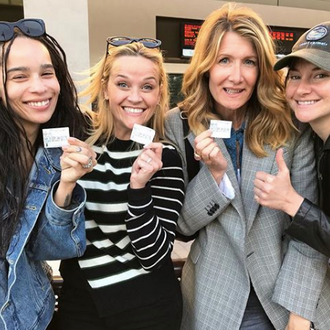 BFFs.
Photo: @zoeisabellakravitz/Instagram
The star-studded girl gang of Big Little Lies has always led by example. They post sweet (and scary) birthday wishes on social media. They earned each other sizable raises for season two. (Thanks, Reese and Apple!) They even wooed Meryl Streep with their persistence. And over the weekend, Reese Witherspoon, Laura Dern, Zoë Kravitz, and Shailene Woodley shared what it looks like to show up for one another — at the movies and on social media.
In an Instagram photo, which they each shared on their personal accounts, the four actresses pose inside a movie theater. Kravitz, Witherspoon, and Dern are smiling and holding a ticket stub to Woodley's new film, Adrift, while Woodley is giving an approving thumbs up. Each of their individual posts gush about the based-on-a-true-story film and Woodley herself. Woodley responded in her own post, writing, "WHAT TRUE SUPPORT AND SISTERHOOD LOOKS LIKE. i feel so shown up for."
If you want in on the sisterhood, then you can watch the Adrift trailer below.