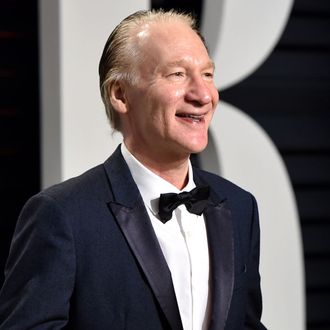 Bill Maher.
Photo: John Shearer/Getty Images
While some prominent Hollywood figures have recently enjoyed career renaissances despite previous indiscretions, Real Time host Bill Maher isn't counting on his pal Roseanne Barr to bounce back from her racist tweet controversy. In fact, Maher is confident she won't be working in the media industry ever again. "She should enjoy her macadamia farm," Maher told EW in a new interview. "Look, part of the reason why I was sympathetic to her, although of course not to what she wrote, which was abhorrent. But is that she … we've all known this for 30 years, that she is mentally … I don't know what the word is … problematic? She's had mental issues." Maher points to a column Michael Moore wrote about Barr earlier this month, which highlighted her multiple mental health issues since a young age. "[Moore] reminded us all that she was in a horrible car accident when she was a child and has never really been completely the same since," Maher explained. "She told us back in the '90s she had multiple personalities."
Like Judd Apatow, Maher believes Barr isn't being hateful on purpose, as it's a mental health issue at hand — an issue Hollywood executives incorrectly assumed Barr had addressed. "My point is, no one would ever hire her again because they thought that issue had gone away," he said. "But that issue has never gone away, and never will go away, and so they know that if they hire her again, it'll just happen again. You can get Roseanne to say, 'I'll never do it again,' but you can't get the other six personalities to agree." Barr has since apologized and expressed regret on two occasions for her racist tweets.